Christmas in London is one of the most enchanting experiences you'll ever have.
It's especially memorable if, like me, you love a nice cold Christmas and all the sights, smells and tastes that go hand-in-hand with it. Having lived in the northern hemisphere for a few years now I just can't comprehend the thought of a summer Christmas!
Although London is a notoriously expensive destination, there are plenty of ways that you can bask in the city's festivities without having to pay anything!
Here are a few of my favourite ways to enjoy Christmas in London for free.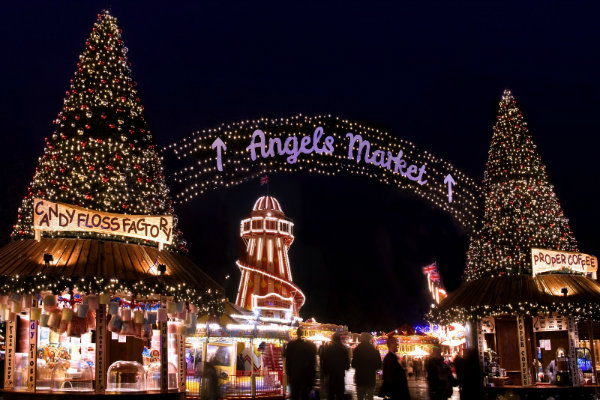 Winter Wonderland is the closest you can get to a real European Christmas market without having to leave the country.
Located in Hyde Park, Winter Wonderland caters to everyone, with rides, ice skating, performances, games and all of the food and drink you'd expect at a traditional market (wurst, pretzels, chestnuts, mulled wine, hot chocolate etc.).
Of course, you have to pay for all of the above, but entry to Winter Wonderland is free and it's just as much fun to simply walk around the market stalls and enjoy the Christmas atmosphere.
Open 10am till 10pm every day until 2nd January 2017, excluding Christmas Day.
Tip: if you anticipate spending money there, have cash before you go. Lines for cash machines are long, and ATM charges are high.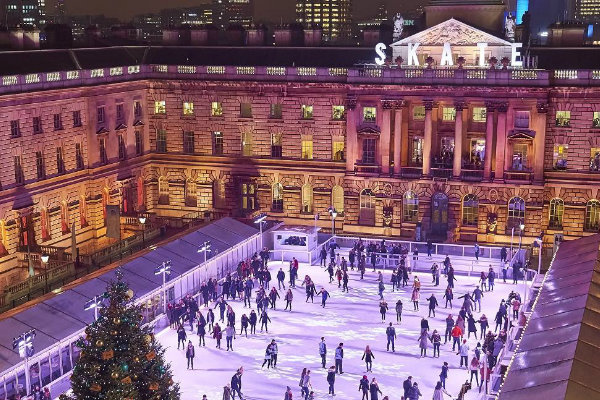 This Fortnum & Mason sponsored ice skating rink is the most picturesque of all of the London options.
The backdrop of neoclassical Somerset House is spectacular, and the skating area is overlooked by a generously-lit 40 foot tall Christmas tree.
Skating is not free (tickets start from £7.50 and need to be booked in advance), but I have more fun spectating than skating (I'm so bad at it!), and there is plenty of food and drink available in the cosy Fortnum's Lodge as you watch the skaters.
There's also Fortnum's Christmas Arcade, a pop-up shop that's perfect for Christmas window shopping, or picking up a fancy festive gift or two.
Skate at Somerset House is all about festive spirit in one of the most iconic locations for Christmas in London.
Open daily from 10.00 until January 15, 2017. Last Skate session starts at 21.15, except on selected dates and Club Nights.
Lights and Shopping on Oxford Street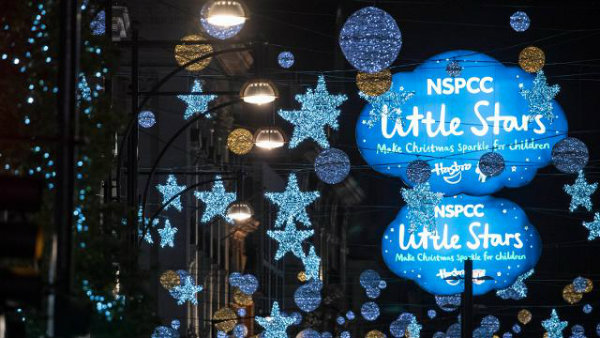 Europe's busiest shopping street is an essential destination for any shoppers stuck for Christmas gift ideas.
Brace yourself for the crowds; Oxford Street is manically busy at this time of year, but for the hardcore shopper the bustle is a small price to pay for being able to visit some of the biggest and best stores in the UK, such as Selfridges and the flagship Topshop store.
The stores lining the 1.5 mile street boast some impressive window displays, and the entire stretch is decorated with a glittering display of lights, featuring stars and baubles in aid of NSPCC…so don't forget to look up!
Lights are on until 5 January 2017
"The best way to spread Christmas cheer is singing loud for all to hear."
I couldn't agree more with this quote from my favourite Christmas movie, Elf. There's nothing like singing (or at least listening to) Christmas songs to really get into the spirit of the season.
Head to Trafalgar Square between December 5 – 23 and you'll be treated to a free carolling concert (4-8pm on weekdays, and from 2-6pm at weekends). Buddy the Elf would be so proud!
Harrods lights & food hall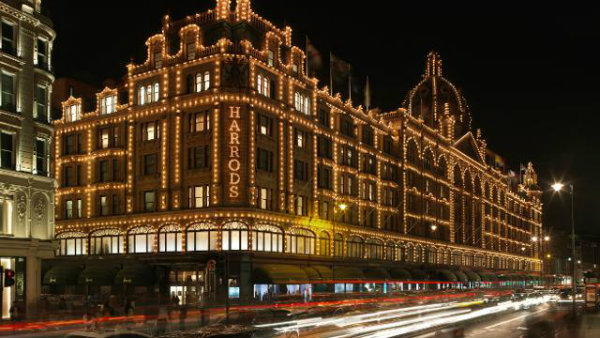 Nothing is free at Harrods, not even the use of their bathrooms.
But you can check out the fairy-light laden building and its gorgeous Burberry window displays at Christmas without paying a penny! It's well worth taking a stroll through the (very crowded) food hall while you're there too.
They stock almost any kind of food you could possibly imagine and it's all beautifully presented.
For a food lover like me, it's a treat just to be able to look through the glass display cabinets and salivate over the delicious array of tasty treats. If you're looking for a specialist ingredient to use in your Christmas dinner, I'd bet you'll find it here…
What are your favourite ways to enjoy Christmas in London for free?
Want to see more posts like this?
Follow me on:
Follow