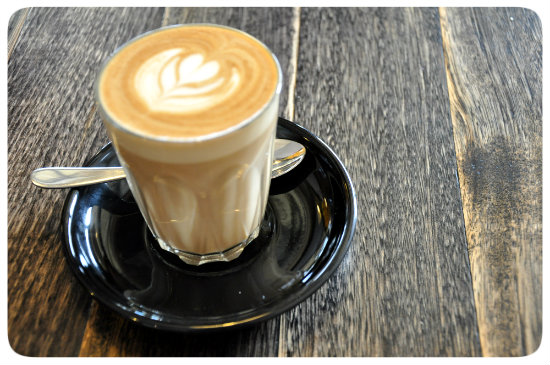 I don't think it's any secret that I adore a good coffee, and since moving to London I've been frustrated with how far I need to go to get a rich, smooth, made-with-love coffee. There seems to be a Starbucks (or two) on every corner, but a really good latte requires a tube journey and local knowledge. I guess the same goes for any new city; it's probably because I grew up there that I find it so easy to get a great coffee in Adelaide.
When I was visiting a few weeks ago I made it my mission to try some new coffee spots and return to others that I've always liked. I didn't get to try all of the cafes that were recommended to me, but here are my top picks for the best coffee in Adelaide: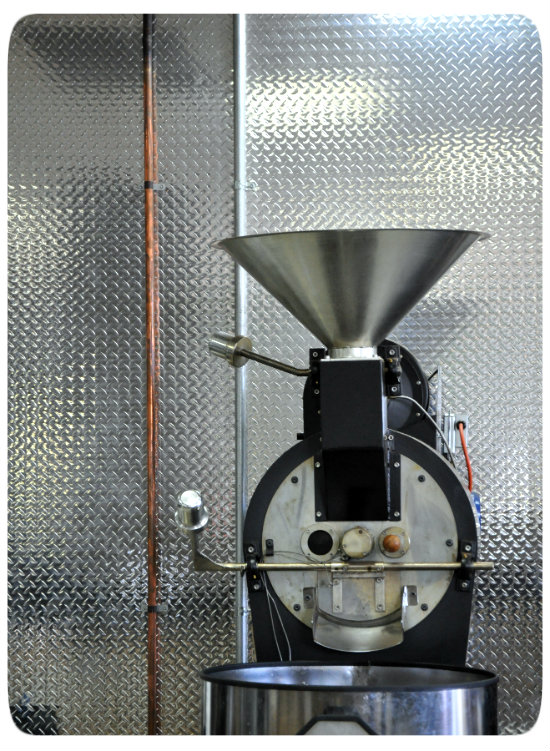 Due to its location outside of my old 20-minute stomping ground (if you have to drive further than 20 minutes in Adelaide, it's too far!), The Coffee Barun (referred to henceforth as The Barun) is a coffee shop I've heard much about but never got around to trying for myself. As my future brother-in-law John practically lives at The Barun and should probably make commission for the amount of tweets/facebook updates/conversations he dedicates to singing their praises, it quickly jumped from 'might visit' to 'cannot miss' during my stay in Adelaide. I have to say, my high expectations were actually exceeded: the passion these guys have for exceptional coffee is evident by the equipment they have displayed around the spacious cafe, the variety of beans and brewing methods they offer, the knowledge they have and their great customer service. I ordered an affogato and a burger, and both were delicious. Later, John introduced me to siphon coffee; a process which, although I still don't entirely understand, produces a coffee which brought to mind the words clean and aromatic. I'm no expert; I don't know if those words are correct coffee descriptors, but I do know it was an awesome coffee and next time I'm in Adelaide I'll be back for another!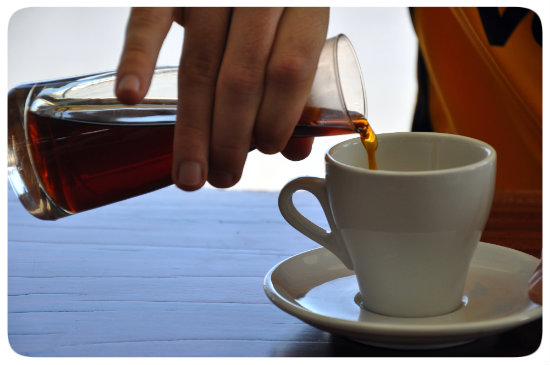 The Coffee Barun – 217-219 Main North Rd, Sefton Park SA 5083 
– Bar 9: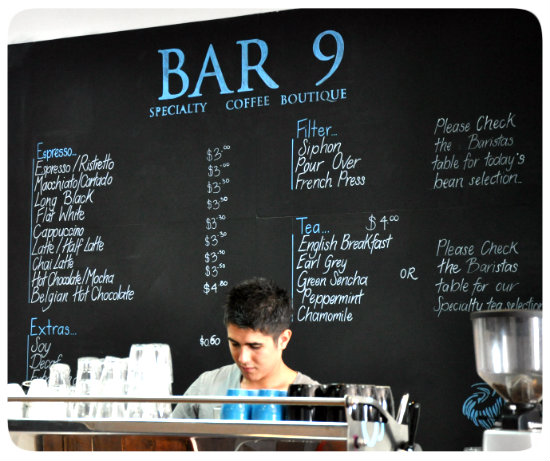 Before moving to London I worked for a few months in an awful and mind-numbing job; the only moments of happiness my day held were my morning coffee at Bar 9 around the corner from work, and the daily drive home along my favourite streets in Adelaide. The tiny cafe I once frequented has now moved across the road to a much larger space which offers bike parking, comfortable seats and an impressive array of brewing equipment. Much like The Barun, Bar 9 is clearly passionate about the quality of their coffee and providing choice to their customers. If I was looking to while away a few hours with a coffee and a good book, Bar 9 would be my choice for its cosy and quirky atmosphere – and it's in my 20-minute zone which is an added bonus!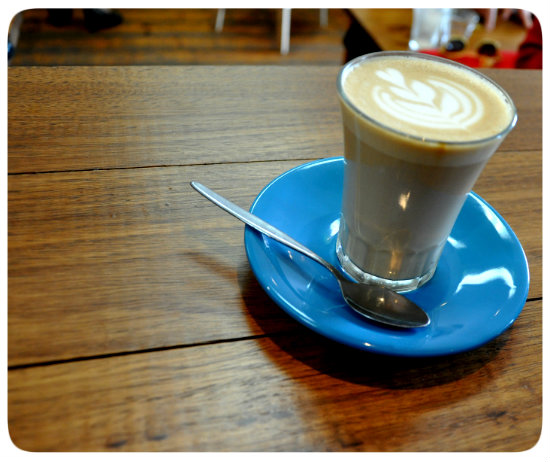 Bar 9 – 96 Glen Osmond Road, Parkside SA 5063
– A Mother's Milk: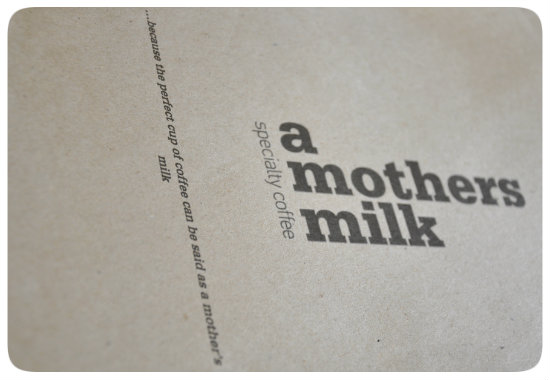 The…uh…unusual name of this cafe on trendy Unley Road didn't do much to make me want to visit (or at least order anything other than a long black or espresso), but after the tenth person suggested that I try their excellent coffee I decided to forget my misgivings about their dairy supplier and see for myself. As soon as I walked into the small cafe I was in love; the rustic wooden floors, exposed brick walls, vibrant orchids and vividly coloured graffiti canvasses were like a Pinterest board brought to life! Luckily their talent for coffee making matches their flair for interior design; the latte I had was rich and creamy. I learned later that A Mother's Milk beans are roasted by none other than The Barun, so the flavour is bound to be excellent every time. Despite the rather unfortunate (but, to their credit, memorable) name, I really enjoyed my coffee at A Mother's Milk and would make it my first choice when I'm in the Unley/Hyde Park area in future.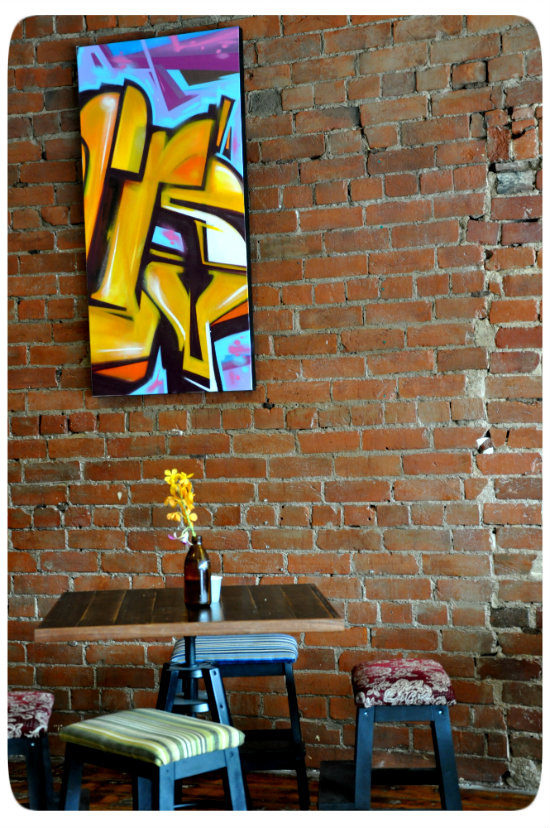 A Mother's Milk – 105 Unley Road, Unley SA 5061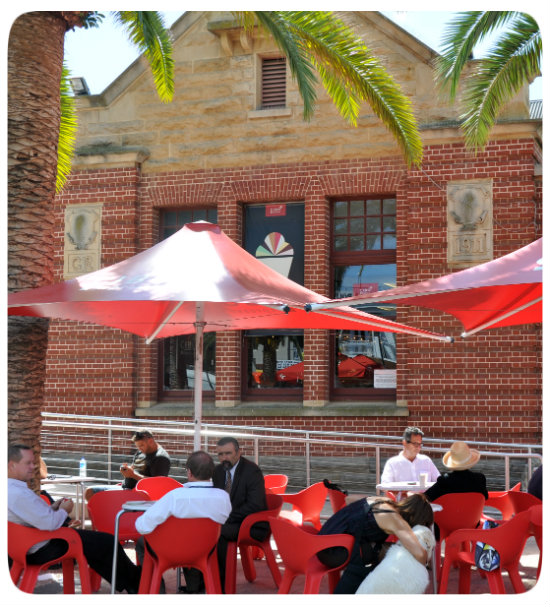 Although you'll see many a turned up nose at the mention of Cibo around Adelaide coffee aficionados, for me it's still one of the best coffees you can get in the city, and with sixteen locations across Adelaide it's certainly the most convenient. Not only is the coffee excellent, but they also offer some of the most delicious gelato around; their beach-side cafe in Glenelg is the perfect place to enjoy one or both of these treats.
Cibo Espresso – various locations across Adelaide
Now who says Melbourne has the best coffee in Australia?!
Want to see more posts like this?
Follow me on:
Follow