Cleansing wipes are, along with a good mascara, my most treasured beauty item when it comes to travel as they are cheap, light and have multiple uses and benefits. Here are ten reasons why you shouldn't leave cleansing wipes behind the next time you're packing your bags:
1. They take up less space. Not only is a packet of wipes lighter than a bottle of make-up remover, but you can leave those cotton balls behind, which means more room for the extra tank top you couldn't bear to leave at home.
2. Cleansing wipes are not liquid. This makes them ideal to throw in your hand luggage when flying so you can freshen up mid-flight without exceeding the liquid allowance. (see more tips on how to stay stylish on a long-haul flight)
3. Use in case of emergencies. I know they're technically meant for makeup removal, but when your in-flight neighbour spills hot chocolate on you or you drop your gelato on the seat of your rental car, you'll be reaching for your cleansing wipes.
4. Wipes aren't just for girls! My hubby's found uses for my cleansing wipes many times when travelling, from cleaning his bike frame to removing food remnants from his favourite T-shirt. The scent is fresh, not floral or 'girly'.
5. They are super cheap! I like the Simple Kind to Skin Cleansing Wipes (pictured) which are £3.20 from Boots, but Boots brand baby wipes are just £0.98 and they basically do the same thing.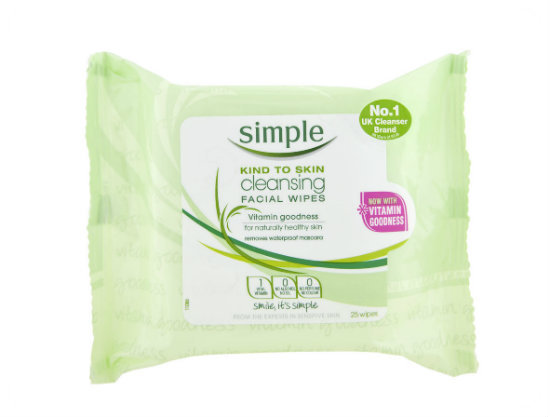 image source: simple.co.uk
6. Cleansing wipes save time. After a long day exploring a new destination, the last thing I feel like doing before going to bed is following a cleansing, toning and moisturising routine; wipes still remove my makeup and don't dry out my skin so they're the perfect lazy option.
7. No shower? No problem. If you're camping in the middle of nowhere (in one of these chic tents, of course) or at a festival where the queue for a shower is hours long, you can still feel a bit cleaner thanks to the mighty cleansing wipe.
8. Sand busters! I know many people, my hubby included, hate how beach sand has a way of sticking to absolutely everything. Pop some wipes in your beach tote on your next summer getaway and you can de-sand your water bottle, sunscreen container etc. before you leave the beach.
9. Stay cool. When visiting hotter climes than what I'm used to I can get quite uncomfortable (40 degrees in Rome is really unpleasant after a few hours of walking) but these cleansing wipes have a cooling effect and act as a moisturiser too if my skin's drying out (just don't forget to re-apply your sunscreen after using a wipe).
10. Long lasting. These wipes come in a re-sealable package which means you can pack them away until your next trip (that is, if you still have any left!)
Do you carry cleansing wipes with you at all times? Can you add any uses or benefits to my list? Let me know in the comments below!
Click the link to see what else is on my packing checklist!
Want to see more posts like this?
Follow me on:
Follow