The very first travel journal I wrote was at the age of six when I travelled with my family back to South Africa to visit friends and relatives. It was the first long-haul flight I'd ever been on and the first holiday I really remember. Before we left, Mum bought a blank notebook for my sister and me and made us write about what we were excited about and what we were expecting from our holiday; then on every single day of our trip she made us sit down in the evening and write about our day. This usually took about an hour and was one of the biggest annoyances of our holiday (overshadowed only by the torturous daily ordeal of taking our Quinine malaria tablets….ugh!), but now that yellow journal, filled with simple sketches and funny memories, is one of my most treasured possessions.  Since then, I've tried to keep a journal of every major trip I've been on, although it's much harder without my Mum's strict enforcement!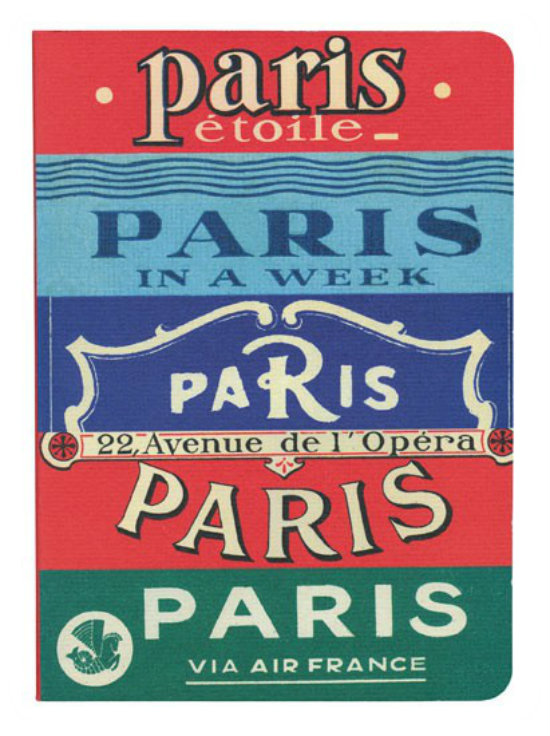 image source: the paperie.co.uk
The journal pictured above is the last one I used; apart from a city map and metro map of Paris, it's the same as any other travel journal and is filled with lined, graph, column and blank pages for budget-keeping, sketching, writing or sticking in ticket stubs and other keepsakes. It also has a handy contacts page so you can jot down names & addresses of people you want to keep in touch with (if you're old-school like me and prefer a paper address book to a digital one). I love the look of this Cavallini journal, but you could just as easily write in a blank notebook that costs a tenth of the price. At the end of the day, it doesn't matter where you write your memories but I encourage anyone going travelling just to jot down some thoughts and highlights at the end of the day. It may be inconvenient but it's a memory you'll treasure forever!
Cavallini Paris City Guide notebook, £10.95
Do you write a journal on your travels? If not, how do you remember the small details of your day? Let me know in the comments below.
Click the link to see the rest of my packing checklist.
Want to see more posts like this?
Follow me on:
Follow