Oh, dear readers, I think this one might take the cake! Of all of my Lavish Traveller posts, this has to be the most bizarre and probably ridiculous travel item that anyone could spend their money on. I present to you the Travelteq Trip Sound Suitcase, described as a 'suitcase with chair function and integrated sound system'.
Yeah, that's right. A suitcase that is not only a suitcase, but also a seat and a sound system. I'm so glad Travelteq came up with that because I can't tell you how many times I've wished I could be sitting in an airport in smug comfort on my suitcase, while blasting some Britney for the world to hear (the obvious choice is Britney). It's what travel has been missing until now: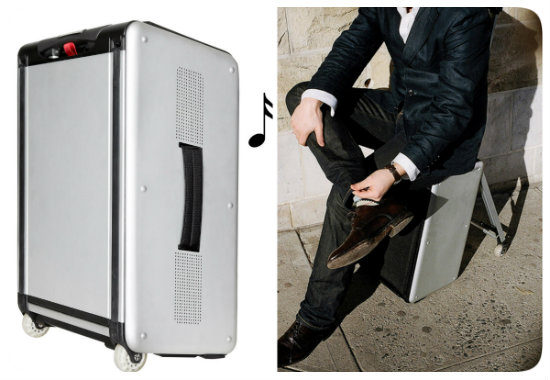 I can't say the 'chair' functionality looks any more comfortable than simply sitting on the top of your suitcase like normal people, but I suppose I can admit that the docking station inside is innovative. Still, I wouldn't drop a whopping £415 on this barely innovative item.
By comparison, I could purchase two return Eurostar tickets for a weekend in Paris, with enough change to have a lovely meal out in Montmartre…but, you know, it probably wouldn't be comfortable without a boombox-seat-suitcase…
Is there anyone out there who would buy this?
Want to see more posts like this?
Follow me on:
Follow