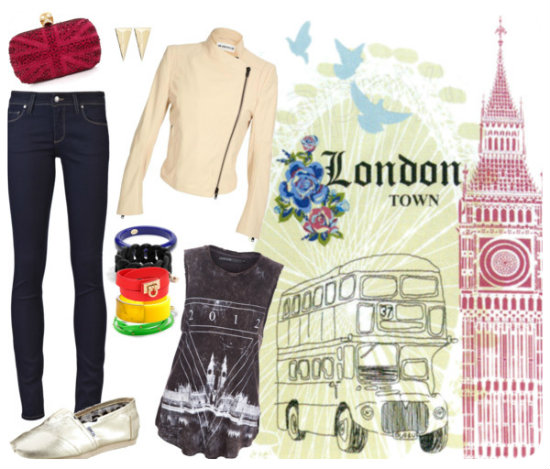 The day has finally arrived! I can't believe 27th July 2012 is actually here, and within hours the world will be watching the London 2012 Olympic Opening Ceremony.
I was lucky enough to attend the technical rehearsal of tonight's event and even without seeing all of the ceremony (they had to keep some of it a surprise), I can assure you it will be worth watching. If you've planned to watch the Opening Ceremony anywhere other than at home in your pyjamas, you might be wondering what to wear without looking like a walking Union Jack. Above is my styling of a fun, Olympic themed (without being tacky) ensemble to enjoy this evening's celebrations in (click on the image above for details of each item), and here's why:
Gold shoes: we're obviously hoping for some gold medals for GB (yes, Aussie readers, I'm also hoping for some Aussie gold medals of course!); these Toms are comfy, cute and subtly Olympic. Bangles: instead of adorning yourself in Olympic themed clothes, why not stack your wrist with bracelets or bangles in the colours of the famous rings? Clutch: yeah, there's no way I can afford this beauty, but I like the subtle Union Jack – much nicer than draping yourself with a flag! Earrings: don't these gold accessories look like the Olympic torch?! The perfect finishing touch. Jacket: let's face it, despite the past five days, we do live in Britain. You're going to need a jacket (and probably an umbrella too)…
However you're celebrating, and whatever you're wearing, I hope you enjoy what London has to offer tonight and for the next few weeks.
Happy Olympics everyone!! x
Want to see more posts like this?
Follow me on:
Follow