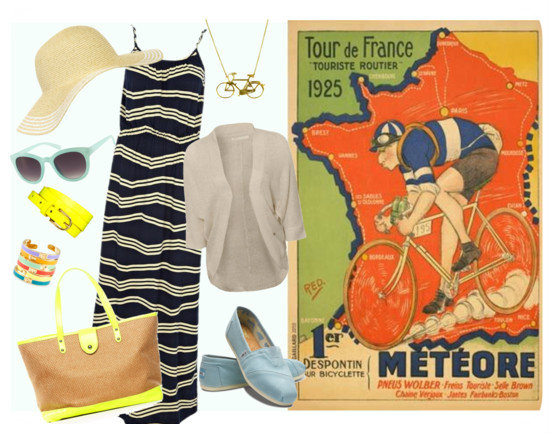 Today, I am miles away from my apartment in London and am in fact in the French Pyrenees, near a town called Pau. Why am I here? Well, partly because I'll use any excuse to go to France and eat French food, drink French wine (and Orangina) and speak really terrible French. It's the best. But I'm also here to support my hubby and two friends as they cycle one leg of the Tour de France (about a week before the pros do it) in a race called L'Etape du Tour. And on Sunday we'll catch the pros as they cycle into Foix on stage 14 of the Tour.
Last year we followed the Tour de France around the Alps and Pyrenees for two weeks, but this year I feel so much better prepared for a day in the sun, waiting for the peleton to pass. I have packed sunscreen, a cardigan, a book and comfy shoes…a vast improvement to last year's day bag contents.
The outfit I've created above is my recommendation for a day of watching Le Tour in comfort (and, of course, style). A maxi dress will keep me cool and still able to lounge on a picnic blanket without flashing anyone. Comfy shoes are a must, as is a hat and a big bag to fit lunch, water, sunscreen and a good book in. The weather in the mountains can be unpredictable, so a cardigan or light jacket is a good idea, and the bicycle necklace is just a super cute accessory!
Click on the image to see each item in more detail…
Want to see more posts like this?
Follow me on:
Follow