"One in ten Brits don't bother using all of their holiday entitlement because they don't know where to go. The younger generation in Britain, 18-24 year olds, are even more likely to miss out on holidays (17%) due to the fact that they don't have a destination in mind."
This shocking statistic was sent to me this week as part of a study conducted by Gogobot*. The survey also revealed that 35% of Brits are not using all of their holiday privileges even though almost half (49%) have a 'use it or lose it' policy. It saddens me to think that so many people are losing their precious holiday time simply because they don't know where to go.
So before you wave goodbye to your leftover 2012 holiday time, here are five breaks that are perfect for December. Go on, book that time off and enjoy your hard-earned holiday!
1. Christmas Markets in Munich: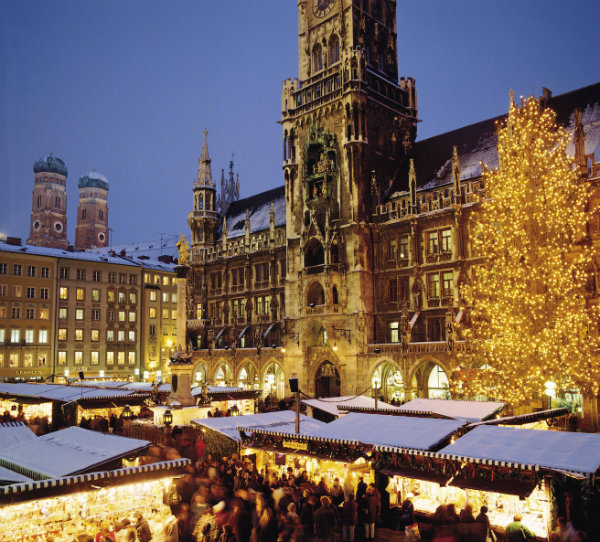 image source: gogermany.about.com
Why not combine your holiday with some Christmas shopping by making your destination a Christmas Market? I sadly haven't been to a German Christmas market, although it's on my list as I've heard many good things about them. Munich is home to a market whose roots go back to the 14th century, and which is held on the Marienplatz in the heart of the city centre. There you can find wood carvings, gingerbread and glassware from the Bavarian Forest while sipping glühwein and admiring the beautiful architecture. Sounds better than a day in the office, right?
Return flights from London start at £55pp on Skyscanner. 
2. Explore an Eastern European Town:
If you like to take a city break without being swamped with other tourists, Eastern Europe could be just the thing for you. Although tourism has grown a lot in the past few years the most popular cities like Tallinn, Riga and Ljubljana are noticeably quieter than their Western European counterparts. You can expect rich history, beautiful architecture, delicious food and cheaper price tags than the usual European city breaks, and most of the main cities have quaint Christmas markets which you can enjoy too.
Return flights from London to Riga start at £45pp on Skyscanner. 
3. Northern Lights in Iceland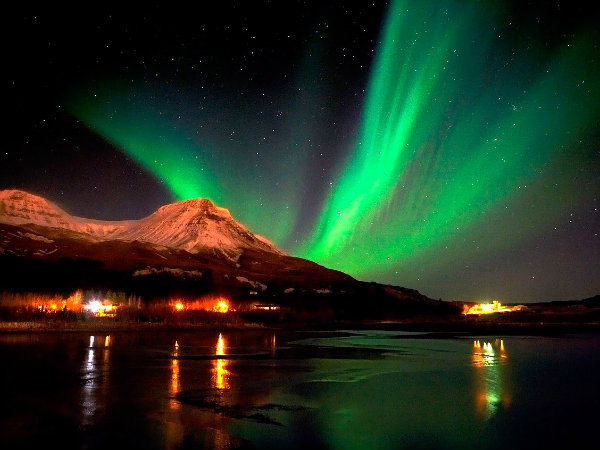 imagesource: mydaily.co.uk
I'm pretty sure seeing the Northern Lights is on most people's bucket lists, and weather conditions mean that this winter is set to be one of the best in 50 years to see the Aurora. Iceland is one of the most accessible destinations from the UK for Northern Lights viewing, and offers so much more than just the incredible night sky. The Blue Lagoon is well worth a visit, Reykjavik is a stunning little town and the geysers and waterfalls that can be seen on day trips from the capital are outstanding.
Return flights from London to Reykjavik start at £178pp on Skyscanner. 
4. New York
Ice skating in Central Park, marvelling at the giant Christmas tree at Rockefeller Plaza (which boasts 30,000 lights!), visiting the 'one real Santa Claus' at Macy's Santaland and window shopping on 5th Avenue…it's the ultimate Christmas destination, and perfect for a long weekend to get you into the festive spirit!
Return flights from London to New York start at £375pp on Skyscanner. 
5. Staycation (sorry, I hate that word too)
Rather spend your money on something else this year? That's no excuse to waste your precious holiday time. Instead of trying to fit in your Christmas shopping after work or on weekends when the rest of the world is doing the same, why not take some time off work, stay at home, and get your pre-Christmas jobs done in a leisurely fashion so you're relaxed and ready when Christmas arrives? Taking time off to rest and rejuvenate doesn't have to mean a costly trip overseas, or even travelling at all. Read a book, watch a box set, go for long walks, learn to knit…just please use your holidays this year!!
I'd love to hear from you: do you use all of your holidays? If not, why?
*Please note: this survey was carried out with 1,000 UK employed adults in November 2012 by 72 Point on behalf of Gogobot.
Want to see more posts like this?
Follow me on:
Follow