If you find yourself in Tallinn for a weekend, which I highly recommend you do, you will discover a beautiful town full of history, unusual food and delicious drinks, and all on a very reasonable budget. I converted £150 into Euros before leaving London and it lasted the entire weekend, including all food, drinks, transport and souvenirs. In this post I'll give you my recommendations based on the highlights of last weekend, but first, a few important tips:
If you visit Tallinn in winter, wear shoes with plenty of grip! The cobbled streets are slippery!
If you're travelling in a group of three or larger, a cab will probably be slightly cheaper than a bus when travelling to and from the airport.
I highly recommend staying in this airbnb apartment. The location is incredible, and it's a great price!
Where to eat in Tallinn:

Kompressor (cheap & filling):
If you're looking for a cheap meal, check out this grungy pancake restaurant/bar. When I was researching places to eat in Tallinn, Kompressor came up time and again as a must-go. I ordered the champignon & blue cheese pancake for EUR 4, along with a local beer. Although there wasn't much atmosphere to speak of, it was a tasty and filling meal (none of us could finish our pancakes), and just steps away from the main town square.
Rataskaevu 3, Tallinn
Gloria Wine Bar (great atmosphere & amazing range of wines):
We'd been recommended to eat at Gloria by a friend who'd visited Tallinn before, so we made a reservation at the main restaurant for Saturday night. However, after eating all day we weren't in the mood for a big meal so we went next door to the wine bar instead. What we found was an amazing array of wines from around the world, set in the medieval stone walls of the city, warmly lit by candles and dim lighting. We were seated in a private room at a huge wooden table and, armed with a bottle of Austrian white, sampled a few tapas plates which were all delicious (the salmon on the fish platter was particularly tasty).
Müürivahe 2, 10146 Tallinn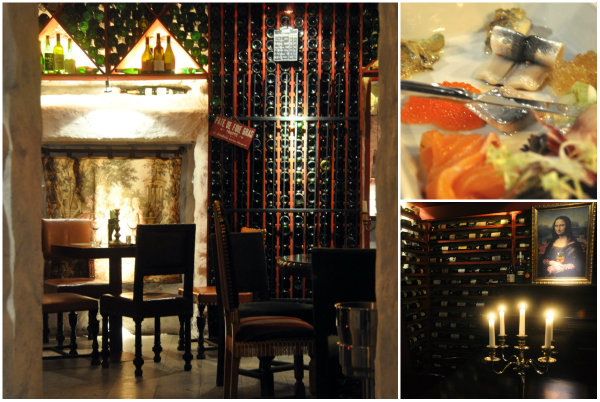 Olde Hansa (for a medieval experience):
I must admit, I usually wouldn't go for a clearly touristy restaurant in the town square where people dressed in medieval garb try to lure you in from the outside. The exception to this rule is when both the local whose apartment you're renting and the Hedonist's Guide To recommend the place, so we gave it a try. After being convinced by our waiter to order a honey beer, which arrived in a huge pottery jug, we perused the menu which included such rarities as elk and bear. I decided to go with the wild boar, served with onion jam, sauerkraut and spelt, all of which was absolutely delicious (as was the honey beer). Across the road from Olde Hansa in the picturesque Town Hall is a similar restaurant, but better for lunch, which serves a 'decent bowl of Elk soup'. Decent is an understatement; it was incredibly tasty and all served with a side of in-character role-play by the medieval waiters and waitresses.
Vana Turg 1, Tallinn 10140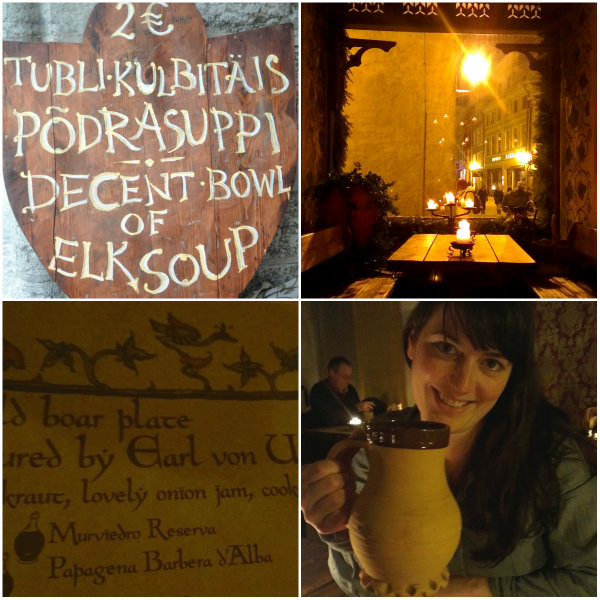 Where to drink in Tallinn:
Valli Baar (for an authentic Estonian experience):
Another recommendation by the guy whose apartment we rented, Valli Baar is nothing short of a dive bar. Opened during Soviet times in 1969, Valli Baar's original interior has been preserved by the Tallinn Cultural Heritage Department, which means it's pretty much lacking any vestige of atmosphere or décor. I wouldn't recommend you plan a whole evening here, but it's a good spot to drop in for a drink or two before going out for dinner (Gloria's just down the road). Try the bar's specialty, the millimallikas (tequila, vodka and Tabasco sauce), but beware of drunken, sleazy locals!
Read more about this local treasure here
Müürivahe 14, Tallinn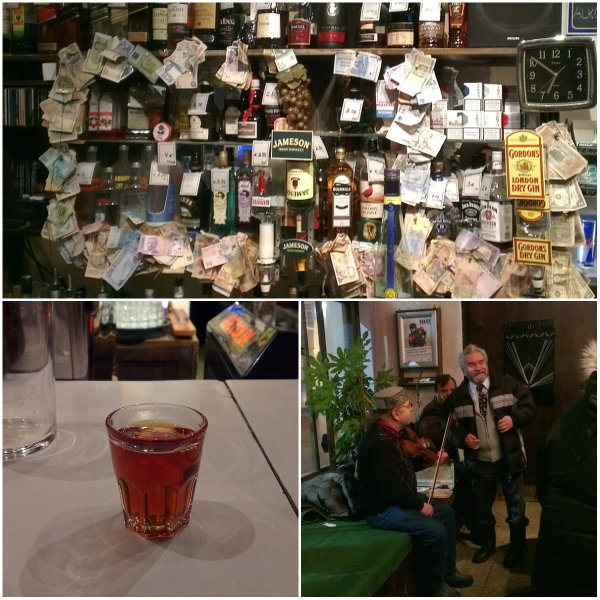 Cafes (all over Tallinn!):
We spent most of our days hopping from one cafe to the next, drinking coffee and sampling various scrumptious cakes. Take some time to explore Tallinn's cafes; my two favourites were Cafe Chocolaterie (Vene 6, 10123 Tallinn) for the amazing hot chocolate and vintage décor, and Maiasmokk ("Sweet Tooth"), the oldest operational cafe in Estonia, which opened in 1864. The intricate roof is good enough reason to visit, but the cake was amazing too (Pikk tn 16, Tallinn).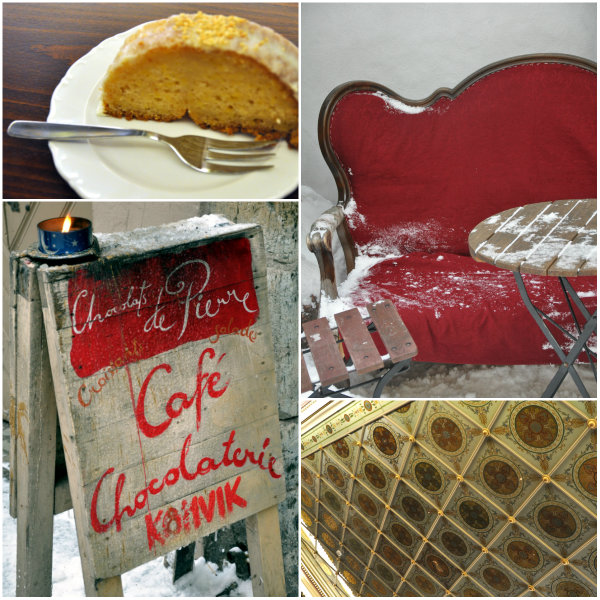 Where to shop in Tallinn:
Christmas Market (for handmade goods):
Located in the stunning Town Hall square, this is the most beautiful Christmas Market I've ever seen. The twinkling tree dominates the medieval square, and is surrounded by pretty wooden huts displaying goods such as woollen socks, wooden Christmas decorations and gingerbread. Shop here for souvenirs with a difference, or just wander through the stalls with a hot cup of glögg (mulled wine) and enjoy the fairytale scene.
Open from the end of November to the first week of January (dates vary)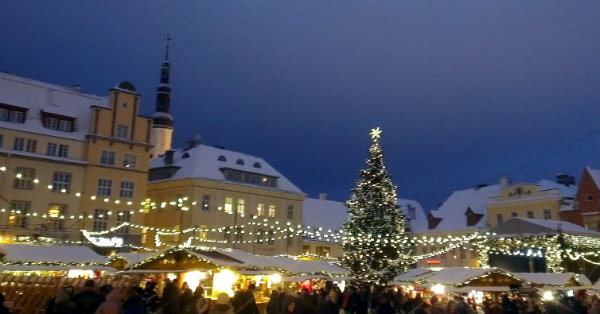 Wool Market (for warm goods!):
If you find yourself freezing your toes off while you're in Tallinn, don't worry, the wool market set into the old city walls will have something to keep you toasty. Socks, scarves, ponchos, slippers…if it can be made out of wool you'll find it at this charming market.
Müürivahe Street, Tallinn
Foxy Vintage (for seriously cool one-off finds):
We stumbled upon Foxy Vintage after stopping at Cafe Chocolaterie and ended up spending at least half an hour in the small second-floor store, trying on various gorgeous vintage pieces. It was all really reasonably priced, and the quality was excellent. For any vintage lovers out there, this place is well worth a visit!
Vene 6, Toomklubi, Tallinn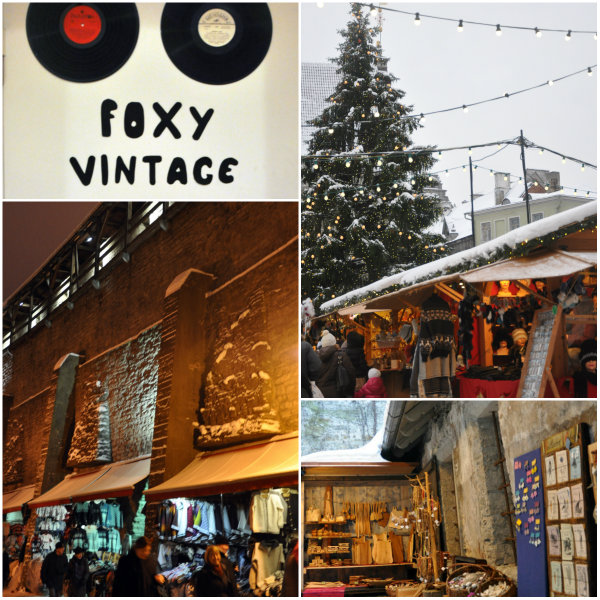 Other things to do in Tallinn:
If eating, drinking and shopping your way around a new city aren't your thing, there are some other things that can keep you entertained. Head up to Toompea Hill for stunning views over Tallinn and beyond, to the Baltic Sea, as well as some pretty stunning cathedrals. Also worth a visit is the Estonian History Museum, housed in the 15th century Great Guild Hall. Showing Estonia's history from prehistoric times to the present, this museum is a nice way to while away a few hours before moving onto another cafe for coffee and cake!

Have you visited Tallinn? Would you add anything to my recommendations?
Want to see more posts like this?
Follow me on:
Follow