Loving travel and loving airports are supposed to go hand-in-hand, but I've never been lucky enough to enjoy both. For as long as I can recall, I have found the entire airport experience to be stressful. Queues, luggage restrictions, ticketing issues, security screening, my perpetual fear of losing my passport, checking screens for boarding information, screaming children, nasty takeaway food…I could go on, but I'll save you from the entirety of my angst-filled list. On the day of any flight I'm catching, I'll wake up with a stomach ache and the unsettled feeling won't abate until the plane's wheels have left the runway. If it's a night-time flight, that amounts to a long and stress-filled day.
The reason why I am sharing this uncharacteristic fear of mine is because in November when we flew to Australia on a Wednesday evening I was, for once, totally calm all day. This newfound serenity was caused by a discovery I made when we travelled earlier in 2012: the No. 1 Traveller lounge at Heathrow airport. When we visited the lounge in March using free passes that were included in our bank account benefits, our experience was so good that just knowing I could wait in comfort rather than in the airport departure area kept me tranquil and stress-free.

During our most recent visit to the lounge, we had a few hours to kill prior to our flight, which gave us enough time to enjoy decent food, a drink, and I even indulged in a luxurious spa treatment. I boarded that flight calmer than I've ever been before. So how can one airport lounge have such a soothing effect on this usually jittery traveller? For starters, the No. 1 Traveller lounge is spacious; there are areas in which to work, sleep, play, refresh and eat, as well as a room just for kids. There's an array of complimentary food to help yourself to, most of it fresh and healthy, as well as hot and cold drinks. If you have a few hours to while away you can relax in the cinema room, play some table football, check your emails using the lounge's free Wi-Fi or just watch the planes come and go in the peaceful setting of No. 1 Traveller Heathrow.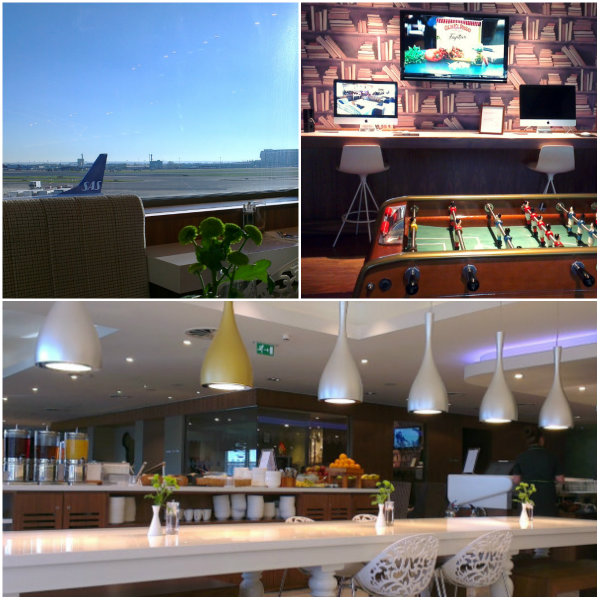 The highlight of this visit was a 30 minute back and shoulder massage that Brendan so kindly treated me to at the No. 1 Travel Spa. I'm quite fussy with massages but this half hour was perfection; a firm but not too painful treatment that left me so relaxed that falling asleep on my turbulent long-haul flight was a breeze. Honestly, I can't speak highly enough of the No. 1 Traveller experience and I wholeheartedly recommend that you visit if you have a long wait at Heathrow (or any of the other airports where No. 1 Traveller is located).

Now, as for the cost…entry to the lounge is free with certain memberships such as Airport Angel or Diners Club, but without a membership each visit is £30 per person. The way I see it though, here's how that cost compares with a regular airport visit: meal – £10, drink – £5, Wi-Fi access – £6.50, inevitable spend due to boredom-induced duty free browsing – £20. So even by spending the thirty pound entry fee for the No. 1 Traveller lounge you're still £11.50 ahead, and so much more relaxed. That's just simple logic!
Want to see more posts like this?
Follow me on:
Follow