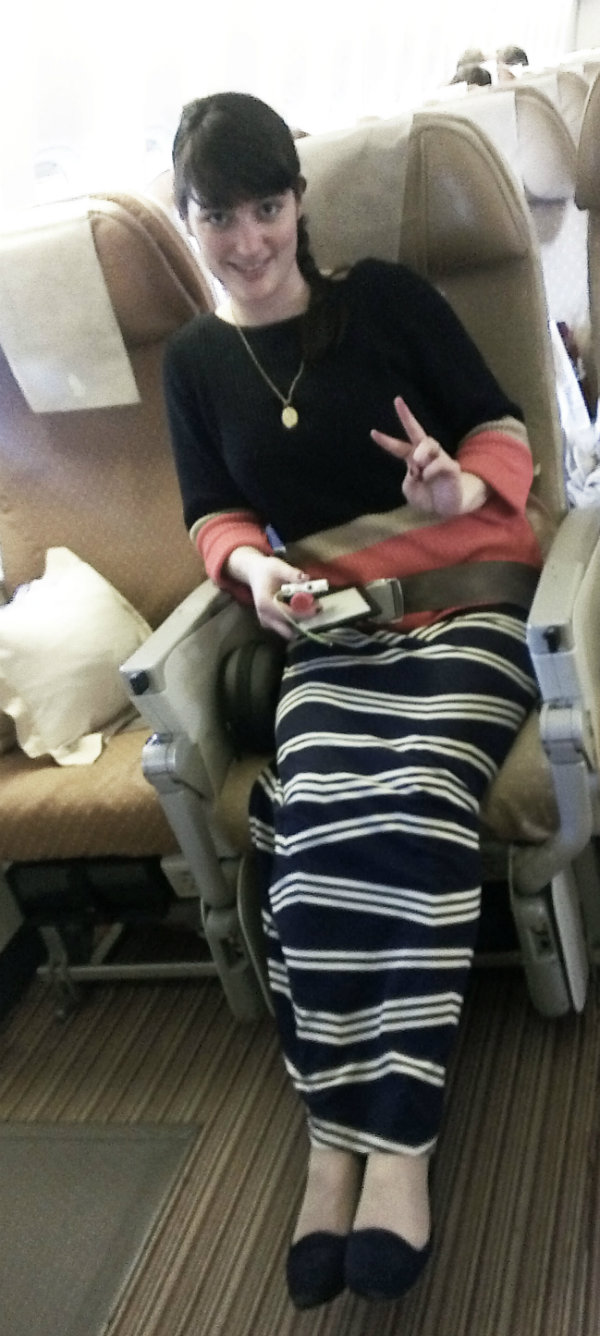 Deciding what to wear when travelling on a long-haul flight can be a tricky exercise. Gone are the days when I would arrive at the airport in my slouchiest tracksuit bottoms, a well-worn hoodie and my running shoes (chosen because they were the bulkiest shoes I was travelling with, so wearing them ensured more space in my suitcase). These days, although I still favour comfort for a long journey I try to look as presentable as possible. When I travelled to Australia in November I planned my outfit carefully; here's what I wore and why I selected each item:
– Hair: side plait. This is a low-maintenance style that's perfect for travel. No matter how much you wriggle, sleep or stretch you'll disembark the aircraft looking almost as put-together as when you boarded. It's comfortable, chic and easy.
– Shoes: flats. I always pack a pair of slippers in my hand luggage to change into mid-flight, so I need shoes that can slip on and off easily, taking into account that my feet tend to swell a little after a long flight. These Primark smoking slippers are comfy, light and easy to slide on or kick off.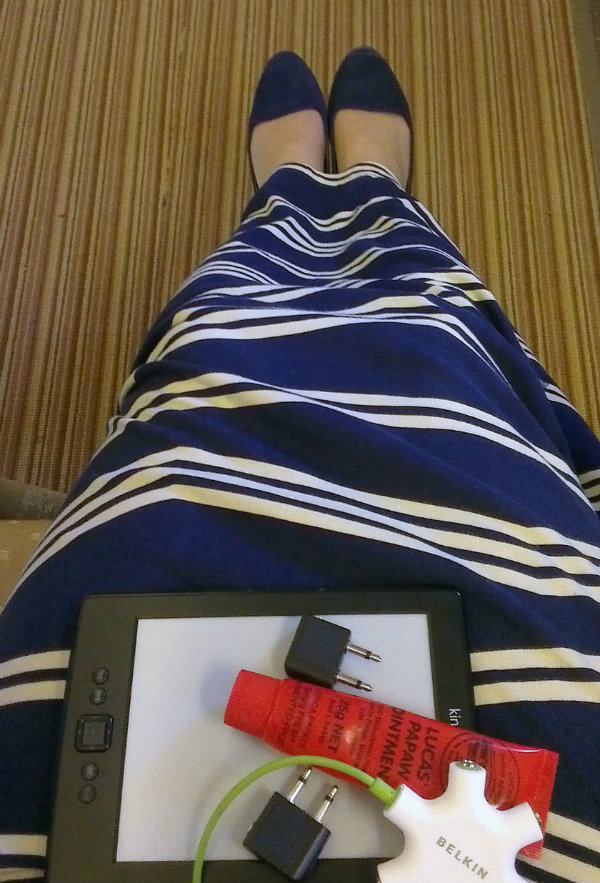 – Outfit: maxi-dress. Tracksuit bottoms are for workouts, leggings are often tacky, jeans aren't comfortable for long periods and knee-length skirts leave you worried about decency when trying to find a comfortable position mid-flight. A maxi dress is none of these things; it is simply the best option for long flight style. We departed London in winter, so I wore a pair of nude tights under this River Island dress but ditched them once we boarded the flight as it was warm from Singapore onwards.
Bonus tip: wear a sports bra for even more comfort!
– Cover-up: jumper. Flights can get chilly, so a jumper is a good idea to bring along whenever you fly. I prefer to avoid cardigans, or anything with buttons or other embellishments as they can scratch and dig into your skin. I selected this colour block jumper because it's warm, soft and comfortable.
– Jewellery: necklace. I like to keep jewellery to a minimum and only wear items that won't scratch or annoy me. Stud earrings are out of the question, as are bangles or big rings, so I tend to stick with an understated necklace.
My golden rule for in-flight attire is this: keep it simple, keep it stylish and keep it comfortable.
What do you wear when you fly?
Want to see more posts like this?
Follow me on:
Follow