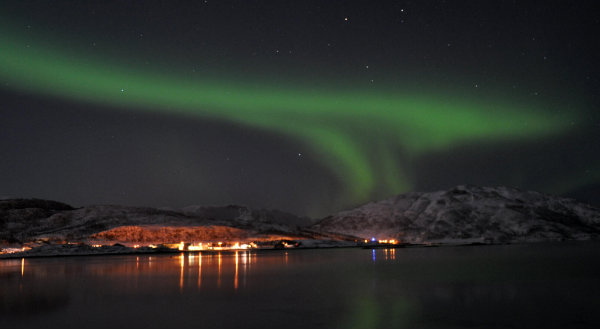 Is seeing the Northern Lights on your travel bucket list, but you're not sure where to go or how to ensure that you see the aurora borealis?
Having travelled to three different countries on three different occasions to see this stunning natural phenomenon, and having learned from the mistakes that led to two unsuccessful attempts, and the research and planning that led to one (recent) successful sighting, I'm happy to share my top five tips with you to help improve your chances of seeing the beautiful Northern Lights: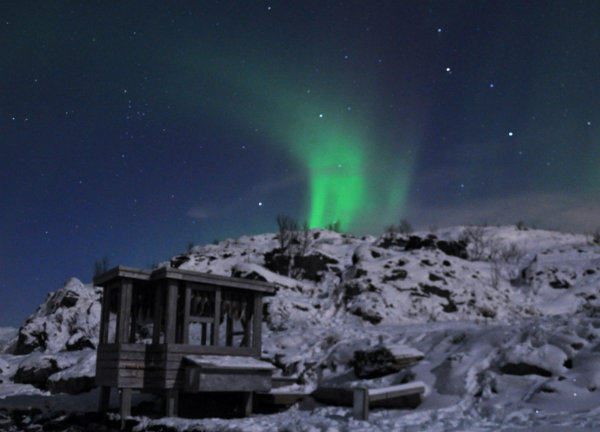 1. Location, location, location:
The Aurora is active around the north and south poles (although unless you're going to Antarctica you're unlikely to see the aurora australis), so the closer you are to the poles the better. However, you shouldn't just choose your location according to latitude, as the weather affects the Aurora's visibility too (we'll get to that later) so it's best to choose a destination that is known for its clear nights. Tromsø in Norway is one such locale, as the gulf stream has a warming effect on the region which makes the weather much milder than other locations on the same latitude. Although I'm biased towards Tromsø, there are many great destinations within the Aurora zone; read this piece to discover other places to see the Northern Lights.
2. Auroral activity: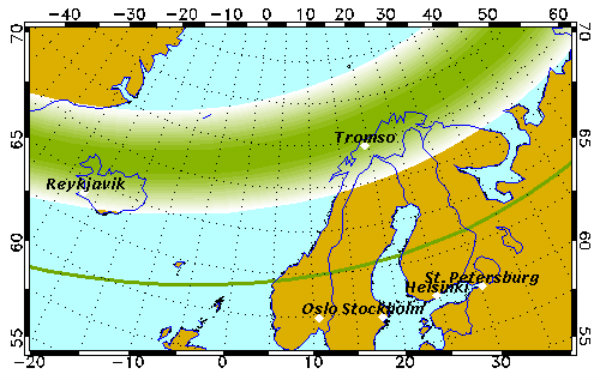 Did you know that there are different levels of auroral activity, which are measured on a scale of 0 to 9? A level 0 aurora is the least active, and you're unlikely to see it no matter where you are in the world. A 9 is extremely rare; this means the aurora can be sighted as far south as Spain and Greece, or the southern states in the US. There is an aurora forecast available online which estimates the aurora levels a few days in advance, so if you're taking a trip up north it's good to keep an eye on the site. To provide you with a little context, the night we saw the amazing northern lights display in Tromsø, the aurora was a level 2 (as in the above image). In contrast, two nights previously it was a level 3 but we barely glimpsed the lights due to cloud cover, which brings me to:
3. Weather:
The weather is perhaps even more important than the strength of the aurora. If there is thick cloud cover, you simply won't see the northern lights. Even with a thin layer of clouds, the aurora will be veiled and will appear less vibrant and more like a smudge across the sky than a living, dancing, luminous display. This is how we saw it on our first night in Tromsø (below) and although we were delighted to have finally seen the natural phenomenon, it wasn't as spectacular as we had envisaged. To the naked eye, the elusive smudge across the sky was a pale, milky colour and only appeared green with the help of a thirty-second camera exposure. We could still see some movement but not nearly as much as two nights later, when we had crystal-clear skies and the aurora was dancing, swaying and curving constantly. Make sure you book plenty of time wherever you're going so that you have a good chance of at least one clear night. We booked our recent trip for four nights and we're so glad we did; it was the perfect length stay for us!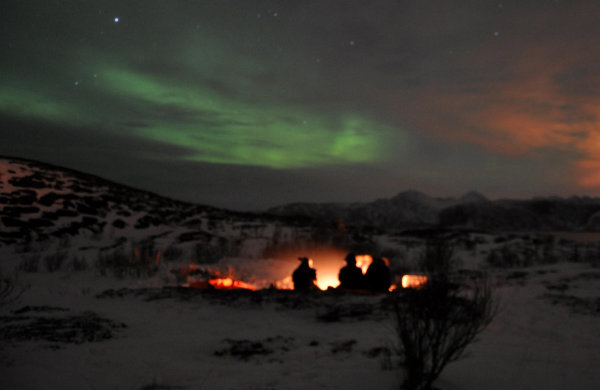 4. Escape the city lights:
Although the aurora can be seen from cities when the conditions are right there is so much light pollution, even in relatively small cities like Tromsø or Fairbanks, that it's important to get away (even just 20 minutes out) so you can see the northern lights. There are a number of factors to take into account when getting out of the city, including price, weather and flexibility. For the ultimate flexibility, consider renting a car and driving to the outskirts of the city. On a clear night this is a good option and you can stay as long as you like without a tour group weighing you down. However, if the weather conditions are less-than-perfect or if you're not comfortable driving on snow-covered roads, I recommend a tour. We did two very different types of tour on our latest trip; the first was a northern lights chase (details at the end of this post). The tour was a very small group (8 guests) which was guided by Simon, a Tromsø local, who drove us to a spot where he knew the weather was best in the region – he stayed in communication with other local guides so everyone knew where the aurora sightings were and could move accordingly. We were provided with warm clothing, food, hot drinks and stories from Simon's adventurous childhood as we sat around a fire on a deserted Norwegian beach staring at the sky. This was an expensive option, but it was more than just a tour and I would have been happy with the evening's experience even if we hadn't seen the aurora. The second tour was cheaper and simpler; we chose it because we knew the weather would be clear and so we simply wanted to be taken away from the city's light pollution. We hopped on a big coach full of other tourists and arrived at another remote beach; this time with a traditional Sami lavvu in which we could huddle around a fire and help ourselves to coffee. On a cloudy night this option would have been disappointing, but it was exactly what we wanted, and for the price it was perfect.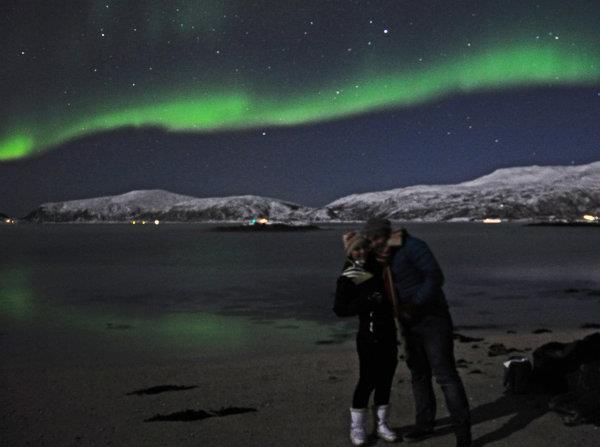 5. Patience:
This part is tricky, but armed with all of the above information a bit of patience will pay off. If you haven't pre-booked your tours before you arrive (I would recommend only pre-booking one evening tour and then seeing what the weather is like once you have arrived so you can be flexible), check the weather and aurora forecasts for the following few days and decide when you want to hunt for the lights. It's a good idea to visit the local tourist information office too, as they know when the best conditions for northern lights viewing will be. They can also advise you on the type of tour that's best for you – perhaps you'll want to mix some adventure with your tour by going snowmobiling, or maybe a dinner cruise is more your thing. Whichever way you chose to do it, get out there and enjoy the experience. You may have to wait in the cold for a few hours without seeing anything, but the following night you might be rewarded for your efforts. No-one can guarantee that you'll see the northern lights, but when you do, you will never forget it!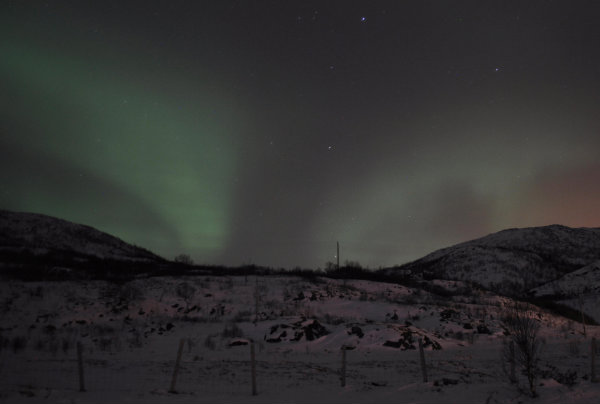 Oh, and a bonus tip for you: don't forget to pack a tripod!!
Our northern lights chase tour, which I highly recommend, was booked with Arctic Explorers Norway, whose service and expertise was impeccable. Our guide Simon was friendly, knowledgeable and willing to go the extra mile to make our experience unforgettable. The cost was approximately £150pp – admittedly expensive, but very worthwhile!
Have you seen the northern lights? Do you have any other tips to add?
Want to see more posts like this?
Follow me on:
Follow