As our waiter stepped aside to avoid a flying beach ball, he stumbled and fell backwards into the inflatable hot tub I was sharing with my husband and four strangers. No, I wasn't at a beach-side club during Spring Break in Florida; I was actually inside a warehouse in East London, sipping prosecco and watching Austin Powers in a hot tub, at pop-up film experience Hot Tub Cinema.
As an avid cinemagoer I try to see as many films as possible; usually one a week if I can manage it, but as much as I love my local Cineworld there's nothing like attending a unique cinema event. In November I experienced Secret Cinema which was an unforgettable night, so when I was offered tickets to see Austin Powers at Hot Tub Cinema last week I jumped at the chance to experience an equally memorable yet entirely different evening of film.

We arrived at the venue, a factory in East London's trendy Shoreditch, and were greeted by Hot Tub Cinema staff in animal onesies, who explained to us where to go, what to do with our belongings and how to pay for food and drink throughout the night. Brendan and I bought plastic tokens (our currency for the evening) and a waterproof wallet to hold them in, and then went our separate ways to get changed (be warned, there are no cubicles in the changing tents so there's not a whole lot of privacy). Once dressed in our swimwear and flip flops we dropped off our belongings, purchased a glass of prosecco and sauntered towards the hot tubs, whose steamy warmth was beckoning to us through the cold of the warehouse.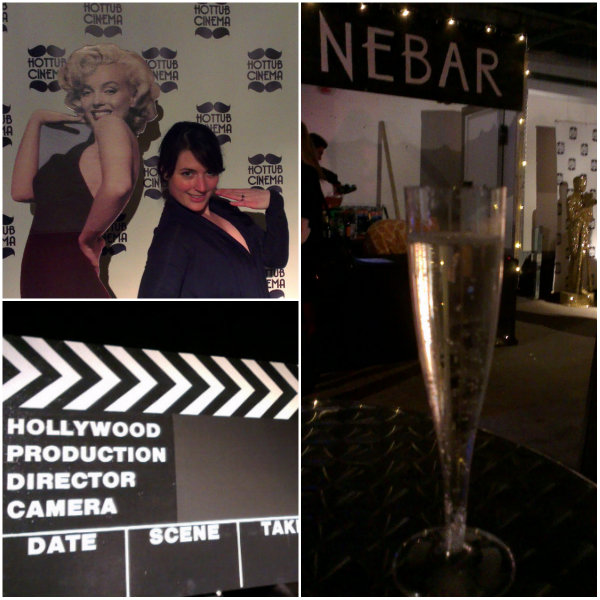 Once settled in our hot tub, there was no need to leave again, as wait staff took our orders from the tub and brought drinks to us throughout the film. We selected Austin Powers as our film of choice, but there are other classics to choose from at the moment, including Top Gun and Ferris Bueller's Day off. As the credits rolled after the film, the tunes began and people jumped up in their tubs to begin the party. Beach balls flew, waiters fell into tubs and people jumped between hot tubs. At this point, we decided to take our leave, as our fingers were shrivelled (and hot tub shenanigans are not my bag, baby!).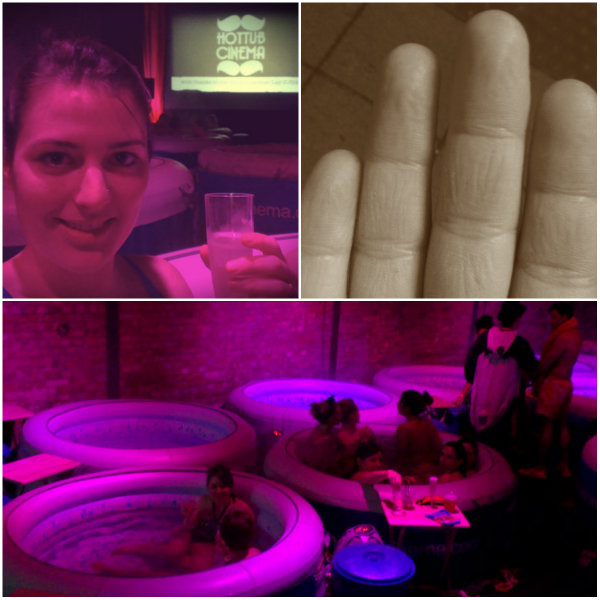 If you love good films and you're looking for something different to do in London, check out Hot Tub Cinema. At £28 it's a more expensive night out than a regular cinema, but it's such a fun experience and would be great to share with a group of friends. Food and drink prices are very reasonable (beers are £4 and prosecco £6) and you'll remember the evening for a lot longer than a trip to a regular cinema! In case you don't manage to catch this round of films, fear not; there will be more! And perhaps if there's another summer set of Hot Tub Cinema, they'll take place on a rooftop as they did in 2012. That's my kind of cinema experience!
*tickets were generously provided courtesy of Hot Tub Cinema (thanks guys!)
Would you visit Hot Tub Cinema?
Want to see more posts like this?
Follow me on:
Follow