A cockroach in the shower. Snoring room-mates. Being locked inside a dormitory. Questionable hairs found on 'clean' bedsheets. Rooms resembling prison cells. Fear of possessions being stolen. Lights being turned on at 3am. Bed bugs.
These are the images my mind procures when I hear the word 'hostel', owing to various experiences I've endured throughout my travels. Not all of my hostel memories are negative, but my overriding feeling about this accommodation category in general is that I'm at a stage in life where I no longer need, or want, to stay in hostels.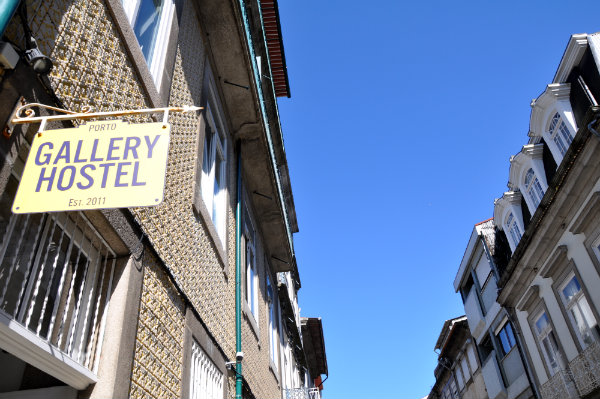 When I first heard the phrase 'luxury hostels', I scoffed and called it an oxymoron. I read various travellers' accounts of their stays in such lodgings and although even I would admit that the photos I was looking at were a far cry from the hostels of my memories, I still only considered hotels or B&Bs for my accommodation.
When I found myself booking a last-minute trip with some friends to Porto in Portugal, I booked the same accommodation as them, which happened to be 'luxury' Gallery Hostel. The website looked promising but I was nervous about staying in a dormitory with strangers (my friends had already booked a private double room for themselves); although I figured it could be a good chance to see what the luxury hostel concept was about, and perhaps change some of my preconceived ideas.
To say my ideas were challenged after my stay would be an understatement. I loved Gallery Hostel, and would now consider booking a luxury hostel on future trips. Here are five reasons why I fell in love with this place, and why you would love it too: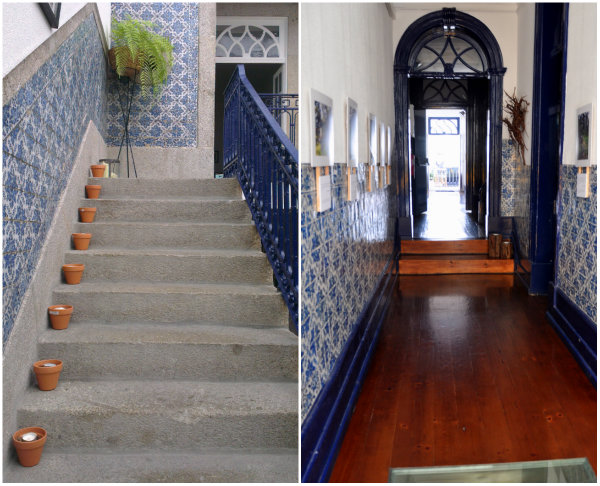 1. The staff are some of the friendliest you'll ever meet:
Beginning with check-in, the service at Gallery Hostel is a far cry from a general hotel experience. There is no cold efficiency, no feeling of being rushed and a genuine sense that the staff really care who their guests are and where they come from. A personal tour of the fantastic building and amenities follow check in, and staff are more than happy to provide recommendations for transport, things to do, and places to eat throughout your stay. Interacting with staff at Gallery Hostel feels like being welcomed into a local's home; one with knowledge of the area, good food and drink to share, and a comfortable bed to lay your head after a day of exploring.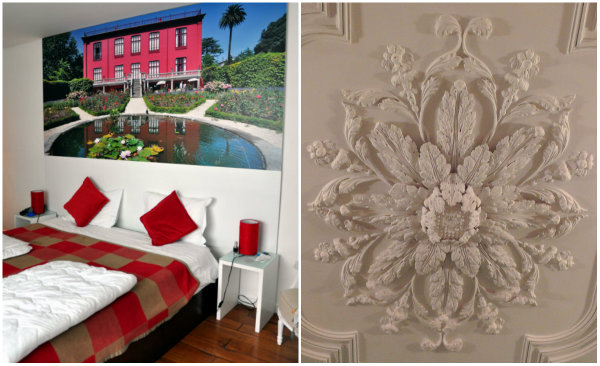 left: a private double bedroom in Gallery Hostel
2. All the added extras make this hostel amazing value:
Pay just €20 per night for a bed in a dorm and you'll get not just a bed, but also wifi, a rain shower, towels, sheets, hairdryer, an ample locker, night light, use of the winter garden and access to the cinema room, bar, original displays of art and a roof garden. A huge breakfast is also included in the price, as is a free city walking tour (which I highly recommend). If all of that isn't enough, you can have dinner in the dining room for just €10 – which includes wine. All in all, the value for money of Gallery Hostel is undeniable…but if you're still not sure about sharing a dorm room, there are private rooms available for €60, which is still cheaper than most hotels.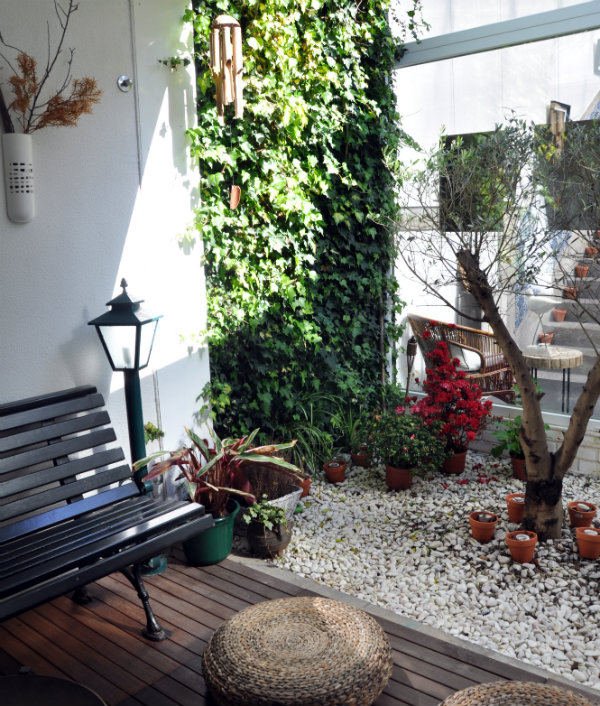 the winter garden: a place for guests to relax outdoors, even in cooler weather
3. Location, location, location:
Nestled between galleries in Porto's famous art district, Gallery Hostel is close to so many of the Portuguese city's best features. Crystal Palace and its surrounding gardens is just steps away from the hostel's door, great shopping is within a minute's walk, and a 20-minute stroll will take visitors all the way to the beautiful Duoro riverfront. There's a great choice of food, drinks and nightlife within just a kilometre of the hostel, so there's no need for taxis or public transport if you're happy to walk.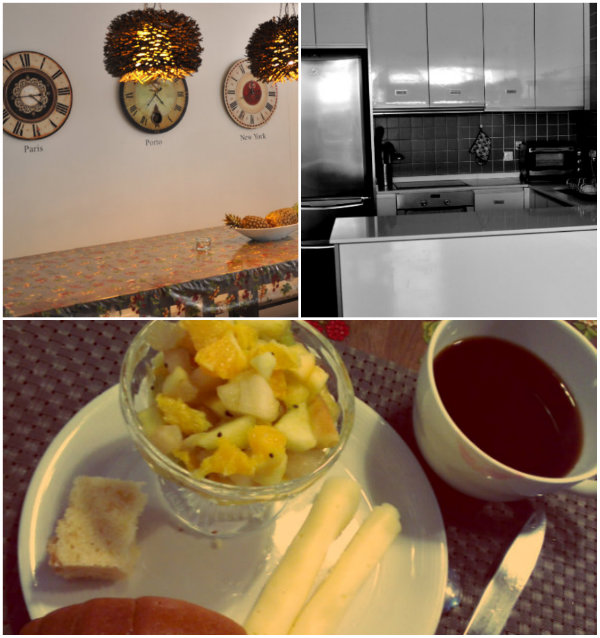 top left: the communal dining area. top right: the kitchen. bottom: breakfast
4. Details make the hostel practically ooze character:
It's true that one should never judge a book by its cover, but with Gallery Hostel you could. The bold yellow, textured tiles that clothe the 1906 building are a good indication of what can be found behind its thick, wooden doors. Many elements of the traditional house still remain, such as the stunning blue and white tiles throughout the common areas, or the ramp to an underground cellar that can be seen through a glass floor at the hostel's entrance. They have thought of everything a traveller could want or need, and have created a variety of common areas to suit every mood and personality. Socializing with guests is as easy or as optional as you'd like it to be, but relaxing is practically mandatory.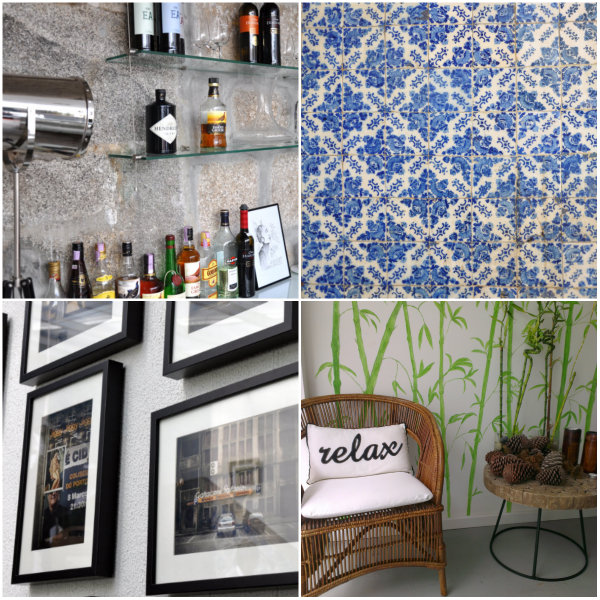 clockwise from top left: the bar, tiling, one of the common areas and original artwork
5. It'll change your view of hostels forever:
If you think you could never enjoy staying at a hostel, I dare you to stay at Gallery Hostel. Not only is Porto an incredible city to visit, but the accommodation will be memorable and opinion-transforming. There are so many ways in which this little gem of budget accommodation beats an average hotel; I've covered a few of the fantastic features available but you really need to experience it for yourself.
Not going to Porto? No problem. Here's a list of other luxury hostels in Europe you could try.
Have you stayed in any luxury hostels? Are you put off hostels from past experiences? Let me know in the comments below!
Want to see more posts like this?
Follow me on:
Follow