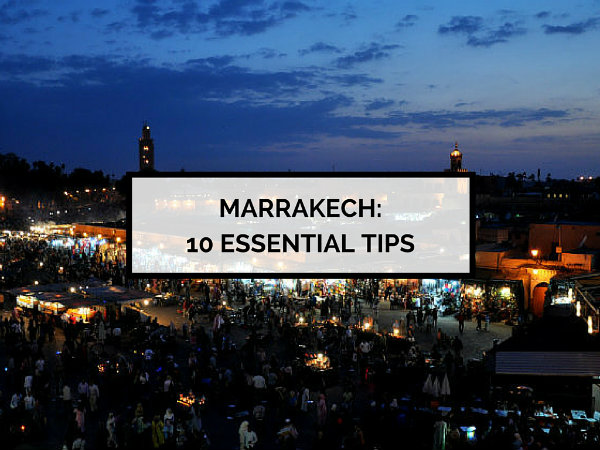 Heads up: this post contains affiliate links.
Having recently spent an incredible four nights in Marrakech, my thoughts have remained in the intriguing and intoxicating Moroccan city, despite having been back at work for a couple of days. It's a destination that I'd been dying to visit for a number of years, and I found it to be completely unlike anywhere I had ever been before.
---
Tip: I used (and loved) the HG2 Marrakech guide, and I highly recommend it!
Update: the HG2 book is hard to find these days. Other great options include the Pocket Rough Guide to Marrakech, the DK Eyewitness Marrakech Top 10 and the Lonely Planet Pocket Marrakech guide.
---
It's a city that welcomes visitors with an assault to their senses; there is no easing into the noises, the smells, the traffic, the haggling and the heat. There is just nothing subtle about this beautiful African city.
Although millions of visitors arrive in Marrakech each year and it's a very tourist-friendly destination there are a number of things to be aware of, which will help you to enjoy your experience a little more.
Ten essential tips for visiting Marrakech
1. Take cash with you
ATMs are a little difficult to locate within Marrakech's ancient medina, and the ones that can be found (usually around Jemaa el-Fna, the main square) often don't accept foreign cards.
Many restaurants accept credit cards, but in the souks it's imperative to pay with cash, mostly in the Moroccan currency (Dirham), but occasionally Euros are accepted.
There's a Bureau de Change in Marrakech's Menara airport arrival hall so come armed with cash and change it for Dirham as soon as you land in the country.
2. Dress appropriately
Morocco is a devoutly Muslim country, and being in the medina feels like stepping back into a long-forgotten time. From the call to prayer that echoes a loud chorus from towers throughout the ancient walled city five times a day, to the donkeys that plod dutifully through the dusty souk alleys carrying their master's wares, every aspect of life seems picturesquely traditional.
Due to the strictly observed religion in this section of the city, it's advisable to wear clothes that are more conservative: for guys that means t-shirts rather than tank tops, and for women it's respectful to cover shoulders, and wear skirts or shorts that are at least knee length.
It's not that there would be consequences if you wear more revealing clothing (and let's face it, in the Moroccan heat that's tempting), but it's always best to be sensitive to the culture you're in.
You might like to pack:

3. Choose chilled accommodation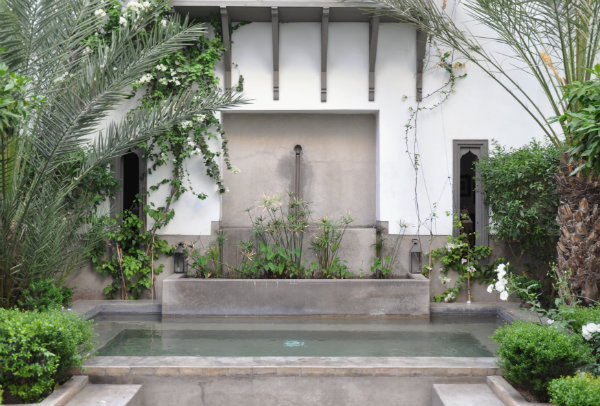 I had a few people recommend that I stay no more than two days in Marrakech, because it's 'too hectic'. I believe that these people stayed in accommodation that didn't offer respite from the hustle and bustle of the city.
The streets are crazier than anywhere I've ever been, and just a few hours of walking around the streets and the souks is enough to exhaust even the most energetic tourist.
Choose your accommodation wisely, and ensure it's a calm, quiet and peaceful place to escape to at the end of a manic day.
I recommend Zaouia 44.
4. Don't bother following the signs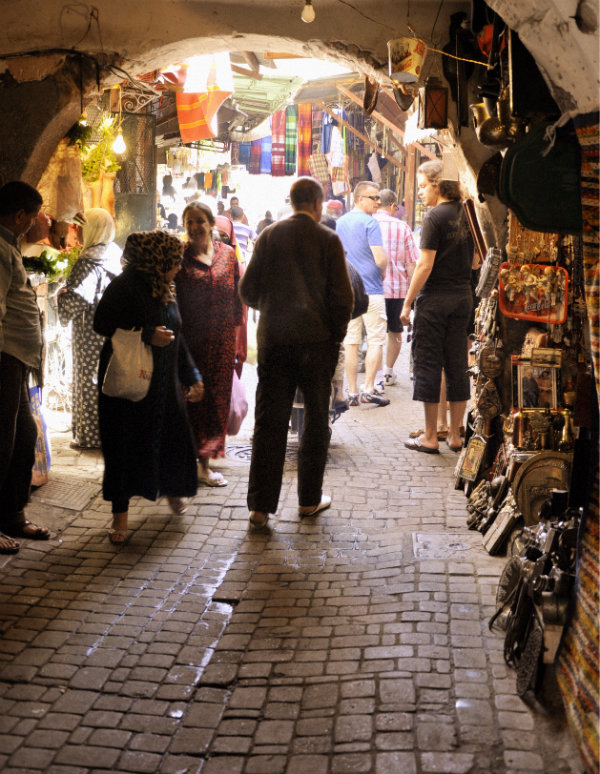 Even someone with the keenest sense of direction is guaranteed to get lost in the twisting, turning, unmarked streets of Marrakech. In the area around the Jemaa el-Fna, brightly coloured signs helpfully point the way to the main square…except…the signs are wrong!
Instead of leading wanderers to the central point they are seeking, the markers lead in circles even further into the winding alleys of the souks.
But if you like the sound of a DIY exploration and you do get lost, it's best to just ask for someone to point the way for you. Just make sure to keep in mind tip number five:
5. Don't accept directions from strangers
Chances are, if you are walking around Marrakech, even if you don't look lost someone will stop you and suggest that you follow them. Their destination could be an amazing Saharan Berber market, or a 'festival of colour' (the former leading you to the guide's friend's store, and the latter taking you to the pungent smelling leather tanneries).
Everyone who's been to Marrakech has a similar story of their own, each with one thing in common: an end result of confusion, obligation to pay someone for something you didn't want, and time spent away from all the other amazing things to see and do in Marrakech.
If you need directions, ask a policeman or someone working in a shop to point the way…but don't let them lead you there!
Want to see Marrakech from a different perspective? Take a guided bike tour!
6. Be alert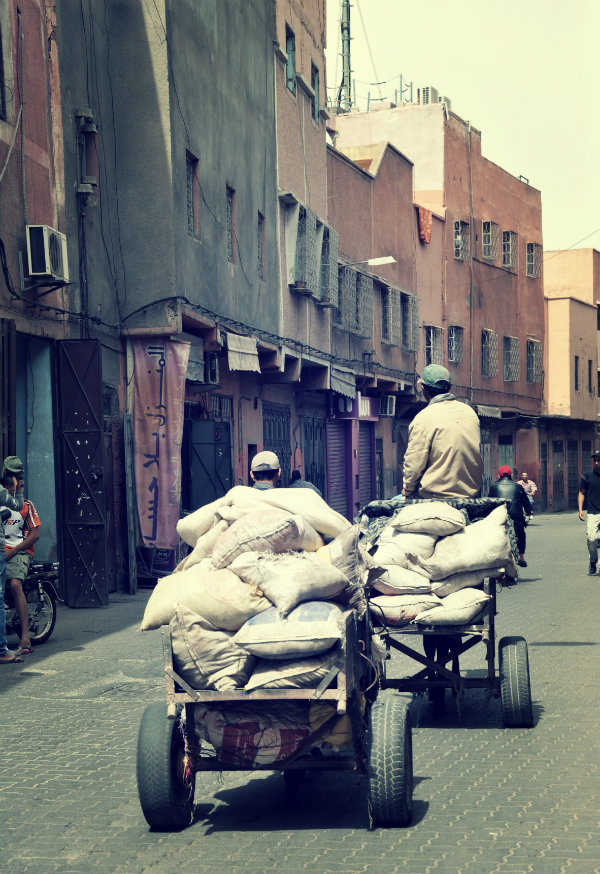 Not only are there cars to watch out for on the streets of Marrakech, but there are also bicycles, motorcycles, donkeys, horses, donkeys with trailers, horses with carriages, stray cats and plenty of other pedestrians to contend with.
There are no footpaths, no lanes and very few traffic lights. Chaos is the only way this scene can be described; absolute chaos, so keep your wits about you as you're walking around the streets.
7. Catch cabs
If you're not keen on walking on the hectic streets in the hot sun, grab a cab to your destination. The area inside the medina is quite small, so getting from the southernmost point to the northernmost shouldn't take more than 15 minutes.
Although travellers on a tight budget might choose to walk or take public transport, the cabs are very affordable (keep in mind that I'm comparing this to London taxi prices!), and a fare within the medina shouldn't cost more than around 40 Dirhams, which is less than £3.50.
Being a passenger of a taxi is an experience in itself, as the crazy traffic can be observed from a whole other perspective!
8. Haggle
If you are catching taxis in Marrakech, make sure you haggle to get a reasonable price, and agree on the fare before you get in. If a taxi driver sees you are a tourist, they will try to charge you more than double what the fare really should be.
Aim to spend 30-40 Dirhams to get anywhere within the medina; if the driver won't budge on price just tell them you'll find another cab and they will usually relent.
The same goes for goods in the souks; bargaining is a part of the Moroccan culture, so don't be shy about driving the price down, but do it with a smile and a sense of good fun, because that's what it is!
You might also like: Flavours of Morocco – Cooking Class in Marrakech
9. Spend before you leave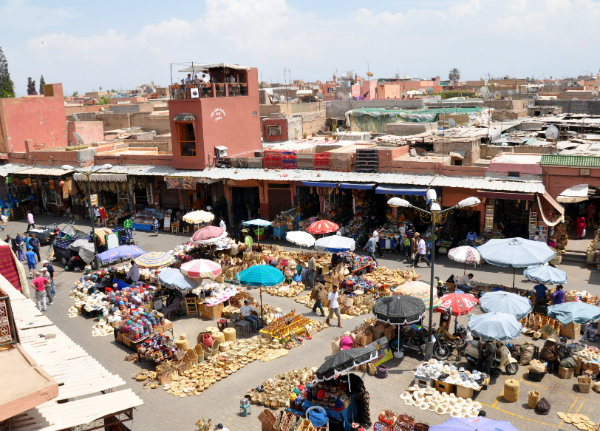 The Dirham is a closed currency, which means you can change your money for Dirhams when you arrive, but you won't be able to change it back on your way out.
Try to plan ahead by not taking too much cash out (but do keep in mind tip number one; you may struggle to locate an ATM).
Of course, if you do find yourself with a little extra money on your last day, head to the souks where the stall owners will gladly take it off your hands in exchange for leather goods, spices, rugs, tagines or hundreds of other beautiful and exotic items.
10. Get to the airport two hours before your flight – at least!
Despite the hectic streets, people in Marrakech are extremely relaxed, and the pace off the roads is always unhurried.
The airport is an especially good example of this, as each step of the process seems to take longer than the last: check-in, despite a relatively small line, takes longer than a hammam treatment, the gender-separated security line inches forward at a glacial pace, as does the immigration queue.
Don't be fooled by the fact that this is a small airport; allow plenty of time to get through to your departure gate.
Have you been to Marrakech? What other tips would you add? If you're visiting Marrakech soon, what else would you like to know before you go?
Pin this for later: