If you've been reading this blog for a while, you'll remember me singing Pinterest's praises some time ago, and two years later I'm still hooked. Thankfully, the site is no longer invitation-only, and since it opened up for anyone to join it has grown into one of the largest social platforms in the world, and has seen a number of improvements which have made the site more user-friendly than ever before.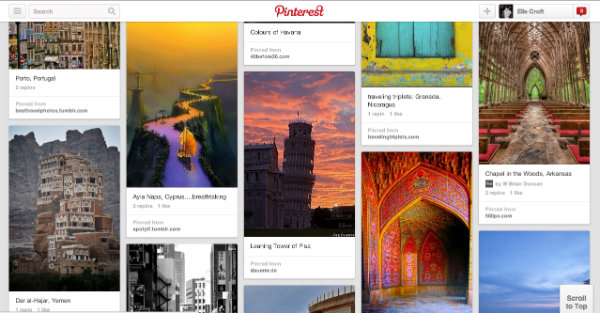 Whenever I talk about Pinterest I am met with mixed reactions. Either people are addicted (like me) or they admit that it's a visually pleasing site, but can't seem to work out how to get any practical use out of it. I'll admit, I've often been sucked into the endless stream of gorgeous imagery on Pinterest and have lost hours pinning shoes that I never intend to buy, or outrageously intricate cupcakes I will never have the skill to bake, but I have also found the platform to be really useful, especially when planning my travels. So, for anyone who's been wondering whether Pinterest is for you, here are five practical ways that you can use Pinterest for travel:
1. Pin images from the internet:
Repinning the images pinned by the users you follow is one way of using Pinterest, but don't limit yourself to just repinning. Take a minute to install the Pin It button and your Pinterest experience will be so much richer as you can pin images from almost any website that you're browsing. Next time you're researching a travel destination, pin images from websites and blogs that offer useful information so they are all in one place and you can access them easily. I love Condé Nast Traveller for gorgeous (i.e. pinnable) photos and great travel tips.
2. Use the Pinterest search function: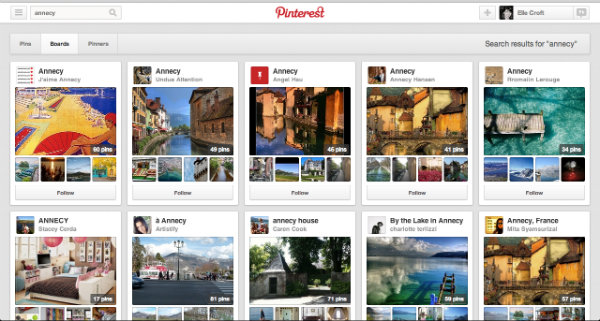 Enter your upcoming holiday destination into the Pinterest search bar and browse thousands of inspirational images to help plan your travel. Don't forget to click the 'Boards' option in the top left of your screen, where you will find entire boards dedicated to your search term. Follow some of your favourite boards and any new images added to those boards will show up in your home feed next time you log into Pinterest.
3. Well-categorized boards:
Think of your Pinterest account as a filing system of sorts, and don't be afraid to create lots of new boards for your next trip. For example, if I was embarking on a round-the-world holiday, I would create a board for each destination, one for packing tips, one for accommodation ideas, etc. etc. Having more boards with fewer pins will help you when you're looking for something later, so you don't have to trawl through hundreds of beautiful (and distracting) pictures to find what you're looking for.
4. Pin images for the future:
Don't just pin images for trips you know you will take, or which you are currently planning. Start a wish-list board and begin pinning photos of places which inspire you or which you would love to visit one day. Then, when you're looking for future travel inspiration your bucket list will be in one place (this board will also help get you through horrible Mondays at work when you just need a bit of escapism…trust me!)
5. Edit your pins after a holiday: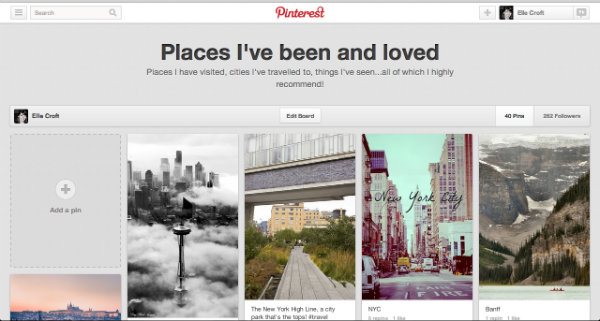 Once you return from your Pinterest-inspired holiday, don't forget to go back into your boards and edit your pin descriptions – not only is it a great scrapbook that you can look at to remember your trip, but it'll also help other pinners who are searching for their own holiday inspiration (just make sure to include the destination name in the pin description so it'll appear in search results). Upload some of your own travel snapshots too, with recommendations of places to go, things to do, restaurants you loved, or just beautiful images which will inspire others to travel to the same destination. Pinterest is a community, after all, and the more you contribute the more you will get back from the experience.
The #PinItForwardUK Campaign:
This post is part of the Pinterest Pin it Forward UK campaign, which I'm hugely excited to be a part of. Pinterest has been available in the UK for some time, but there have recently been some changes which mean UK pinners will be able to find more local and relevant content to them. There are 300 bloggers in the UK who are all writing about how they use Pinterest and what they love about the site. One of these bloggers, who I am very pleased to introduce, is Cindy Eve of 3 Days in London. Please take a minute to check out her travel blog and Pinterest boards, and while you're over there, check out my own favourite Pinterest board: Mad About Maps!
How do you use Pinterest? I'd love to hear more practical suggestions in the comments below.
Want to see more posts like this?
Follow me on:
Follow