Social Media Meets Luxury Travel:
Travel and social media are two of my biggest passions, so when they can both be combined in a way that's practical and adds value to travellers, I get pretty excited. A while ago I wrote about why Twitter should be your new travel guide, and more recently as part of the Pinterest Pin It Forward UK campaign, I gave tips on how to use Pinterest to plan a holiday. Although using social media for travel planning is fun, innovative and so much more varied than just leafing through a guidebook, it's still a lot of work sifting through pins or tweets that don't always match your interests. Wouldn't it be nice if a local expert with knowledge of the best things to do, see, eat and drink at your destination could create a custom itinerary for your holiday?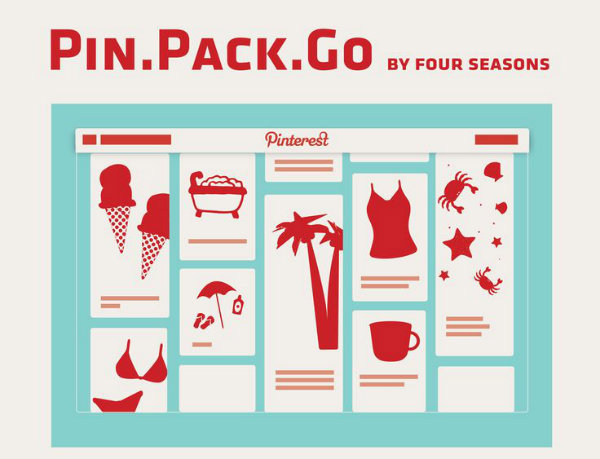 This idea of bespoke, collaborative planning is exactly what Four Seasons Hotels and Resorts is offering with their brand new Pin.Pack.Go service on Pinterest. The idea is simply this: Create a board on Pinterest and the Four Seasons Hotel you'll be visiting will add their own pins to help you design your perfect holiday.
Travellers can provide as much or as little detail as they like about their trip, but of course the more information the Four Seasons hotel can work with, from the dates of the holiday to the guest's tastes, the more personalized their recommendations will be.
"Pin.Pack.Go extends the culture of service at Four Seasons far beyond our property walls creating new opportunities to provide guests with personalized recommendations and insider knowledge well before their trip begins." – Elizabeth Pizzinato, senior vice president, marketing and communications, Four Seasons Hotels and Resorts
I'm travelling to Florence next month, and although I'm counting down the days till I arrive in the romantic Italian city, I haven't had a lot of time to plan what Brendan and I will do during our holiday. This seemed like the perfect opportunity to test Four Seasons' new service, so I've created my own 'Pin. Pack. Go: Florence' board to see what the experts can come up with for my Italian getaway in September.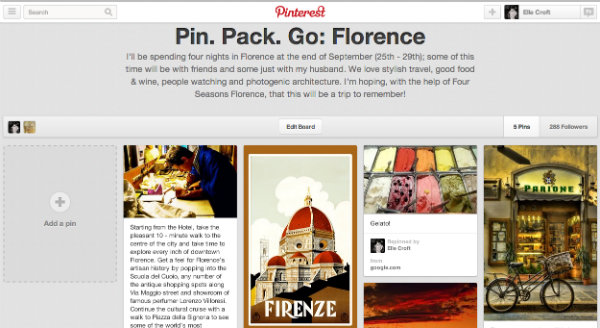 My board had only been live for a matter of hours before Four Seasons Florence had pinned their first recommendation; and a great one at that. I'm looking forward to seeing what other unique ideas they have for my four-night city break and, of course, I can't wait to actually try their suggestions next month. I'll follow up when I'm back from Florence and review the Pin.Pack.Go experience having tried it for myself, but in the meantime, why not create a Pin.Pack.Go board and begin planning your own dream holiday?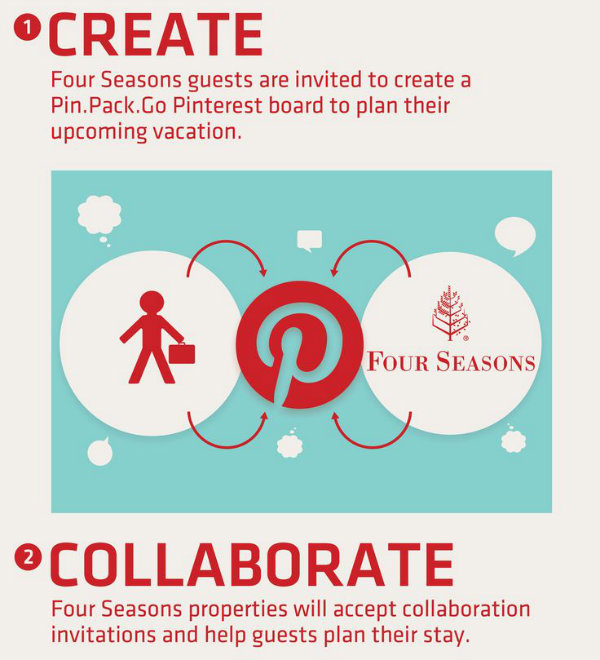 Step one, 'Create', has a few sub-steps, but they're extremely easy. Here's all you need to do:
Create a Pin.Pack.Go board on Pinterest.
Leave a comment on the Pin.Pack.Go pin – indicating which Four Seasons you'll be visiting.
The specified Four Seasons hotel will follow you on Pinterest. Follow back and invite the hotel to pin as a collaborator on your board. The hotel's local experts will pin recommendations filled with insider knowledge and hidden gems.
Pack and go!
Want to see more posts like this?
Follow me on:
Follow