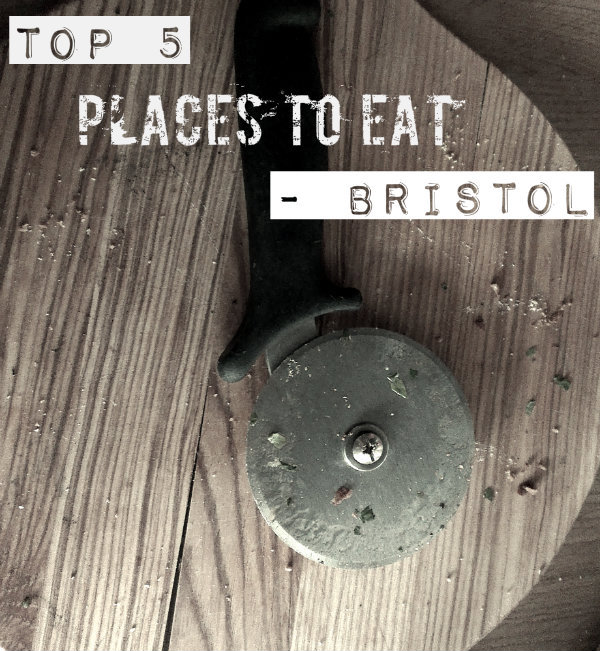 I know that we're not supposed to judge books by their cover, but is it OK to judge a place by its offering of food? Whether it's right or wrong, this is exactly how I assess a new destination, and Bristol surprised me with its impeccable culinary options, from street food and pub grub through to fine dining. Here's my pick of the five best places to eat in Bristol:
1. The Stable: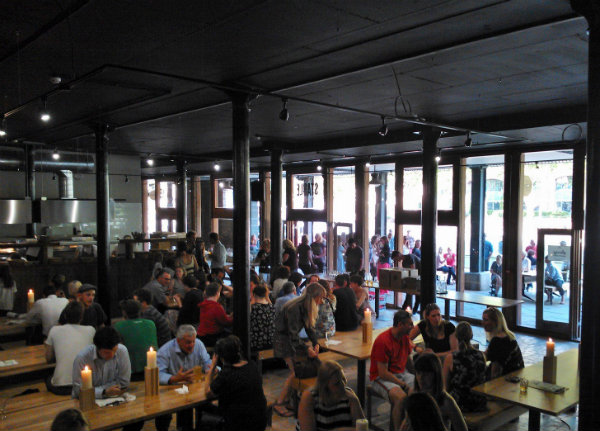 image source: bristol-culture.com
I was drawn into The Stable by the promise of gluten free pizzas, but as soon as I saw the topping selection I knew this would be a favourite for more than just the gluten intolerant. With options such as 'the lamb roast' and 'the west country porker', the combinations are varied and inventive, each one well worth sampling. Although the pizza here is standout, the main attraction is the extensive cider menu, featuring 'more varieties than you know what to do with', and for the truly overwhelmed, a 'cider flight' that allows diners to sample five ciders. The atmosphere is casual and buzzy, with bench-like tables lining the high ceilinged dining room. Reservations can only be made for large groups, and tables fill up early so there may be a wait, but it's definitely worth it!
stablepizza.com
2. Riverstation: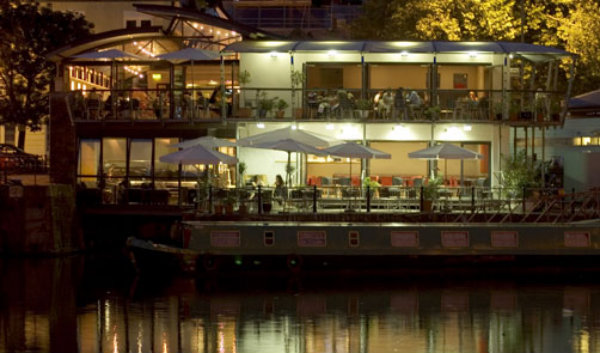 image source: riverstation.co.uk
Popular with wedding receptions and discerning diners alike, Riverstation should be on every food-lover's list of places to eat when visiting Bristol. With huge windows offering a panoramic view over the water it's the ideal destination for a sunset meal, with the food as spectacular as the view, and the service faultless. The menu is unusual to the point of being impossible to read (turbot tronçon? hispi heart?), but our waiter was informative and made my choice much less daunting than it could have been. I ordered the most tender and delicious pork I've ever tasted, and the dessert of clotted cream panna cotta with stewed fruit was equally divine. The setting, food and service at Riverstation are all deserving of five stars, and it was a pleasant surprise to discover that they're extremely accommodating of dietary requirements (I was offered gluten free alternatives without so much as a batted eyelid).
The Grove, BS1 4RB – riverstation.co.uk
3. Olive Shed: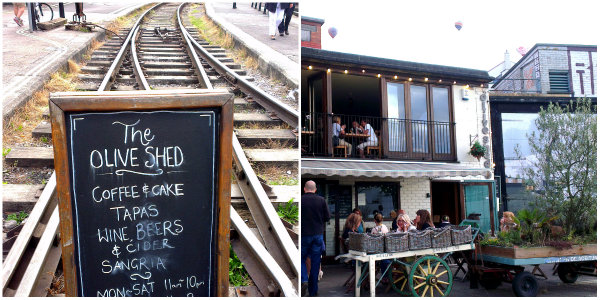 It would be a cliché to tell you that Olive Shed is a hidden gem, but it certainly is the perfect combination of character, location and fantastic food. This tiny restaurant sits along the waterfront of Bristol's Floating Harbour, nestled between warehouse buildings and the quaint steam railway line. Serving only fair trade and organic food, the simple and tasty menu includes lunch, dinner and tapas, with a small but decent wine selection. Grab a seat upstairs at the windows for the best views over the harbour and enjoy your dinner with views of idling boats, passing pedestrians and majestic hot air balloons gliding overhead.
The Floating Harbour, Princes Wharf BS1 4RN – theoliveshed.com
4. Clifton Sausage: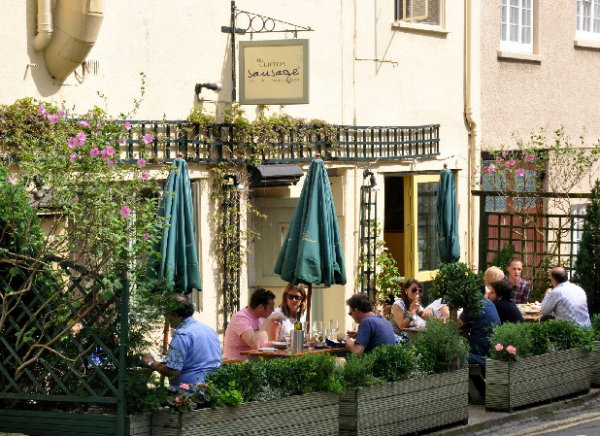 image source: goodbristol.com
After a personal recommendation from a friend, we booked a table at the Clifton Sausage (and pre-ordered the gluten free sausages, as their website instructs) for the following day's lunch. It was a sunny Sunday when we strolled through the beautiful streets of Bristol's most affluent area to the Clifton Sausage; a quaintly traditional pub with low ceilings and brightly coloured flowers adorning its exterior. Our server was affable and accommodating, willing to answer all of our questions and spot-on with his recommendations. It comes as no surprise that their specialty is sausages and mash (or champ, which is mashed potato with leeks stirred through it); I ordered the gluten free sausages but they serve a rotation of various flavours including pork & apple and beef & ale. The food is hearty, tasty and satisfying: everything that a good British pub meal should be.
7 Portland St, BS8 4JA – cliftonsausage.co.uk
5. Grillstock:
What began as a meat festival has now become a fixture in the picturesque St Nicholas covered market, as well as a permanent restaurant on the Clifton Triangle. Serving only the best kinds of meat: pulled pork, beef brisket, smoked chicken and ribs, the food here is simple and mouthwatering. Opting for the beef brisket chilli (in a bowl rather than a bun) I was pleasantly surprised by both the quality and quantity in my bowl. The mountain of slow-cooked meat was tender, juicy, spicy and possessing just a hint of sweetness. I savoured mine while strolling around the market but there are a few small chairs and tables around if you'd prefer to sit and people watch with your meaty feast.
Glass Arcade, St. Nicks Market, BS1 1JQ – grillstock.co.uk
Want to see more posts like this?
Follow me on:
Follow