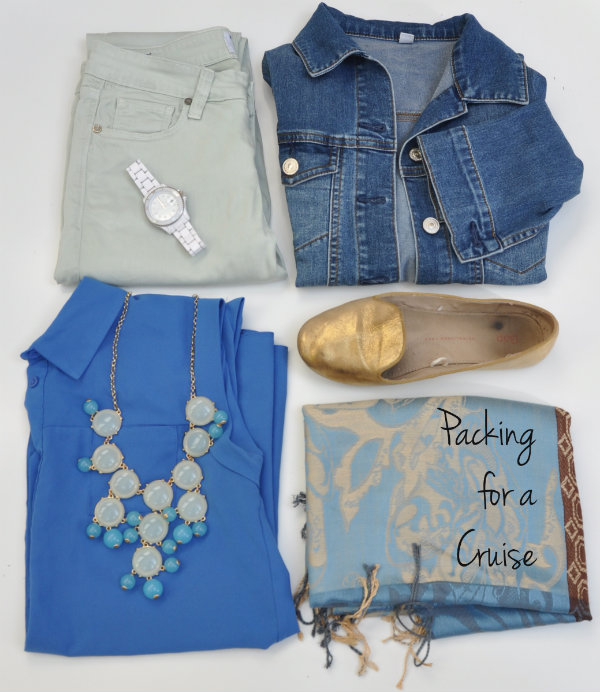 I'm so excited to soon be boarding the spectacularly luxurious Celebrity Reflection, a cruise ship that will be my transport, accommodation, dining and entertainment for the next five days and four nights. As a self-professed packing expert, preparing for this cruise has been an interesting challenge as I will need to dress for a number of very different destinations as well as for life on the cruise ship itself. After carefully selecting my holiday wardrobe for the next few days, I'm confident that I have everything I need for this cruise (and all in one cabin-sized suitcase, I might add) and can now share my top tips to answer the very puzzling question, 'how do I pack for a cruise?':
1. Don't overpack.
Although you won't be toting your luggage from one destination to the next, there's no need to pack any more than you usually would. To start with, your cabin is meant to be a place of rest and relaxation, not a space overloaded with your stuff, so do your best to avoid feeling cramped. Another point to keep in mind is this: just because you're at sea doesn't mean you need to panic pack your entire wardrobe. Remember, if you're really stuck without a particular item, chances are you'll find it at your next port of call, or even in the stores on the ship.
How I did it:
I carefully planned each day's outfit and packed only one or two extra items (for those 'just in case' moments). I allowed for various types of weather and occasions. Keep reading for details…
2. Be prepared.
If you're cruising in a hot climate you may be tempted to leave warmer layers at home but when you're at sea, especially in the evenings, it can get chilly so be sure to pack at least one warm layer. For longer cruises it can be impossible to check the weather of your destinations before you set sail, so being prepared for warmer and cooler weather is key.
How I did it: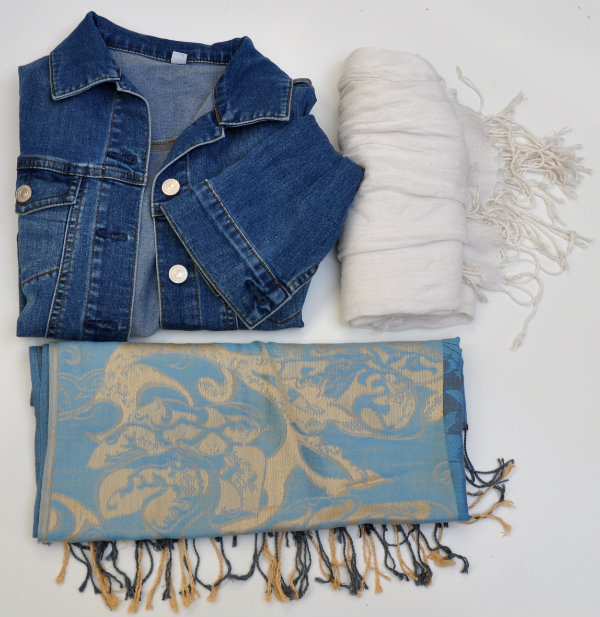 I packed a couple of light scarves, which are deceptively warm, to wrap around myself if the weather is cool. A denim jacket goes with every outfit and provides an additional level of warmth if the temperature really drops.
3. Pack versatile pieces.
Packing versatile pieces will help you to achieve tips 1 and 2. Selecting pieces that can be worn in a number of combinations (remixing) and that can transition from day to night will mean less clothes are needed for a larger number of outfits. Try to include mostly basics, which can be mixed and matched, and pack bold accessories and one or two unique pieces to add some flair to your looks:
How I did it: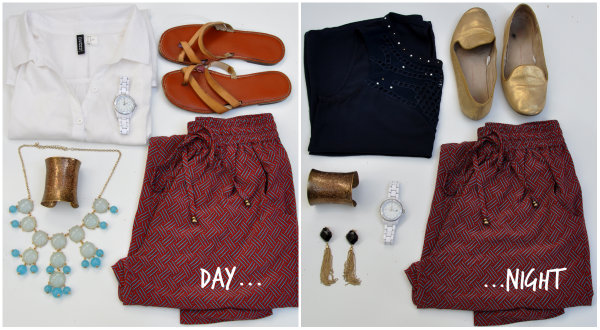 For day to night looks, I simply swapped my top and accessories. Almost everything you see in the picture above will be worn in two or more combinations throughout the cruise, which means my suitcase was half empty even after I'd finished packing!
4. Check the weather.
Check the advanced weather forecast for as many of your cruise destinations as possible so you know what temperature you're packing for. For the destinations you're visiting too far in the future to see the forecast, head to Wikipedia and search for the name of your destination. Most Wikipedia entries include average temperatures for each month of the year so you'll have an idea of what to expect.
5. Be culturally appropriate.
Do a little bit of research on each of your destinations to make sure that what you've packed is culturally suitable. For example, if you plan to visit any mosques during your cruise it's a good idea to pack a scarf to cover your head and a light, long-sleeved top for modesty. In many destinations, it's acceptable to wear whatever you like, but being culturally sensitive is something every traveller should aim to do, on every trip they take.
How I did it: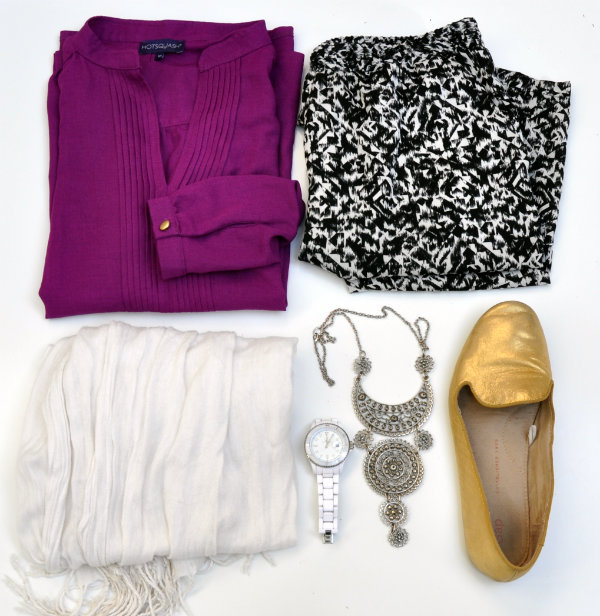 I plan on visiting a mosque in Istanbul so I've packed a light, long-sleeved top (this clever number is from Hotsquash and will keep me cool even in the warm weather), full-length trousers that are light and a dream to pack, and a scarf so I can cover my head in the mosque. This look is practical, versatile, stylish and culturally appropriate, so it ticks all of the right boxes.
6. Ship-to-shore looks:
In the same way that it's advisable to pack looks that are versatile for day to night, it'll also save lots of space in your suitcase if you plan to wear the same outfit for a full day rather than packing one outfit for the ship and one for shore. On board, casual or smart casual attire is totally acceptable (except formal nights, but more on that later), so there's no reason you can't dress for the entire day. The only exception to this rule is shoes…
How I did it: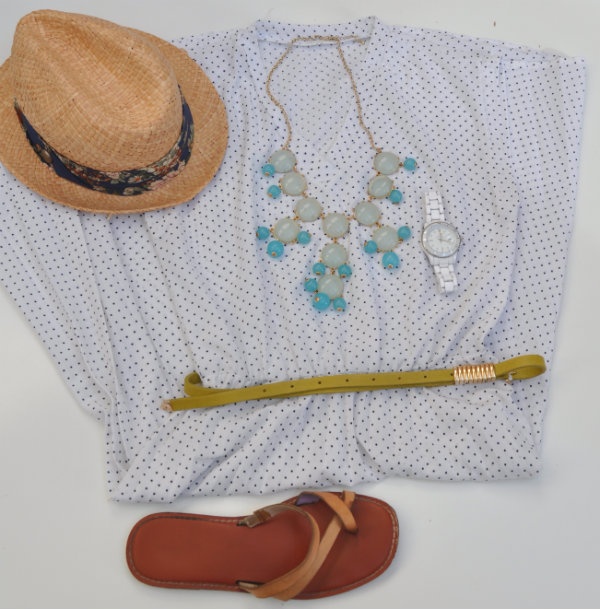 I carefully selected outfits that will be comfortable, light (and cute too, because there's no reason not to!) and can easily transition from ship to shore. This dress is great for a day of exploring a destination and also perfect for chilling on Reflection's enormous lawn. If I need to, I can just change my shoes to be more walking appropriate for the shore.
7. Footwear.
With only a few hours to spend at each destination, it's likely that you'll find yourself doing a lot of walking when you step ashore. Make sure you're wearing comfortable footwear to allow you to explore your destinations and change into cute sandals or heels once you're back on board and ready to relax.
Bonus tip: pack shoes into your suitcase first, as you can then squeeze clothing around and into them.
How I did it: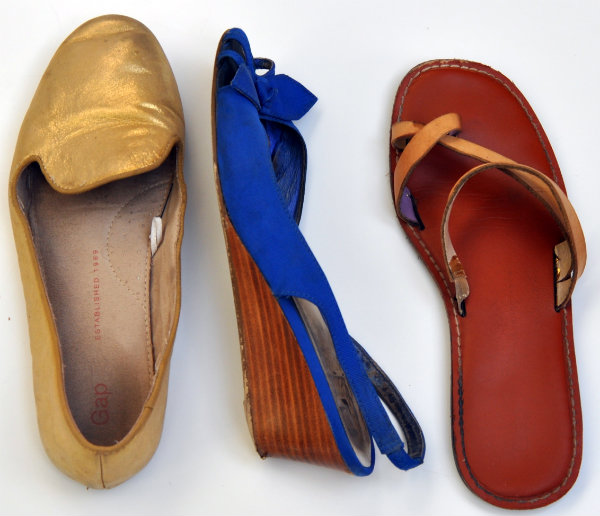 I packed just three pairs of shoes (plus my trainers for when I hit the on-board gym); a pair of flat, comfortable walking shoes – they happen to be gold and sparkly, which is just an added bonus; some heels for evenings aboard the ship and sandals for during the day – either by the pool or if I am relaxing at a destination.
8. Go easy on the toiletries.
Check the details of your cabin amenities before you pack excessive toiletries for your cruise. Many cabins come with good quality shampoo, conditioner, body wash and moisturiser, and sometimes even cotton balls and a hair dryer, so don't pack what's already being provided for you. Towels and robes are included too, so there's no need to take up precious room in your suitcase with these items. Do remember to bring your sunscreen though; being sun smart is every traveller's responsibility.
Bonus tip: packing face wipes whenever you travel is a good idea; here are 10 reasons why.
9. What to pack for a cruise formal night.
Cruise formal nights can cause a lot of undue stress for passengers, but instead of worrying, simply think about what you'd wear to an office Christmas party, and you can probably pack that. Classy and smart are the keywords, so that means no jeans, and for women it means no mini skirts or casual summer dresses. Some ideas include a knee-length cocktail dress or smart trousers and a bright top. Be comfortable, be appropriate and don't let it worry you too much. If it's suitable to wear in front of your boss to your office Christmas party, it'll be perfect for your cruise formal night.
10. Packing for the shore.
For the days when you're exploring a destination, try not to overload yourself, but be prepared enough that you don't need to keep returning to the ship for essentials. A few things you should always carry include your camera, sunscreen, a light cover-up for mosque visits or weather changes, your ship ID and any maps or guidebooks that you need to help you to get around.
I'll be posting more about my adventures with Celebrity Cruises over the next few days, so be sure to keep checking back here for more posts (or better yet, subscribe via email using the form at the top right-hand side of this page). You can also follow me on twitter; I'll be using the hashtag #destinationbloggers.
*Just letting you know: Celebrity Cruises generously provided me with four nights on board their fabulous Reflection ship in exchange for blog posts about the destinations I visited. My writing and my opinions, as ever, are all mine.
Want to see more posts like this?
Follow me on:
Follow