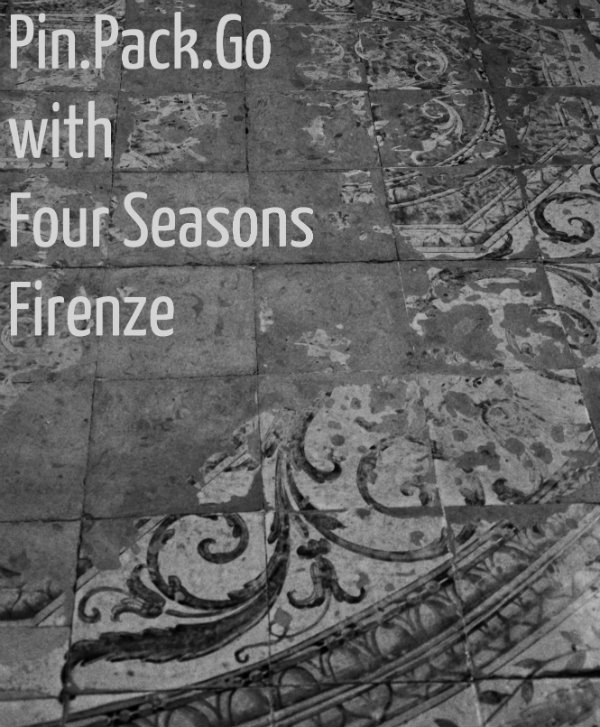 Four Seasons Hotels and Resorts recently launched a travel planning service called Pin.Pack.Go, whereby the Four Seasons expert at a guest's destination plans elements of their holiday by pinning ideas on Pinterest (read more about the service here). It's a great concept, and I recently had the opportunity to put it to the test when I visited the Italian city of Florence.
Moments after stepping inside the impressive building that is Four Seasons Firenze (more about the hotel itself later), it was clear that Pin.Pack.Go is simply an extension of what the company is already doing for their guests. Their service is impeccable, but not in a contrived or stuffy way; they are simply happy to help ensure their guests' stay is as comfortable and memorable as possible. The hotel has a concierge desk for planning activities and meals in Florence, but service isn't limited to concierge staff; when I asked a question at breakfast about the World Championship cycling that was taking place that day, within minutes I had a map with detailed routes marked out for me to reach the best viewing points in the city. Pin.Pack.Go really is an enhancement; a taste of the level of service and enthusiasm that guests booked into a Four Seasons property will experience during their stay.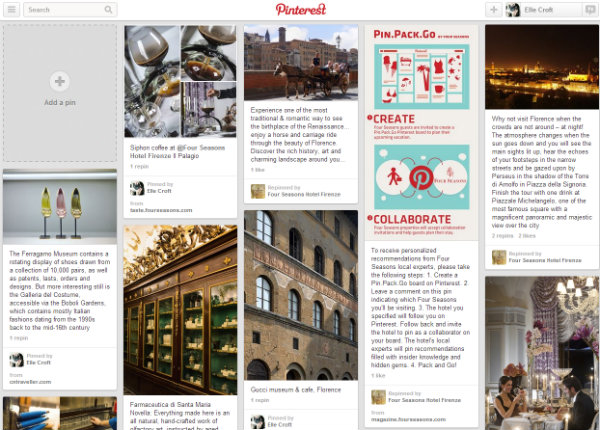 A hotel concierge is able to ask a guest questions about what they like and what they don't, and suggest activities and sights accordingly. A destination expert creating a Pin.Pack.Go board has no such insight into a guest's preferences, and yet all of the suggestions on the Pinterest board I created for this trip were well suited to the type of travel I enjoy, which either means that Four Seasons did some research into my other Pinterest boards to determine my taste, or they are incredibly intuitive. In any case, seeing their suggestions appearing on my board during the weeks leading up to my holiday gave me a sense of growing excitement and anticipation. The pins that Four Seasons added also inspired other ideas, so I pinned some activities of my own and by the time I arrived in Florence I had an entire board of interesting ideas, all inspired by Four Seasons' recommendations.
Of the pins that appeared on my board, one stood out more than the others and made it onto my 'must see' list for Florence: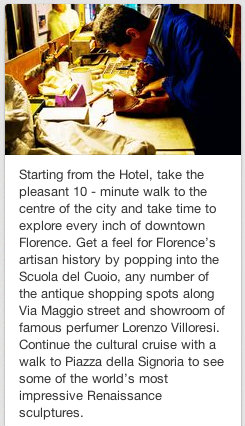 As a fashion lover with a mission to experience a sample of authentic life in a destination, an artisan leather school in a historic location sounded like the perfect way to while away a few hours. On a warm and sunny Saturday, I strolled through the history-laden streets of Florence and halted under the shadow of the imposing Santa Croce church, where the leather school is located. As my visit was during the weekend, there were no students at work but their benches that lined the walls of the school's ancient dark corridor were fascinating to examine: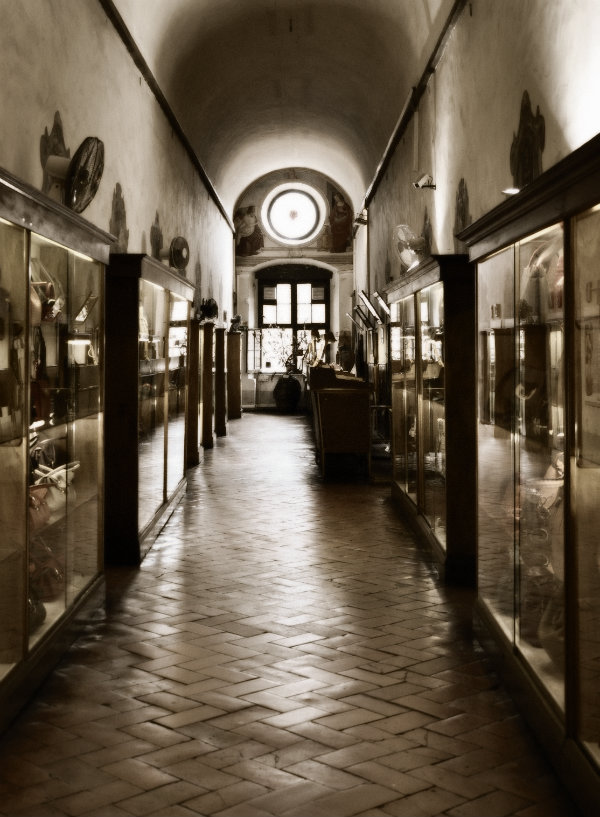 The smell of leather permeated the air and an almost reverent hush sounded throughout the chapel-like rooms, where exquisitely hand crafted shoes, bags and jackets were displayed. This was clearly no ordinary school, and was in fact started by Franciscan friars after World War II to help orphans develop a skill and be able to earn a living. Scuola del Cuoio was one of the highlights of my Florence trip, and was something I never would have known about without the help of Four Seasons Firenze and our Pin.Pack.Go board.
My verdict on Pin.Pack.Go:
As I've written previously, when travel and social media combine in a way that is practical and adds value to the traveller, I am bound to be impressed. Pin.Pack.Go is a service that combines all of these elements in a fun and interactive way, allowing travellers to be inspired and excited leading up to their holiday. Pin.Pack.Go isn't an hour-by-hour itinerary planning tool (Four Seasons offered just five ideas for my trip, albeit very good ones), nor will it be as customised as the suggestions of a face-to-face concierge, who can ask questions to gauge your preferences. However, it certainly has practical merit and for the social media loving traveller it's the perfect way to enjoy the planning stage of a trip. The Pin.Pack.Go service is a natural extension of what Four Seasons Hotels and Resorts is already doing in the realm of social media, and upon visiting one of their properties it became clear that helping guests to enjoy their stay is embedded in the very core of who they are. Pin.Pack.Go is just a way for them to do so in a space where many of their guests are already spending time.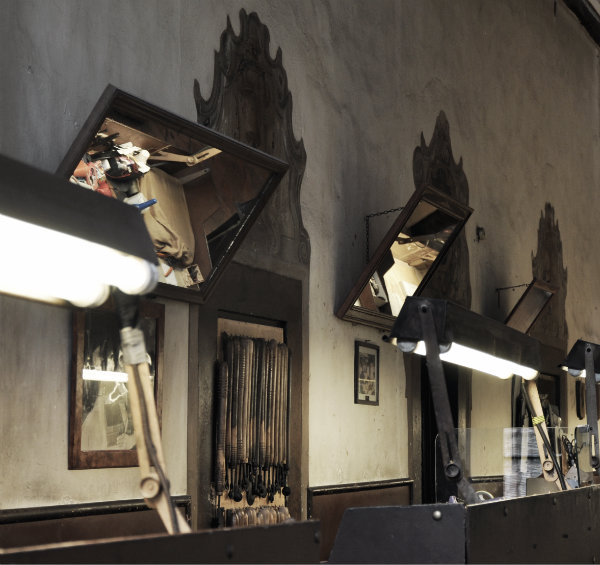 Pin.Pack.Go is more of a complimentary addition to a guest's holiday than a full planning service, but that's how it should be. Creating a detailed, bespoke itinerary takes time and lots of communication between traveller and planner, and this simply can't be replicated on social media. Pinterest is a place for inspiration, and that's exactly what the Pin.Pack.Go service provides. It is also a comfort to know that someone at your destination is looking out for you and doing what they can to make your visit a memorable one, before you have even arrived.
If you love Pinterest and want to add an extra dynamic to your next holiday with Four Seasons Hotels and Resorts, then this is a tool you won't want to ignore.
*Just letting you know: Four Seasons kindly provided me with a night's accommodation at their property in Florence in exchange for my honest review of their Pin.Pack.Go service. My writing, as ever, is all mine, as are my opinions.
Want to see more posts like this?
Follow me on:
Follow