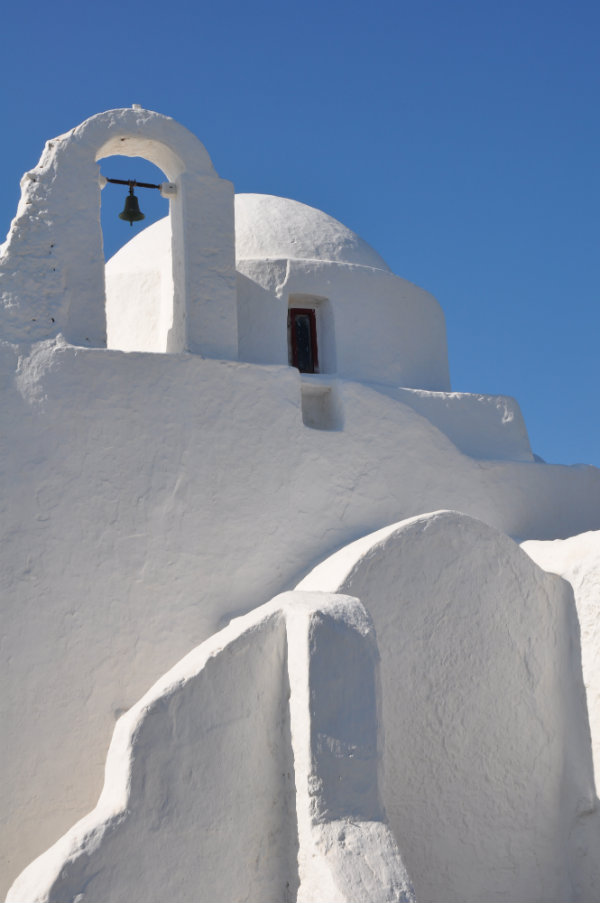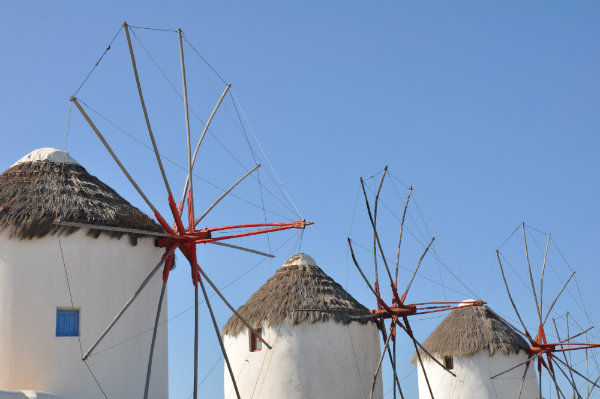 As waiters shout across the restaurant to one another, one server shoots me a quick wink to convey that this is all just a bit of fun. Jovial Greek music fills the warm air and plastic ivy and bougainvillea intertwine with real purple blossoms along the painted bamboo terrace. Below the foliage, I am seated on a nautical themed cushion at a table covered with a white plastic tablecloth. The table's only adornment is a small plant pot placed in an ashtray and emblazoned with the name of the restaurant, OPA, handpainted in the same blue as the tables. The total gaudiness of this restaurant in Mykonos Town is part of its charm which, along with its central location, makes it a cool respite for the shiploads of tourists that flood the island each day.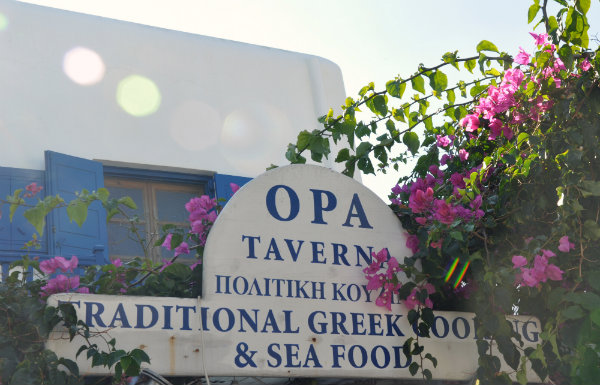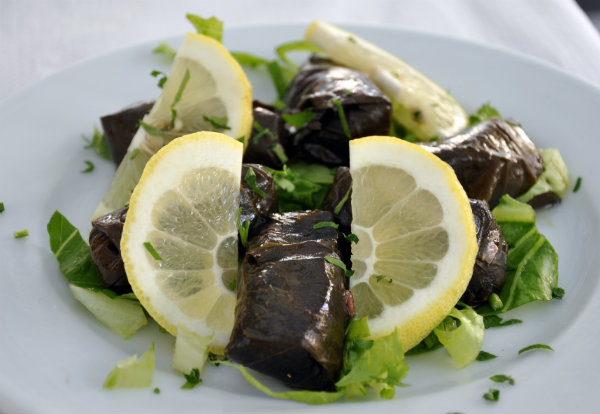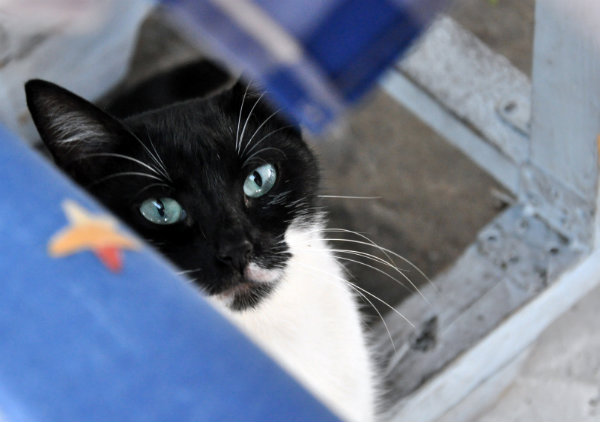 As I wait for the promised wifi to connect (it never does) a black and white kitten, one of the hundreds of cats I've seen lazily wandering the island, brushes my legs hoping to find a dropped morsel or two. Sadly for the cat, I devoured every last mouthful of my stuffed vine leaves and lamb souvlaki, the meat of which was so well cooked it fell apart into shreds that I dipped into the zesty tzatziki on the side. Visiting Mykonos in shoulder season, as I am, means that many of the island's bars, restaurants and cafés are closed for the winter, but this bustling taverna is well and truly open and enjoying a steady stream of customers from every corner of the earth.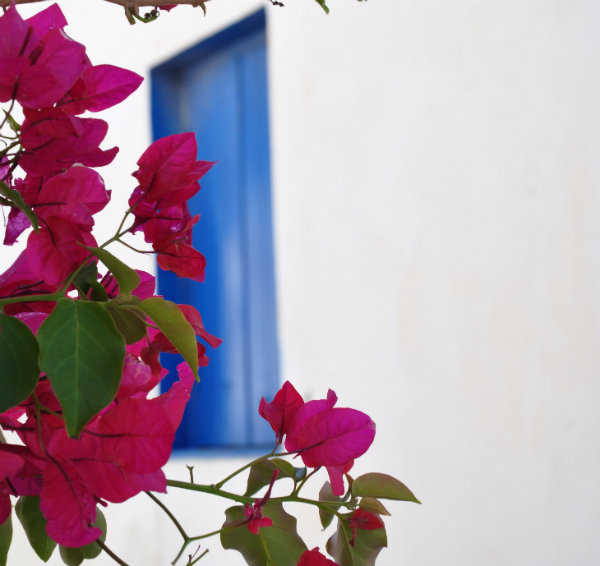 As I wash down my meal with a crisp, cold house white wine I mull over my plans for the afternoon, which will most likely consist of strolling through winding whitewashed streets, photographing blue doors, stone staircase and tiny churches, and perhaps even taking a jaunt down to the beach for a dip in the Mediterranean. But that all depends on whether I can tear myself away from this tacky, lovely taverna.
Mykonos is the perfect cruise destination for relaxation and soaking in the beauty of a typical Greek island. For visitors who have seen the blue and white buildings before, Celebrity Cruises offers a couple of shore excursions to choose from, but for most first-time visitors to Mykonos simply strolling through the picture perfect town is an ideal way to spend the day. For shopping lovers, there are high end boutiques (selling brands like Chanel) as well as plenty of souvenir shops and handmade jewellery stores. Those looking for a bit of peace and quiet can just wander a couple of streets back from the main drag, where they will be rewarded with empty white alleys that smell of garlicky home cooking and fresh laundry. And for those who simply want to sit and absorb the ambience there's no better place than Little Venice, where only a small stone wall will separate you and your meal from the Mediterranean Sea and views over the five iconic windmills that overlook the island.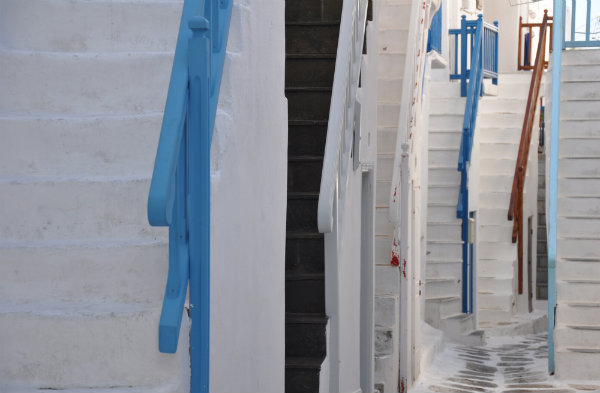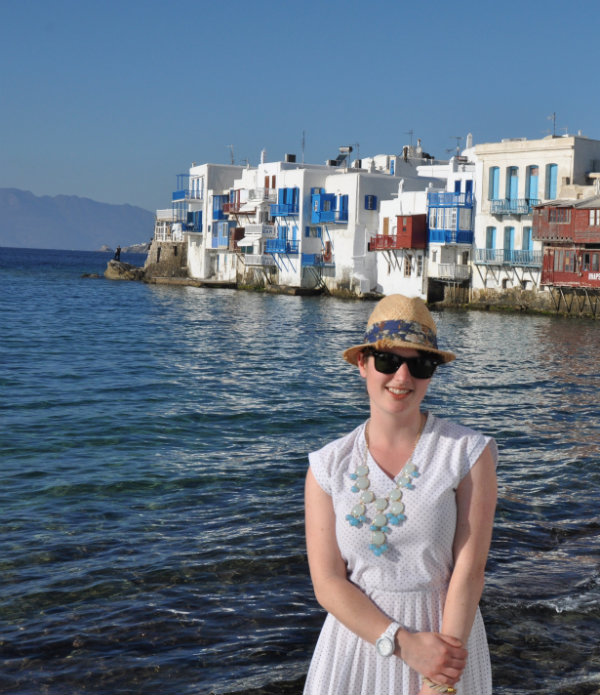 A strong Greek coffee later, and I have regained enough energy to wander the cool, winding white streets once more. The afternoon sun is hot, so I stroll towards the beach I spied earlier that day and instead get lost, finding myself climbing to the very top of Mykonos Town where I am greeted with spectacular views over the rooftops and across the Mediterranean, with Celebrity Reflection an unmissable sight as it towers over the other two cruise ships that have stopped here today.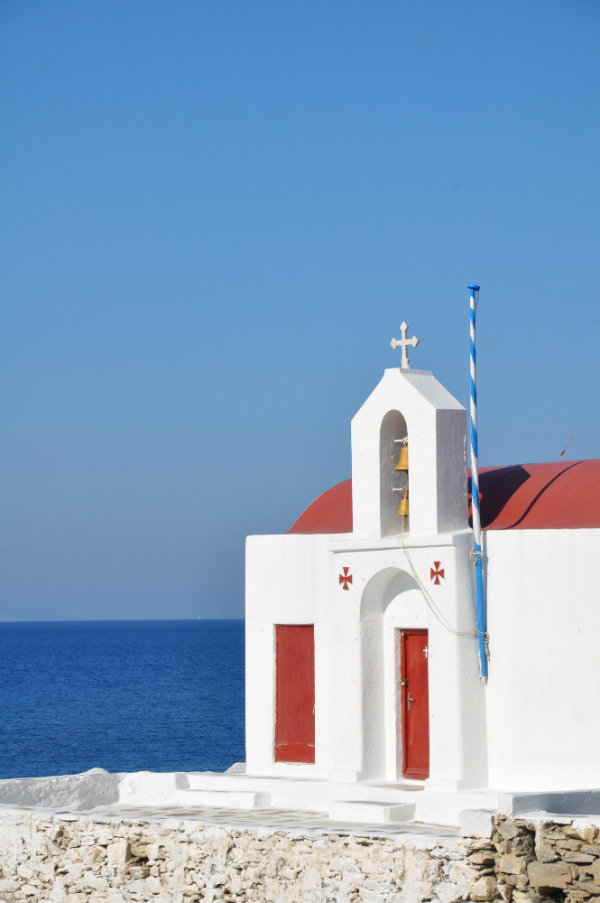 After regaining my bearings, I locate the beach I was looking for and dip my toes into the sea, which quickly changes my mind about the swim I had been considering. Instead, I stop for respite at a beach shack taverna where the sound of waves lapping against the terrace wall mingles with more Greek music to leave no doubt as to my location. I slowly sip my Alfa beer and nibble at a sweet dish called 'drunken figs' and I sit back, shivering slightly in the cool autumn breeze but absorbing as much of the scene as I can.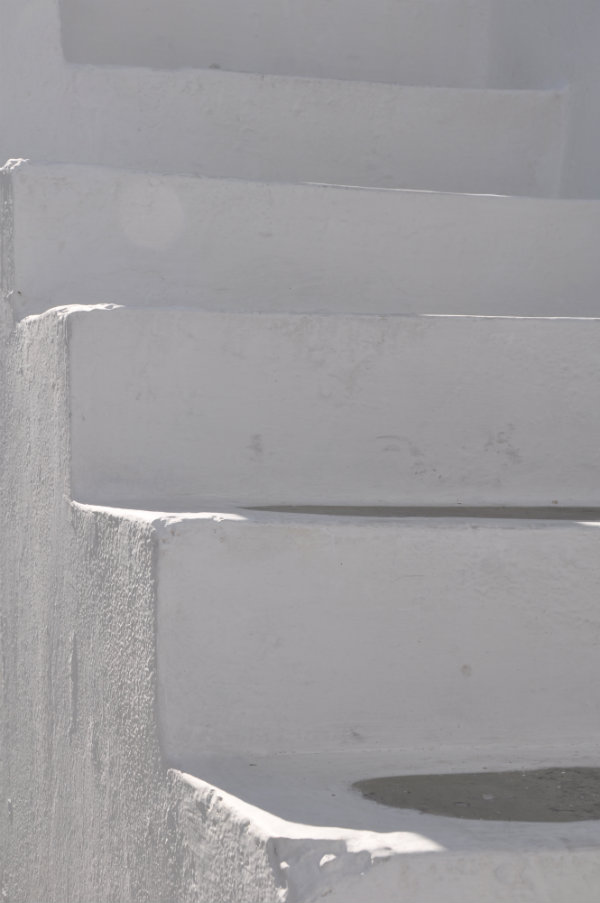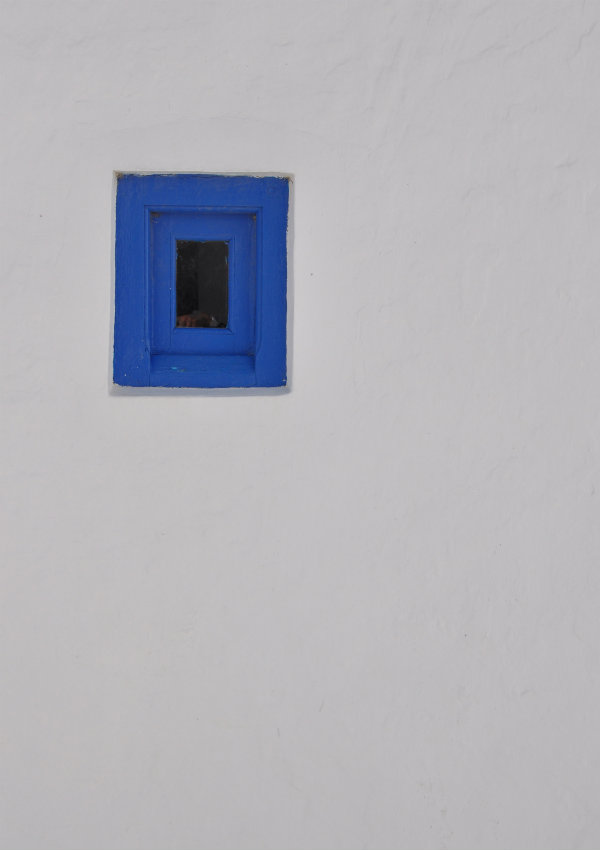 Mykonos is the sort of destination where you could easily spend weeks relaxing, soaking in the sun and lazily eating fabulous Greek food, but it's also small enough that you can see much of it in just one day. Even those not keen on spending their time in the crowded town have the option of renting a scooter or catching one of the public buses that easily connects various points across the island. For me, after two busy days in Istanbul and Ephesus, I was more than happy to stroll, eat and soak up some late summer sun before returning to the cool Autumn days of London…
*Just letting you know: Celebrity Cruises generously provided me with four nights on board their fabulous Reflection ship in exchange for blog posts about the destinations I visited. My writing and my opinions, as ever, are all mine.
Want to see more posts like this?
Follow me on:
Follow