With less than a month to go before Christmas, there's a flurry of clever advertising and magical window displays luring us to stores to buy good for our loved ones. Sometimes though, no matter how many glittery gifts you see in shop windows, nothing seems quite right. If you're stuck for what to buy a stylish lady who also loves to travel, I've scoured the web so you don't have to, and have created a guide to the best Christmas gifts for stylish travellers: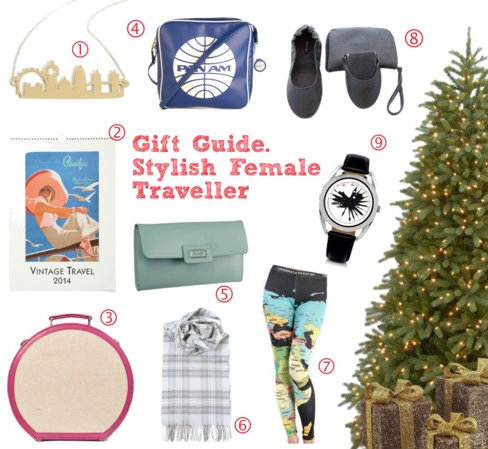 1. London City Skyline Necklace – from Wonsuponatime – £58
2. Vintage Travel 2014 Calendar – from ModCloth – approx. £13.50
3. Steamline Luggage Hat Box – from Steamline Luggage – £156
4. Pan Am Cabin Bag – from ModCloth – approx. £48.50
5. Dulwich Designs leather jewellery roll – from Amazon – £29.95
6. Johnstons of Elgin cashmere scarf – from Amazon – £64.95
7. World map leggings – from OMG Leggings – approx. £15
8. Tipsyfeet foldable shoes – from Amazon – £22.99
9. Mr Jones Time Traveller watch – from Mr Jones Watches – £145
Stay tuned for gift ideas for the stylish gentleman traveller too; coming soon!
Want to see more posts like this?
Follow me on:
Follow