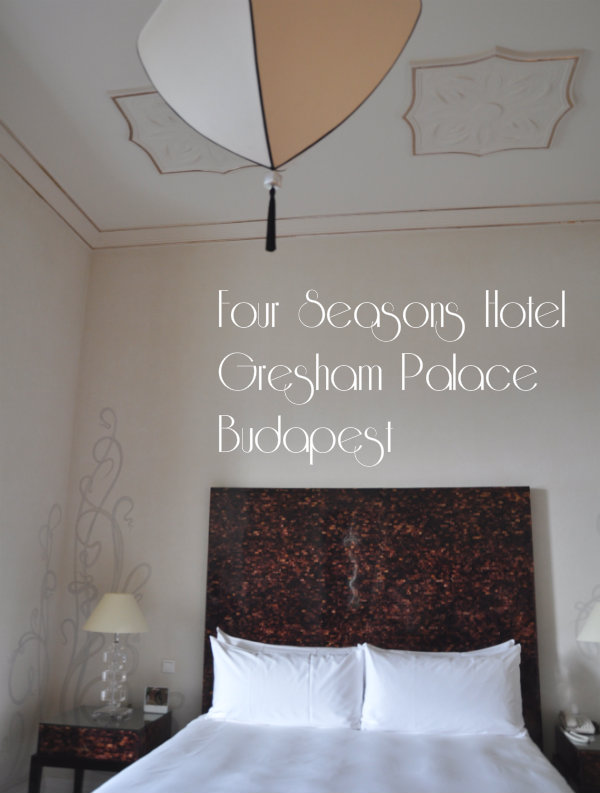 When I stayed in the Four Seasons Florence a few months ago I was completely blown away by the building, the service and, of course, this room. It did make me wonder, however, if any Four Seasons experience would live up to this amazing standard I had experienced. From the second I laid eyes on the Four Seasons Gresham Palace in Budapest though, I knew that I wouldn't be disappointed.
The building itself is stunning, captivating tourists all the way across the Danube from Buda's hilltop lookout and drawing admirers from far and wide to photograph its impressive Art Nouveau facade. Unbeknown to so many who pass by the Four Seasons Gresham Palace, it is so much more than just a grand old building, and staying within its walls allows guests to experience a small piece of Budapest's fascinating history. The hotel was originally built in 1906 by Gresham Life Insurance as an investment, and as a way to prove its affluence to the world.
Budapest's status in the late nineteenth century as one of Europe's cultural centres made it the obvious choice for the location of Gresham Life Insurance's new international headquarters. The building featured the company's offices in addition to apartments for employees and their families, and the top floor was reserved for the cooks and servants who attended these families living below. For a number of years, Gresham Palace housed many of society's elite but when war tore through Europe the once-opulent palace was occupied by Soviet soldiers and eventually became almost uninhabitable. Seventy percent of the facade was ruined during the same bombings that destroyed the original Chain Bridge, and much of the interior was in disrepair – although one stubborn section of the original stained glass windows survived and still remains today (pictured above)!
When Four Seasons Hotels undertook the restoration of the property they set out not only to create a luxury hotel in keeping with the Four Seasons standard, but also to recreate the elegance and extravagance of the original Gresham Palace. Years of painstaking research, restoration and replication by teams of historians and craftsmen resulted in an almost exact replica of the palace as it began in 1906, when ladies purchased furs and leather gloves in the artisan stores that lined the lobby, when gentlemen drove their horses and carriages past the hydraulic wrought-iron gates and through the sweeping hallways, and when struggling poets and society's finest gathered in the palace's popular coffee house to see and be seen. If Four Seasons Florence is like setting foot inside an art gallery, then Four Seasons Gresham Palace is like stepping inside a time machine and being transported to Budapest's fascinating past.
The history of the building is far too detailed to fit into one post, but if you're interested in learning some more, check out this fascinating piece on the topic.
Waking up after one of the best night's sleep I've had in a long time (probably since Florence…the Four Seasons beds are seriously comfortable), I threw open the windows to admire my view over the River Danube, which is just a stone's throw away. I took in the scene before me from the imposing National Gallery perched on the top of Buda's rocky hill, to the iconic Chain Bridge guarded by fierce stone lions just ahead of me, and as I followed the river's curves I couldn't believe my eyes: the most perfect rainbow had flung itself across the morning sky, making the stunning city of Budapest even more breathtaking. I almost tripped over myself to get my camera, and managed to capture the perfect moment before stepping into the copper-coloured lift and making my way down to Gresham Restaurant for breakfast.
If eggs benedict with salmon and truffle doesn't start your day right, I don't know what possibly could. I think I'd come back here just for the breakfast, which was accompanied by great coffee, an incredible buffet and impeccable service. I am beginning to realize that outstanding service is a Four Seasons Hotel trademark, and an essential part of the experience that is staying in one of their properties. Nothing is too difficult, too silly, too much; and this attitude really does make the difference between a mediocre stay and a wonderfully memorable one. Not that there's anything mediocre about any aspect of this hotel; if the history doesn't do it for you, the food will. If food's not your thing, you'll be charmed by the spa, the amenities, the views or the exceptionally handsome building. Four Seasons Gresham Palace is a gem in a city well worth a visit; stay tuned for more about my stay in Budapest and what you can see and do during your own visit to Hungary's capital.
*Just letting you know: Four Seasons kindly provided me with a night's accommodation at their property in Budapest in exchange for my honest review of Four Seasons Gresham Palace. My writing, as ever, is all mine, as are my opinions.
Want to see more posts like this?
Follow me on:
Follow