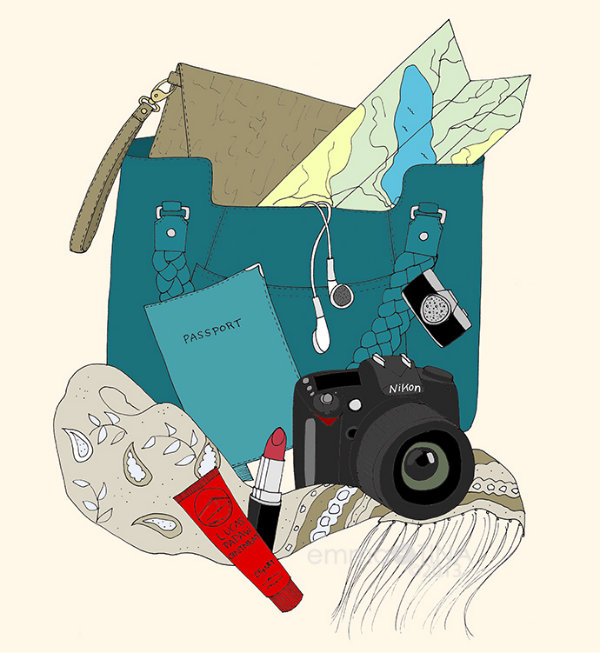 I'm really excited to share with you this amazing EmmaKisstina illustration created by the very talented Kristina Hultkrantz as part of her 'Blogger – What's in my Bag' series. I've admired her fun, colourful and pretty depictions of what's in some of my favourite fashion bloggers' handbags, such as Briony of A Girl, A Style and Monika of A Doctor's Closet, so I am thrilled to have my very own travel bag featured as a stunning illustration. Isn't it fantastic?
Whenever possible, I like to travel with hand luggage only. This can be admittedly tricky, but totally doable if you pack cleverly (check out this post where I demonstrate how to pack light for a city break). Of course, there's no magic way to pack for any trip, but there are some essentials that I simply will not travel without, and these are the items featured in the above illustration. These are my non-negiotables when it comes to travel:
– Passport:
Literally my most prized possession, my passport obviously comes with me whenever I travel. I am the proud owner of an Australian passport that is starting to get dog-eared and often frustrates immigration officers who are looking for a blank page to stamp. I carry it in a teal leather case which I've had for about 6 years and which is, surprisingly, still looking chic. Plus, it matches my bag which is always a huge bonus.
– Epiphanie camera bag:
I love this thing. It's been around the world with me for a few years now and I can't imagine being without it. My camera is a pretty sweet piece of equipment and I don't want to be worrying about it whenever I leave the house, but this bag is designed with people like me in mind and features inbuilt padding and moveable compartments so my camera will always be secure. This particular style also has a laptop pocket, which is perfect for keeping my iPad nice and snug on my travels.
– Nikon D90 camera:
I've had my Nikon D90 DSLR for over three years and I love it. Most of the photos that you see on A Bird in the Hand have been taken with this camera, using the 18-105mm lens that came standard with the body, and I couldn't be happier with the results I get. Although it's a heavy addition to my hand luggage and it can sometimes be a little uncomfortable to travel with, I simply wouldn't have it any other way.
– iPad in metallic envelope case:
My Mum originally bought this iPad case to use as a clutch at my brother's wedding, and once the big day was over she passed it on to me. Thanks Mum! The great thing about this case is that it is so versatile – when I'm travelling with only one (bulky) handbag it's nice to have a slightly more glamorous option for evenings out at my destination. Of course, the iPad is also an essential for blogging, posting on social media and checking all of my photos at the end of a long day of snapping away.
– Headphones:
Although I adore my noise cancelling Beats headphones, they only make it into my bag if I'm also checking luggage. For carry-on only holidays, I take the iPhone headphones that I borrowed stole from my husband, and they totally do the trick for in-flight entertainment.
– Lucas' Papaw Ointment:
I've blogged about this stuff before, but seriously…it's magic! If you have a tube of Lucas' Papaw Ointment in your bag you can do without lip balm, hand cream and even moisturizer. It's similar to vaseline but somehow way better, and I (honestly) never go anywhere without it. The best part about it? The price – grab some here.
– Scarf:
I bought this scarf in Paris in 2008 when Brendan and I were backpacking around the world. It was one of the few souvenirs I bought, and I think it cost around €5 from a dodgy souvenir shop near the Sacre Couer. Despite the odds not really being in its favour; this scarf has lasted such a long time and I receive compliments every time I wear it. Total investment piece. Travelling with a scarf is a great idea even if you're going somewhere hot; planes & trains can be cold so it can be used for warmth, balled up into a pillow for flights, thrown over your head and shoulders if you're visiting religious sites and even fashioned into a sarong in a pinch.
– MAC Craving lipstick:
When I don't have allowance for liquids I just don't bother travelling with much makeup. Usually a bit of powder, mascara and my trusty MAC Craving are all I take with me. This particular shade of lipstick is super flattering on most people, lasts for hours and is really moisturizing. It's my little bit of glam even when I'm packing as light as possible.
– Map:
I'm a bit old school in that I love to travel with a paper map. I like to draw all over it, circling places I want to visit and writing notes and instructions in any free spaces. I'll often forego a guide book in favour of digital alternatives (hence the iPad) but I don't think I'll ever give up paper maps when I travel.
What's in your travel bag?
Like this EmmaKisstina illustration? You can get your own (or one for a friend!) on Etsy, or check out Kristina's website for more What's in my Bag illustrations and plenty of other girly inspiration!
Want to see more posts like this?
Follow me on:
Follow