For any readers who have been following this blog for some time (thank you!), you'll know by now that I experience a new destination for the most part through my taste buds.
Local cuisine and great coffee are high priorities on my itinerary when I'm exploring somewhere for the first time, and Marrakech was no exception. One of the things we had planned for our trip was a day at Souk Cuisine, learning how to shop for and cook Moroccan specialties.
We also did loads of research online and by reading A Hedonist's Guide to Marrakech, so before we even left London we had a list of must-eat venues around the city.
The result was a five day feast; an exploration of humble street food and exquisite fine dining.
We didn't have one bad meal, and it was hard for me to narrow down my list but if you're visiting, don't miss the five best places to eat in Marrakech:
Al Fassia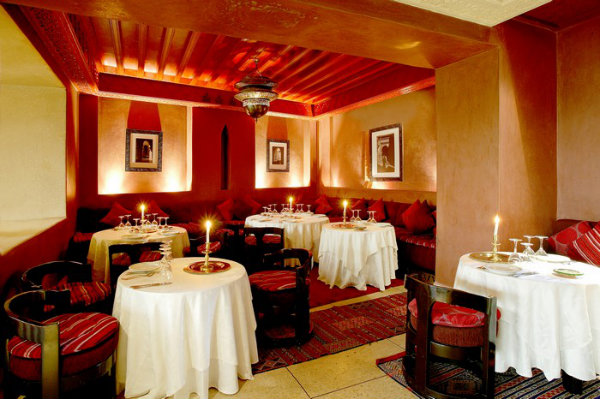 image source: alfassia.com
This upmarket restaurant in Guéliz, the modern area of Marrakech, came highly recommended both by my guidebook and online reviewers. Owned and run entirely by women (with the exception of the doorman) the food in Al Fassia is both traditional and exceptional.
It was here, in the dimly lit dining room of warm-hued reds and plush cushions that I tasted my first pastilla, a flaky pastry filled with pigeon and almonds, and dusted with icing sugar.
The result of this unusual combination is heavenly.
The following courses, a tagine and then sweet pancakes to finish, were delicious, as was the local wine we ventured to try. The service at Al Fassia was wonderful and the atmosphere was intimate while still being informal.
It's an indulgent option compared to many restaurants in Marrakech, but it was worth every Dirham we spent.
Bookings are essential. We stopped past the restaurant one lunchtime and they managed to squeeze us in for the same evening, but it's advisable to make bookings in advance to avoid disappointment.
Stall 32, Djemaa el Fna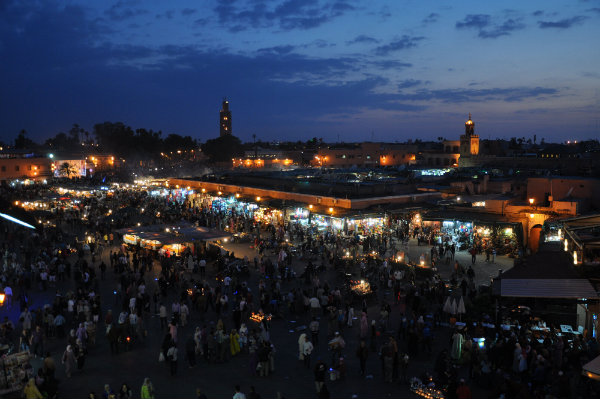 No visit to Marrakech is complete without joining the melee of street barbeques that appear at sunset in the Djemaa el Fna, filling the square with smoke, aromas and din.
A walk through the corridors of this small tented city will result in a fair amount of hassling and confusion over which stall truly is the best in Marrakech, but save yourself the trouble and head directly to stall 32.
Order the lamb sausage dish, which will come promptly on aluminium plates along with chunks of bread to mop up the tomato sauce. Two plates of this tasty and hearty dinner cost us less than £3, but when we returned a few nights later (yes, it was that good!), we splashed out on some lukewarm Cokes and another meat dish, which doubled the price (indulgent, we know).
Don't come here for a leisurely meal; you'll be expected to leave as soon as you've mopped the last morsel from your plate, but while you're there, make the most of the quality people watching experience.
Dar Moha
After emerging from our Moroccan hammam in a dream-like state, wanting nothing more than to continue our day of indulgence, we strolled in the hot sunshine to nearby Dar Moha, which we had read was an exceptional lunch option.
We stepped into the tranquil building, once a royal riad, and were ushered to the central courtyard, a bright and sunny area with a shimmering pool and bougainvillea creeping up the Majorelle Blue walls.
Taking our seats under the shade of an umbrella, we ordered a bottle of Moroccan wine and pastillas, addicted as we were after the first bite at Al Fassia.
We spent a few hours here, enjoying the warm sunshine, the soft lapping of the pool and the food which was every bit as good as we hoped.
Pastillas were followed by the most tender lamb shank, sweetened with fig and honey, and then finished with a delicate fruit-layered pastry stack.
It was a languid affair, perfect for an afternoon of indulgence, and my food highlight of Marrakech.
Café Des Epices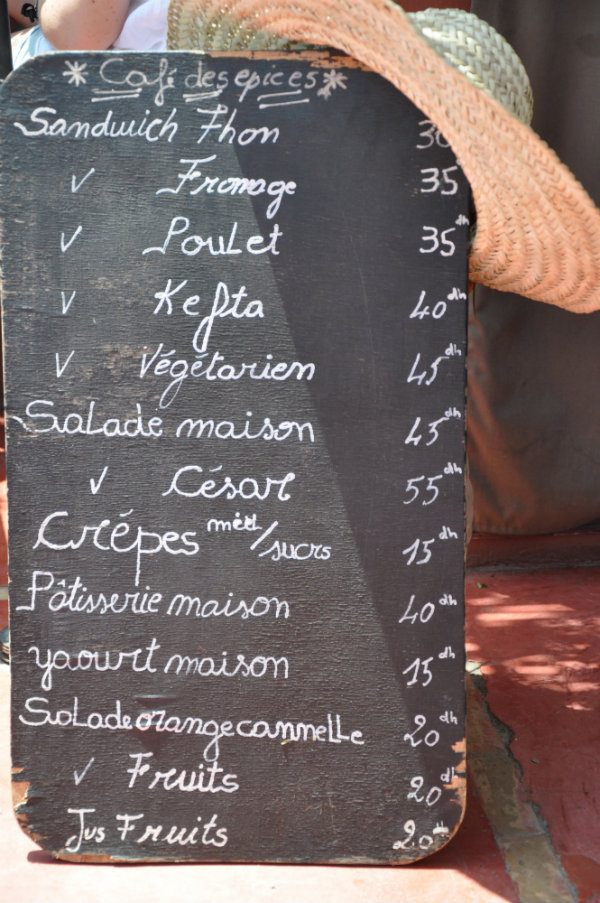 Included in this list more for the location and ambience than the food itself, Café Des Epices is situated at the very heart of the spice market section of the souks.
The tiny terracotta restaurant is tightly packed onto three floors, the best being the open terrace at the very top where diners can look down on the bustling market square below.
If you are determined (as we were) to score a spot at the top, you may be in for a wait to be seated, so don't come too hungry. The menu is limited; soft drinks and salads are the best pick, but one comes here not for fine dining, but rather for the prime location and a respite from the endless maze of souks.
Grand Café de la Poste
Highly recommended in almost every guidebook and website about Marrakech, Grand Café de la Poste is as much about being seen than it is about the intriguing colonial interior.
Also in the new part of the city, Guéliz, this restaurant is run by both a Moroccan and a French chef, giving the menu a similar theme to the furnishings.
It is a popular spot for a sundowner or a stylish lunch, and expats, locals and visiting celebrities flock here to enjoy the ambience. Although we just stopped here for an ice cold Coke one hot afternoon, it's first on our list of new places to eat for when we return to Marrakech.
Have you been to Marrakech? Would you add any restaurants to this list?
Want to see more posts like this?
Follow me on:
Follow