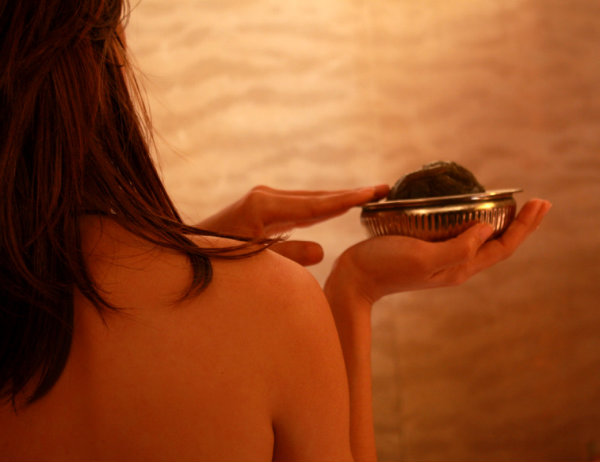 image source: heritagespamarrakech.com
I'd heard stories of hammams before I arrived in Marrakech; tales of being scrubbed in places where no-one should ever be scrubbed and anecdotes of pain, embarrassment and confusion. Still, people seemed to rave about this exotic cleansing ritual, so it was on my list of experiences to try when I visited Morocco. I did some research and, being too scared or high maintenance (or maybe I just craved a truly relaxing experience) to risk visiting a basic, traditional hammam, I booked a couples session for Brendan and I at Heritage Spa, which had received exceptional reviews on TripAdvisor.
Despite being reassured by the website that it would be 'a heaven of luxury and pleasure', we were still nervous when the day of our appointment arrived. After a few hectic days exploring the cacophony that is Marrakech we were ready to be pampered, but we also weren't quite sure what to expect. With a little trouble, we found the entrance along yet another tiny, unmarked, dusty lane and stepped inside the heavy wooden doors of Heritage Spa, immediately breathing a sigh of relief; the dimly lit, soothing interior was a cool respite from the heat of the day and looked promisingly luxurious. We were led to a waiting room full of sumptuous cushions which we reclined upon as we selected essential oils for the massage that would follow our hammam. A few minutes later, we were handed paper thongs, robes and slippers, and were pointed towards a changing room where we acted like children with the thongs, but emerged wrapped once again in our dignity, and a fluffy white robe.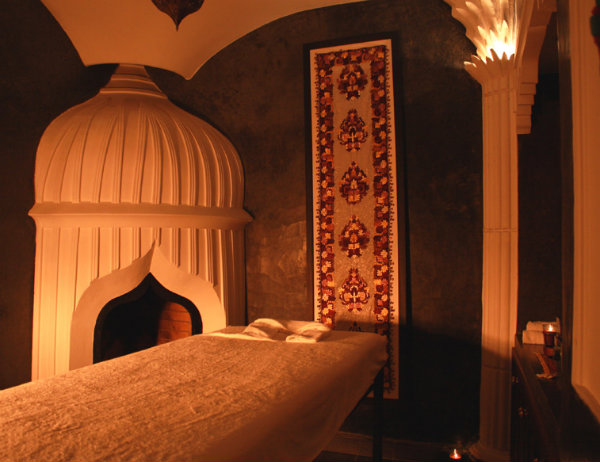 image source: heritagespamarrakech.com
Again we were led, this time up twisting staircases to a room, at the entrance of which we had to surrender our comforting robes. We were told to lie on the stone benches that lined the small, hot and humid room and then we waited. And sweated on the hot marble slabs. Eventually, a woman who introduced herself as Malika entered the room and proceeded to slather first mine, then Brendan's body in Moroccan black soap. We were then left to marinate in this thick concoction for about 15 minutes, sweating plenty more, before we were rinsed off and then the gommage, or scrub, commenced.
It was vigorous, that's for sure, and not for the overly modest or shy, but as I watched big grey chunks of dead skin being sloughed off my body, every inch of my newly exposed body tingled and I felt cleaner than I ever had before. Once Brendan had experienced his scrub-down and we had both been rinsed again, our thick robes were presented to us again and we entered an area where mint tea was served and we were left to cool and dry off in tranquility. We could have fallen asleep right there and then, but it was time for our massage, for which we were guided back down the winding stairs and into a dark, warm room where soft music was playing. I knew it was going to be a heavenly hour.
We emerged from that room looking like we'd just ended a season of hibernation, smelling of divine essential oils and feeling as though we were floating on a cloud. Brendan was awake enough to pocket a souvenir paper thong in the changing rooms but I don't remember a single thing until we stepped out, blinking, into the hot, bright light of midday Marrakech.
Heritage Spa might not count for some as an authentic Moroccan hammam experience (where authentic = uncomfortable), but for us it was perfect. We were able to truly unwind and let the wonderful staff lead us on a journey of indulgence, pampering and unparalleled exfoliating. It's worth mentioning also that the following day, when Brendan and I were at the airport waiting to check in to our homeward flight, the lady who had greeted us at Heritage Spa waved us down and insisted on returning money that she had apparently overcharged us. We didn't know that we had been charged extra, but she was convinced, and had remembered us mentioning that we were flying out that day. She brought her mother to the airport that morning so she stayed there specifically to try to find us. We were already wowed by our experience at Heritage Spa but that extra, unexpected gesture was a testament to the level of service that they provide. Thank you Heritage Spa. We hope to see you again soon!
Heritage Spa, 40, Arset Aouzal – Bab Doukkala – Marrakesh
Heritage Romance Package (hammam and massage for two persons), 2.5 hours: MAD 1700 (approx. £125)
Want to see more posts like this?
Follow me on:
Follow