As someone who is constantly looking for the stylish elements in travel, I think I have been remiss in not writing a post based on the most fashionable travellers out there: flight attendants. In days gone by, travel was inherently associated with glamour and class, with flight attendants being the epitome of this lifestyle. Uniforms were tight and sexy, weight restrictions were enforced and to become a flight attendant was to reach a status unattainable for most. Although I'm happy that the sexist element of travel has evolved over time, it is sad that the once-glamorous role of serving on flights is now little more than being a bartender/babysitter/cleaner between destinations. Still, all is not lost. There are a number of airlines that hold true to the roots of travel by providing their staff with exquisitely tailored uniforms, often created in collaboration with world-famous designers. Here are some of the most fashionable flyers around the world; the airlines whose uniforms lend an air of class to their stylish flight attendants.
Singapore Airlines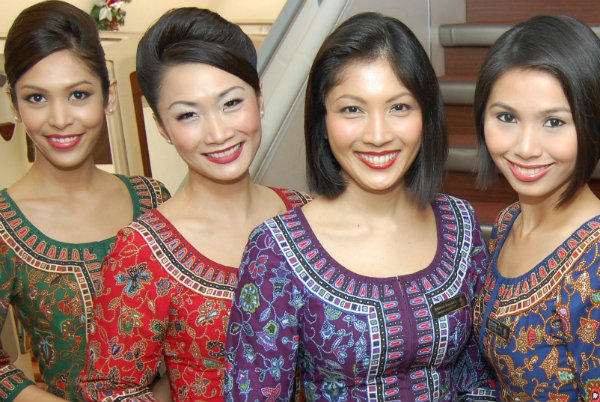 image source: cnn.com
'The Singapore Girl', as Singapore Airlines' flight attendants have been known for a number of decades, are dressed by Pierre Balmain, who designed the distinctive sarong kebaya in 1968. Although some small changes have been made to the uniform over the years they remain largely the same, which speaks volumes about the timeless style of the design. The ladies' uniform comes in four colours: blue for a flight stewardess, green for a leading stewardess, red for a chief stewardess and burgundy for an in-flight supervisor. Further to this impeccable tailoring, The Singapore Girl must be perfectly presented at all times, made possible by a company grooming consultant who tailors a make-up colour guide for each flight attendant to compliment her features and skin tone. Now that's an employee benefit I can get on board with!
Qantas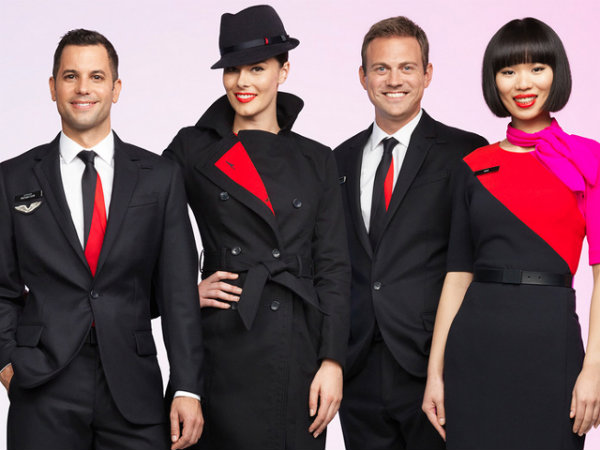 image source: rantsofasassystew.com
Australia's national airline recently switched its traditional aboriginal-print uniform for a modern, sleek look. The bold colourblock pieces were designed by Parisian-based Australian designer Martin Grant, whose inspiration came from the iconic Qantas aircraft logo; a simple red triangle. This is reflected in the striking red splash featured on the men's ties, the women's shirts and the coat's lapel. The new Qantas uniform made headlines last year when it was unveiled by Australian model and Victoria's Secret Angel Miranda Kerr. One stewardess said of the new look: 'The uniform looks fantastic on Miranda Kerr but unfortunately we don't all look like her." I personally think that bold simplicity looks great on everyone, so this one gets the thumbs up from me.
Virgin Atlantic
image source: theinspirationroom.com.au & blog.virgin-atlantic.com
"A welcome splash of red in a weary world of grey". The Virgin Atlantic tagline is more than just a sentiment; their new uniforms designed by iconic British fashion maven Vivienne Westwood are exactly that. The scarlet jacket is feminine, smart and perfectly tailored with eccentric details typical to their creator's designs. The smart blazer was inspired by Westwood's 'Bettina' jacket which was part of her Gold Label Spring/Summer 1995 and Autumn/Winter 1995/6 collections. The garments are not just stylish though, they are also environmentally friendly, with many items being produced with polyester yarn made from used plastic bottles.
Emirates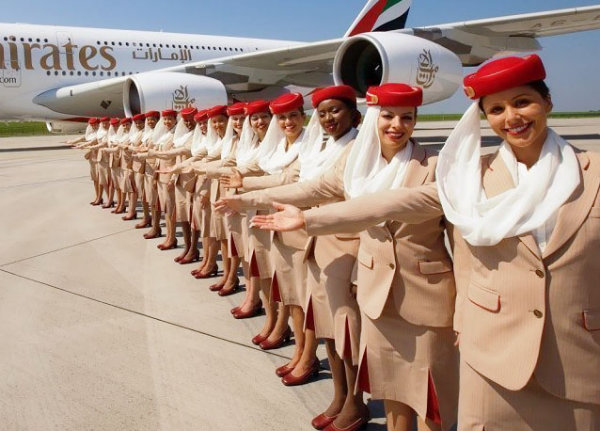 image source: worldscrews.blogspot.com
The Emirates ladies are the epitome of class and style in a smart blazer and skirt combination in understated colours. The beige suit features red and chocolate pinstripes and red piping, and the inverted pleat on the skirt flashes a glimpse of red, which has as striking an effect as the much-coveted Louboutin shoe. The red accents are continued with a vintage-style hat and instantly-recognisable white scarf. This collection was, surprisingly, not created by a fashion designer but by a corporate wear manufacturer based in the UK.
Bangkok Airways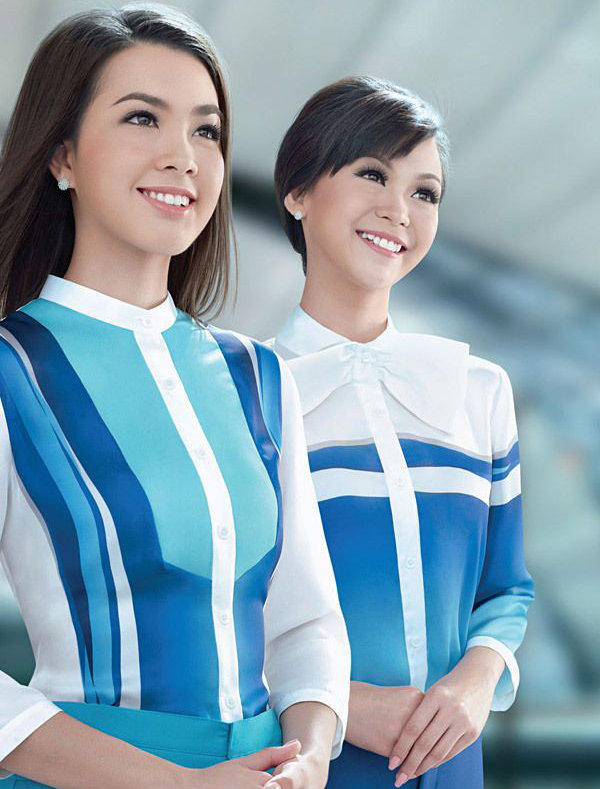 image source: unknown
These fresh and fun uniforms were designed for Bangkok Airways by Mr. Polpat Asavaprapha, one of the top fashion designers in Thailand. The deep blue and turquoise colours represent the ocean and sky, and they simply look fantastic! Most flight attendant uniforms, including the others in this list, look great as just that – a uniform, but they don't translate into real life because they don't need to. This look, however, would be right at home on the shelves of fashion retailers, with pieces like the horizontal-striped blouse pairing perfectly with skinny jeans and some killer nude pumps. Brava, Bangkok Airways.
Honourable Mention: Pan Am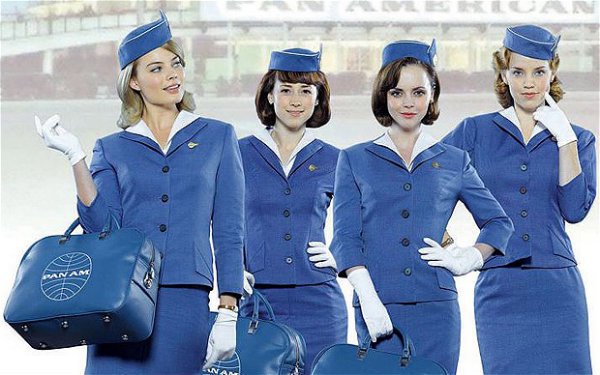 image source: telegraph.co.uk
Although this airline no longer exists, when most people think about fashionable flight attendants their mind immediately conjures up the iconic image of these ladies in blue who, at the time, were the ultimate benchmark when it came to stylish travel. Their sharply tailored suits, hats and accessories have inspired fashion today and even sparked a TV show which caused wardrobe envy for women around the world. Pan Am may be no longer, but I'm certain that most of the uniforms on the list above were inspired by their original stylish uniform, which was designed by Evan Picone, with bowler hats by Italian millinery brand Borsalino.
Want to see more posts like this?
Follow me on:
Follow