I love the internet! It's a plethora of amazingly fun and useful things all in one place, but it can be totally overwhelming too. I come across countless articles, photos, Pins, Tweets and videos every day that make my life a little better, if only for a small moment. Unless I remember to Tweet them though, I just don't end up sharing my favourite things – so now I am taking the opportunity to put a few of the best things I've seen recently into one place. I hope you enjoy them as much as I do.
Best Video:
This 80s themed safety video by Delta is practically guaranteed to have passengers watching right until the end. Watch out for a special appearance by Alf!
My favourite Pin: 
As I'm off to California in just 12 days, I am obsessing on Pinterest (and the internet in general), trying to find hidden gems and recommendations. Although the Golden Gate Bridge is certainly not hidden, it's a gem I can't wait to see and photograph to my heart's content! (follow my Pinterest boards here)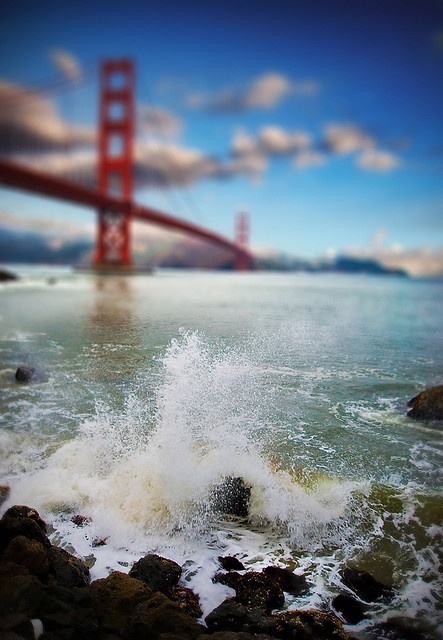 My Favourite Blog Post:
This blog post by Elle-Rose is one of the best I have read in a while. It's called 'The Reality of Living in London' and her points are so accurate they made me laugh and despair at the same time. My favourite in Elle-Rose's 10 point list is this:
You won't live on your own in a one-bed flat like Bridget Jones.
No one can afford to live in a one-bed flat on their own. Not really. Unless it's a studio in zone 3. Maybe.
Instead, you'll live in flat-shares. Until you find that wonderful person you want to be with – and then you'll cram all your stuff into a one-bed flat until you both get promotions and can afford something a bit bigger.
So, so true.
Head over to The World and Then Some to read the rest of these terrifyingly accurate observations.
Shopping Pick:
Let's face it, when it comes to fashion favourites, 9 times out of 10 it's going to be something from ModCloth I'm coveting, and this dress is no exception. Don't you think the vintage style would be just perfect for driving along a highway in California?
The Neyla Dress in Bleu by Stop Staring! on Modcloth
So those are a few of my favourite things for the month of February. Now over to you…I'd love to hear your top picks too!
Want to see more posts like this?
Follow me on:
Follow