A uniquely American experience in Las Vegas
My heart wasn't pounding as such. It was more trying to tear through my ribcage and out of my chest entirely. Adrenalin whirred through my blood and my safety glasses began to steam up from the sheen of sweat that had formed on my face. "When you're ready…" prompted the voice behind me, so I took a staccato breath, braced myself for the unknown and BANG! I almost dropped the pistol I was grasping as it kicked back with a force I wasn't expecting. Somehow though, I managed to maintain a façade of calm as my adrenalin levels skyrocketed and just like that, I had fired my first gun.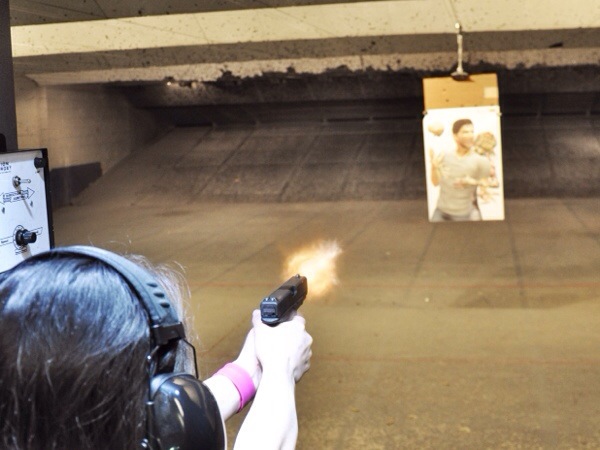 The venue was Gun Garage, a shooting range just off the Southern end of the Las Vegas strip. The time was 10am on a Saturday morning, which meant I was probably one of the few people in the city who was actually functioning, and therefore one of the only customers around. I was told that by the afternoon all twelve lanes would be full, with even more people waiting their turn in the informal viewing area or browsing the store for ammunition, firearms, accessories and clothing.
When I was invited to visit Gun Garage for a shooting experience I only hesitated for a moment before accepting. As an Australian living in the UK I have a natural distrust towards firearms as a result of the cultures I've always been immersed in. Over the past few years I have had plenty of conversations with my American friends and, although I don't necessarily share all of their opinions on the subject, I can appreciate that guns are as much a part of American culture as burgers, baseball or SUVs. Experiencing a slice of this culture for myself was too good an opportunity to miss, so with a nervous smile of disbelief I found myself climbing into a huge van emblazoned with the words 'Guns and Ammo Garage' on a sunny morning outside my hotel in Vegas.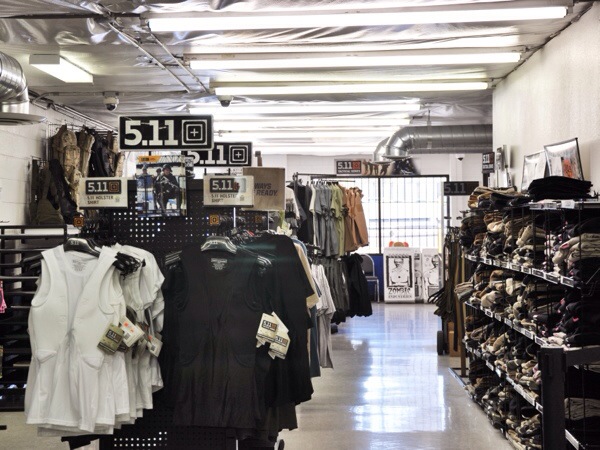 First impressions of Gun Garage
Upon entering the building I was greeted by rack upon rack of military-style clothing and for a second I experienced a mild panic that I was way out of my depth, imagining a bunch of huge, tough looking men with gun holsters laughing at my complete ignorance and inexperience. With trepidation, I walked towards the back of the building and found myself in a brightly lit room, one wall of which was adorned with firearms of all shapes and sizes, another of glass where I could see the lanes. My fears were immediately allayed as I spotted Danielle, a sweet looking brunette behind the counter. She asked me a number of questions about my experience (none) and told me about the various packages on offer at Gun Garage. I politely nodded as she rattled off names of guns that I'm sure would have impressed me if only I'd known what they were, but helpfully there were pictures of the guns used in each package, which at least gave me some idea of the badass level of each. I wasn't pretending though when Danielle reached the Club 21 experience, which can be shared amongst a group of four and which features your choice of any 21 of the guns on offer. That's a lot of firepower!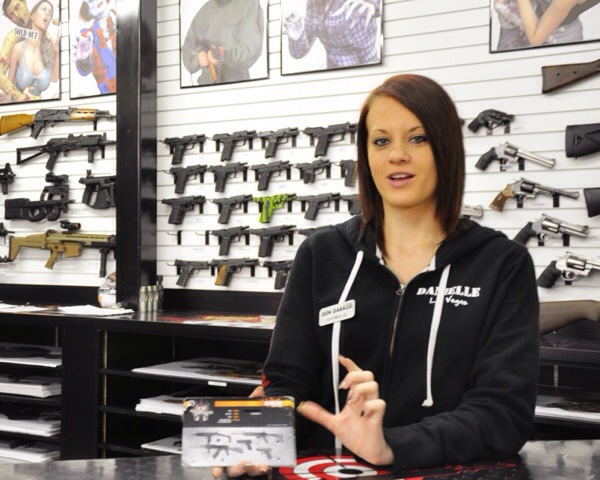 My personal Range Safety Officer
Danielle ran through some ground rules with me: point all guns down the lane at all times, safety goggles and ear protection must be worn at all times, follow my range master's instructions to the letter…and then it was time to meet Janice, my personal Range Safety Officer (this wasn't just for me: every guest receives this level of service and safety) who could easily be mistaken for a model. Petite, stunning, and apparently not to be messed with, Janice has 5 years' experience in the industry after falling in love with firearms in Las Vegas. She led me into the range and hung my target at the end of my lane; as a Walking Dead fan I giggled when I saw I would be aiming at a zombie who was trying to make a meal of an innocent-looking man.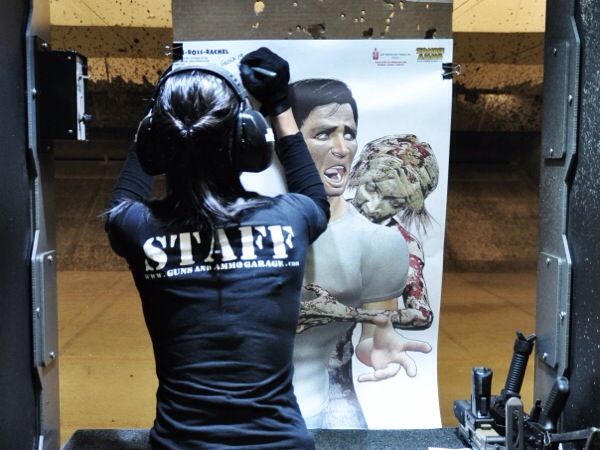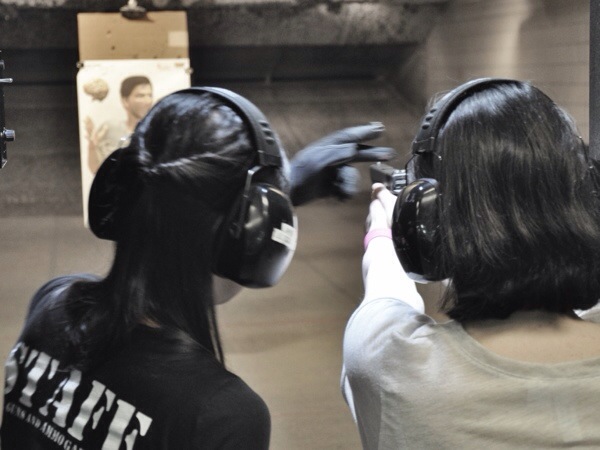 The shooting experience
Janice began by showing me how I needed to stand and then picked up my first firearm, an empty Glock, to show me the correct way to hold it, aim and shoot. When she was satisfied that I could grip the weapon properly she loaded it, handed it over and said "when you're ready". I'm not too proud to admit that I was terrified. What would it feel like to shoot a real gun? Would it hurt? Would my aim be any good at all? I was almost too scared to squeeze the trigger, but it was what I had come for, so I bit the bullet (so to speak) and curled my finger around the cold metal weapon. The first BANG was shocking, and I let slip a nervous bark as my safety glasses steamed up even more. "9 more to go" encouraged Janice, and I squeezed the trigger again and again, feeling no less nervous with every shot, but doing my best to relax and really experience every sensation. 10 bullets (is that even the right word?) down and I was onto the next weapon: an Uzi submachine gun. A badass firearm (and yes, I did have to Google that).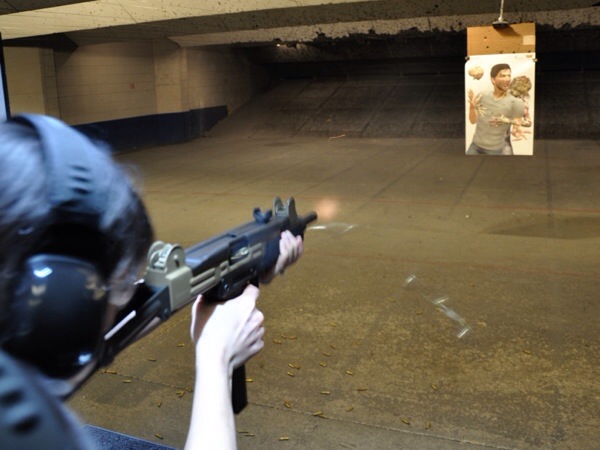 I'm sure most people just hold that trigger down until the weapon is empty but I was a timid shooter, releasing my finger every few seconds. I couldn't tell you why as it all happened too fast to really process, but it was such a powerful weapon that it felt pretty terrifying to be in control of it. Despite my stuttered bursts of bullets, the experience was over in mere seconds and it was time for my 'happy ending' as they call it at Gun Garage: shooting a 'baby' AK-47 known as a Krinkov. It creates fire when it's shot, placing it pretty high up on the scale of badass weapons, and signifying a terrifying moment for me. Janice instructed me to hold my finger on the trigger until it was over and so, resisting the urge to just shut my eyes and squeal as I squeezed my finger, I pulled the trigger and was almost blinded by a huge wall of light in front of me. It was over in a flash and I felt exhilarated and intimidated at the same time. I mean, just look at this photo. I still can barely believe that's me, shooting that crazy gun.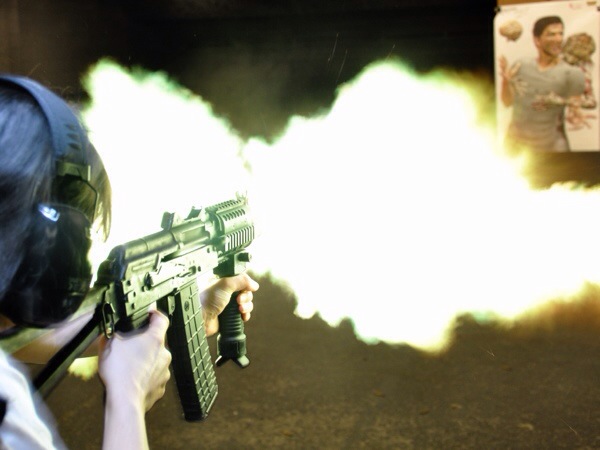 The overall experience
I left Gun Garage feeling pretty elated at having experienced something so unique and so unlike anything I'd ever done before. I was proud of myself for having tried it, and for keeping an open mind about an activity I probably would have judged quite harshly a few years ago. I can't say I've fallen in love with shooting as an activity, but the experience was pretty spectacular, and it's a morning I'll never forget. Would I recommend it? My answer is definitely yes. Vegas is about so much more than gambling and drinking; in fact, those two activities hold little appeal for me anyway, and shooting is an experience that many people won't ever get the chance to try in their home country. I have very firm views about gun violence and even gun ownership, but this isn't what Gun Garage is about. It's a safe, fun way to experience some all-American culture and get an intense adrenalin rush while you're at it. And the best part is that no experience or skill is required (lucky for me, as I'm clearly a terrible shot. Poor dude; at least I put him out of his misery):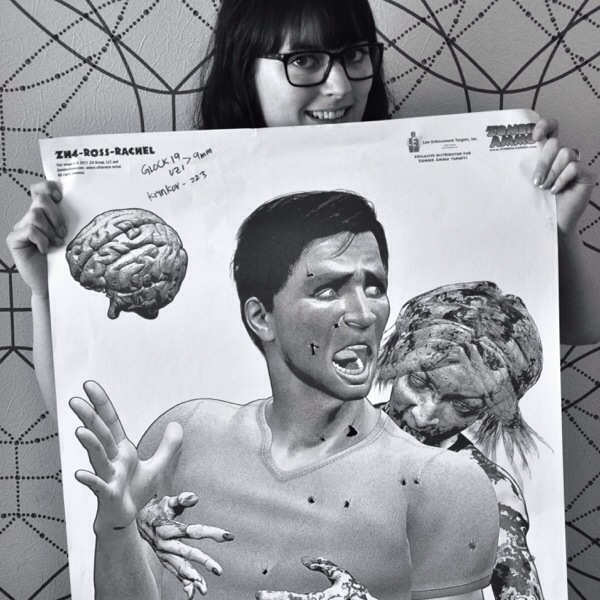 The essentials
Getting there: there's a free shuttle service when you book into Gun Garage, which will pick you up from and drop you to any hotel or casino in Las Vegas
Opening times: daily, 10am – 7pm
Cost: shooting packages aren't cheap, but that's understandable given the highly trained staff who are in the lanes at all times, as well as the cost of ammunition. Check out the full range of Gun Garage experiences, starting at $99.95 for adults, on their website.
Safety: this was a hugely important factor for me, and it is to Gun Garage too. They take the safety of their staff and customers very seriously which is proven by their 5-Star rating from the National Shooting Sports Foundation (read more about what that means here). As an example of how seriously they take safety, the moment I left the lanes I was instructed to go directly to the bathroom to wash my hands. This was to remove any lead residue from my skin to avoid it reaching my bloodstream, and to further protect their customers, no hot water is available as it would open pores and allow lead in. All of the staff are very highly trained and they are all more than willing to answer any questions and concerns about safety to put your mind at ease.
*Just letting you know: Gun Garage generously provided me with this incredible experience in exchange for an honest review of their facilities and services. My writing and my opinions, as ever, are all mine.
I'd like to hear from you. Would you shoot guns in Nevada? Does this experience sound fun or terrifying to you?
Want to see more posts like this?
Follow me on:
Follow