I'm going to just say it: Oxford Street is not on this list.
Don't get me wrong; Oxford Street does have some fantastic stores, like world-famous department store Selfridges, American teen favourite Forever 21 and plenty of flagship stores for brands such as Nike, Topshop and Zara. But despite the prolific shopping…in fact, for the very reason that there is such great shopping (and because it's on the Monopoly board) Oxford Street is a magnet for tourists whose laid back strolling can be infuriating at best and day-ruining for most. Don't worry though, this city has plenty of other destinations that shopaholics from around the world will love. If you're looking for somewhere to indulge in a little bit of retail therapy, these are some of the best places for shopping in London:
Regent Street
image source: wikipedia
Although it's still busy (let's face it: where in London isn't busy?), Regent Street has a few noteworthy shops that aren't your average high street brands. My favourites are American imports Anthropologie and J. Crew, and the relatively new baby of Cos and H&M, & Other Stories, is well worth a visit. There's a huge Apple store, some great high street brands and, of course, world famous toy shop Hamley's, which is worth pushing through the throngs of people to peruse.
Covent Garden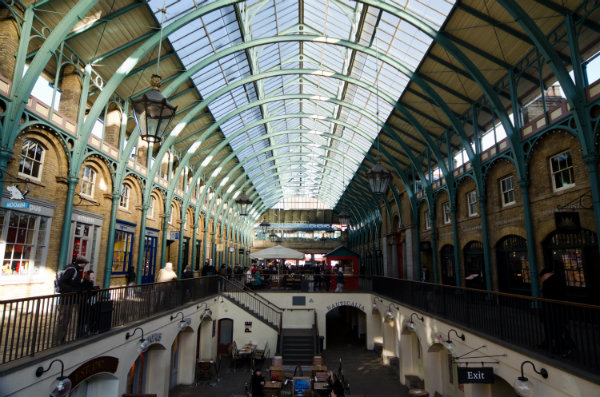 image source: wikipedia commons
The covered market of Covent Garden will always be one of my favourite places in London. The sounds of opera singers or string quartets mingle with the dramatic cries of street performers, and smells of paella and burgers waft through the market stalls. You might be able to pick up a knick-knack or two in this space but the real shopping is on the outer edge, with Chanel sitting side by side with Joy, Jo Malone and shoe lovers' favourite Kurt Geiger. The real treat when shopping here is taking a break at Ladurée for a cup of tea, a pastel coloured macaron and some epic people watching.
Portobello Road Market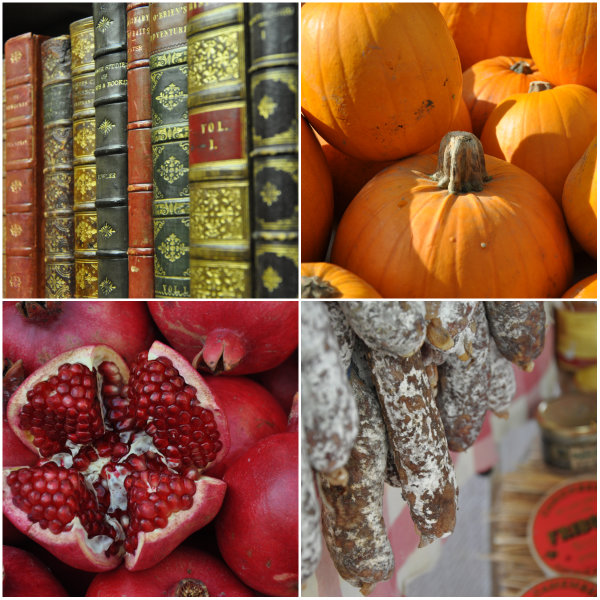 If quiet streets are your thing, then Portobello Road is not for you. Early birds arriving before 9am can avoid the mobs of tourists, but if you do arrive too late, just take a deep breath and enjoy the hustle and bustle. Starting at the Notting Hill Gate end of the road, stroll past the candy-hued houses (one of which was once occupied by Oscar Wilde), then brace yourself for the crowds as you approach the antique section of the market. It's here that you will find gifts, as described by Hugh Grant in Notting Hill as 'some genuine, some not…quite…so genuine', but all charming. If you come out if the labyrinth of galleries and stalls ready for more, you'll have worked up an appetite which can be satisfied with the abundance of street food available along the western stretch of Portobello Road. The paella here is the best I've tried in London, and it should be followed by a pastry from a nearby stall and a hipster-made coffee from Coffee Plant.
Westfield London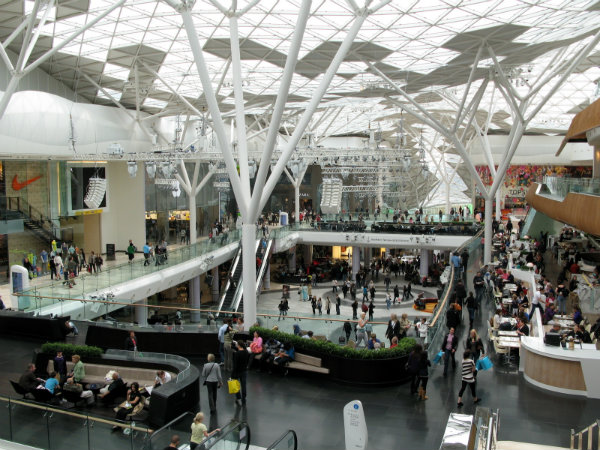 image source: wikimedia commons
It kind of pains me to add a monolith of a mall to this list, but no one can deny the convenience of a mall, especially one that is warm, features plenty of restaurants, a cinema and an ice skating rink, and which offers designer shopping in one convenient location. From high street to haute couture, you can find it all here, with the option of stopping for a decent mid-retail-meltdown meal, not just a food court sandwich. My favourites are Wahaca and Byron, but there are plenty of restaurants to choose from, including a champagne bar for those who fancy a bit more indulgence.
Kings Road, Chelsea
Another favourite, and not just because there's another Anthropologie here, or that you might catch a glimpse of a Made in Chelsea cast member while you're shopping (although those things obviously add to the appeal). Unlike many shopping experiences in London, The King's Road can actually be classed as a pleasant and enjoyable experience, due to its quieter, more quaint locale. Chelsea is one of London's nicest areas, and shopping here should be treated more as an experience than a retail task. Stop for lunch at Bluebird Cafe, and make sure you take a peek at the Chelsea Antiques Market if you're there on any day but Sunday.
Have I missed any essential London shopping destinations? Let me know in the comments below.
Want to see more posts like this?
Follow me on:
Follow