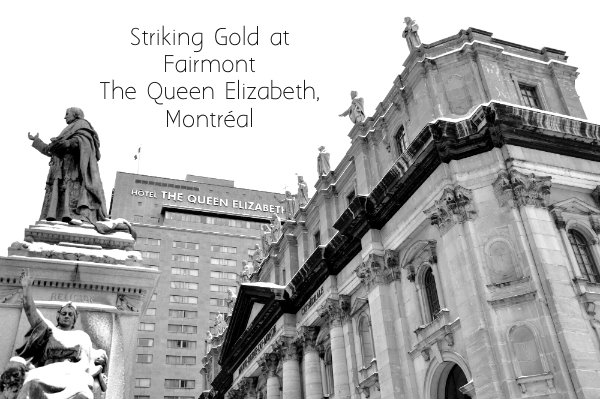 "This is my song!" exclaimed the man sitting at the table next to mine, shocking me out of my reverie. His group of friends clapped, and the man explained to the waiter that the Christmas tune being played in the Gold Lounge was, in fact, written and sung by him.
How fitting that here in Fairmont The Queen Elizabeth, where John Lennon and Yoko Ono famously staged their 1969 Bed-In For Peace and recorded Give Peace a Chance, musicians still base themselves for a stay in Montréal.
It's not hard to see why they make this choice. I arrived in Montréal after a full day of travel from London feeling exhausted and more than a little unkempt, in keen contrast to the pristine lobby I found myself in. Thankfully, Fairmont is the kind of hotel that makes you feel like you belong, even when you're dishevelled and disoriented, and they even overlooked my appearance for long enough to check me into one of their prestigious Gold Rooms.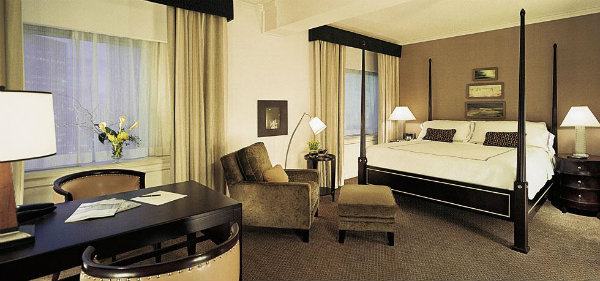 Fairmont Gold is a pretty spectacular hotel experience. It's designed to provide frequent travellers with the kind of touches that differentiate a regular visit and a memorable one.
The exclusivity begins with the location of the rooms, which can all be found on their own two floors of the hotel (these floors also happen to be high up, which gives them all spectacular views), accessed by a private panoramic elevator. Seriously. There's a concierge and reception desk dedicated to Gold guests, so you can check out quickly and efficiently, and a mini business centre sits nearby, which was a life saver for me after I forgot to print my train tickets to Quebec City. Oops.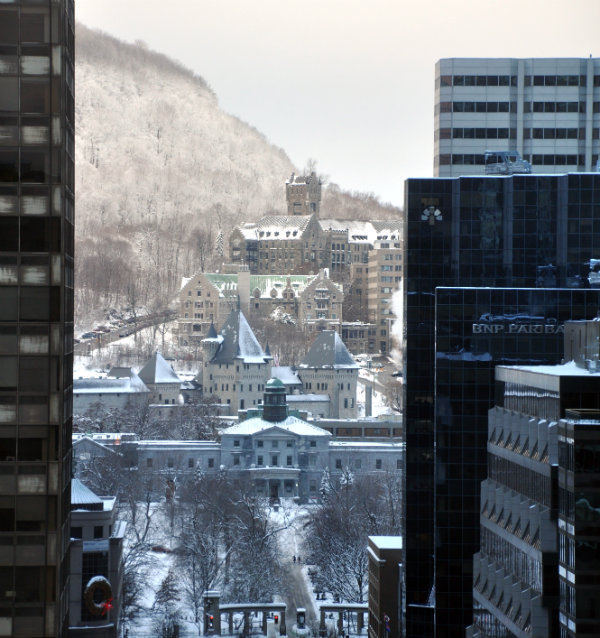 Behind the reception and business area you'll find the Gold Lounge, where a delicious breakfast can be enjoyed in the morning, complete with views across Montréal. Every evening, appetizers are served along with drinks from the honesty bar. I was sipping a glass of wine in the lounge as I stared at the lights of Downtown Montréal when I discovered the musical talent of my neighbour. Eavesdropping is certainly one benefit of solo travel!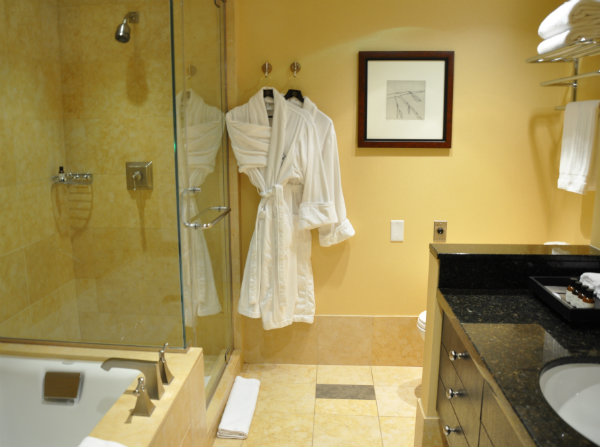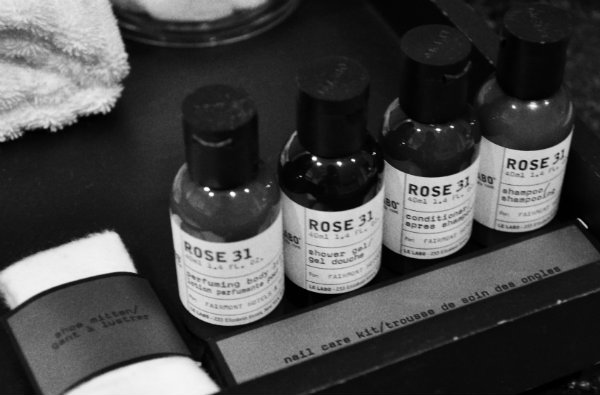 Weary traveller that I was when I arrived, I was overjoyed when I reached my huge room, and spent a good few minutes admiring the view, the incredibly comfortable bed and the spacious bathroom stocked with divine Rose 31 products. I felt truly spoiled when I spied a welcome platter of gluten free treats and fruit waiting for me.
As I'm sure you can imagine, it was difficult to drag myself away from the room to explore the rest of the hotel, and indeed the city I'd come to discover.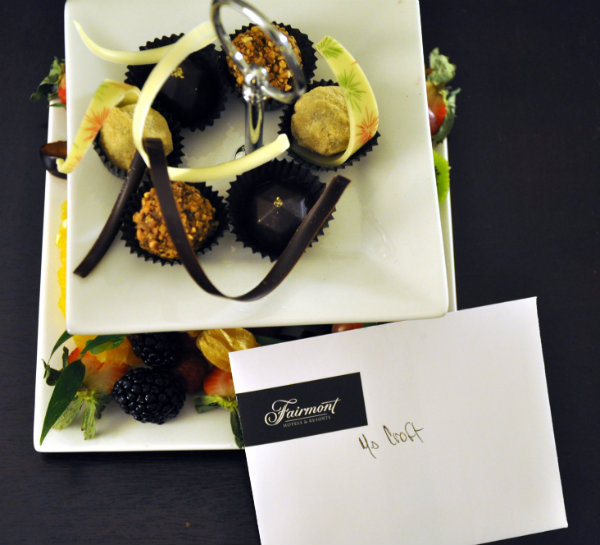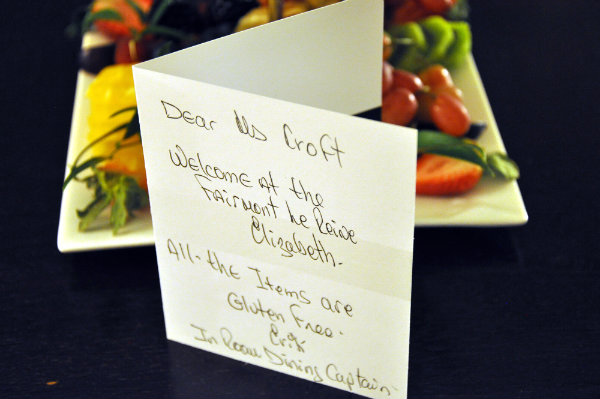 I could have spent far more time checking out the fitness centre, pool or spa in the hotel, although a workout was the last thing I craved after a day of walking around the city. Le Montréalais Bistrot-Bar and Les Voyageurs Bar are popular with guests and locals alike, but I opted for room service as I really couldn't bear to leave that bed!
If you happen to order anything off the menu containing honey, you'll be tasting the labour of the real queens of The Queen Elizabeth: six queen bees that reside in the rooftop garden who, between them and their workers, produce 150kg of honey each season. Check out this sweet little video about the hotel's urban beekeeping programme and garden. I'm dying to return in the summer months to see it for myself.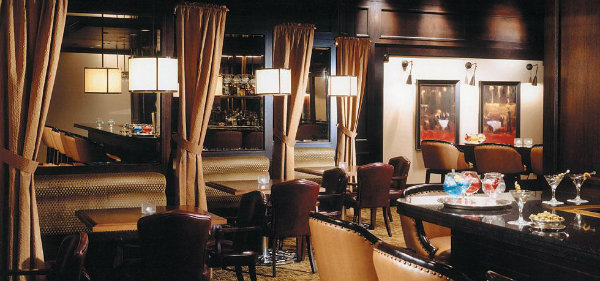 Queen Elizabeth is everything you'd expect from a Fairmont property, down to the smallest touches. It's perfectly located within walking distance to the Old Town and Jewish Quarter, which I spent a day exploring (read about my day in Montréal), and it's right on top of the city's main train station and an extensive network of underground shops and restaurants. This is particularly helpful if you visit in the winter months like I did, as it means you don't have to brave the cold to venture around.
From the moment I walked into the lobby, dishevelled and with far too much luggage, my visit was absolutely faultless. I really enjoyed exploring the fabulously French city of Montréal, but staying in Fairmont The Queen Elizabeth was what made my time there really memorable. I can certainly see why John Lennon chose it as a location for his famous Bed-In; if I'd had the choice I would have stayed in the lap of luxury forever.
*Just letting you know: Fairmont The Queen Elizabeth Montréal generously provided me with two nights at this incredible hotel in exchange for an honest review of their facilities and services. My writing and my opinions, as ever, are all mine.
Want to see more posts like this?
Follow me on:
Follow