Packing for a holiday in summer is no real challenge. Usually I end up throwing some extra shoes into my luggage just because I feel like my suitcase should be full, but packing for a winter holiday is another story entirely.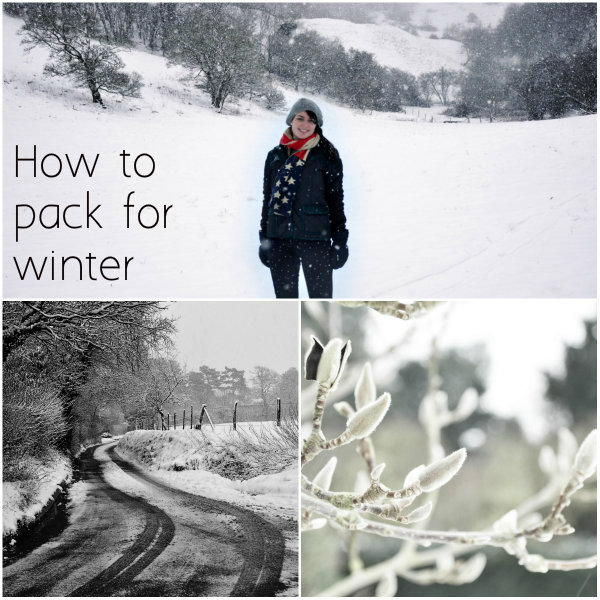 I've had quite a lot of practice over the past few years, with trips to Finland, Norway, Estonia, Latvia, Hungary, Poland and even Canada in the dead of winter. Some of these holidays were with checked luggage, like when I went skiing in California, but others were embarked upon with hand luggage only in order to keep the cost of my trip down. I can assure you, there were no extra shoes being thrown in on these trips!
If you do find yourself struggling to pack for a winter holiday, here are some tips to help you maximise your space while still staying warm.
Wear your bulk
Don't try packing your huge, warm jacket or those puffy waterproof boots. Instead, wear them on your flights so you can maximise luggage space. You don't have to wear your jacket on the plane or in the airport but simply having it over your arm will probably double the room you have to work with in your suitcase. You will have to deal with toasty toes by wearing your bulkiest boots, but it's a small price to pay for more comfort when you arrive at your destination.
I like: ASOS quilted jacket, Gap camo jacket, UNIQLO puffer jacket
Quality, not quantity
Packing more clothes won't necessarily help to keep you warm, but packing good quality winter wear will. When we were searching for the northern lights in Tromso, our local guide swore that he was warmer with one thin pair of real woollen socks than we all were with our multiple layers of thick, cheap pairs. At the end of the night I couldn't feel my toes. He swore his were warm. Of course, he could just be acclimatized, but I have found that wearing fewer layers of better quality (such as merino wool) keeps me warmer than lots of cheap jumpers.
Thermals
Rather than packing bulk, pack good quality thermals – and lots of them. Thermal tops, thermal gloves, thermal tights…they'll all keep the cold out and let you explore a new destination comfortably without taking up much room in your luggage.
I like: UNIQLO Heattech socks, Johnstons cashmere gloves, KJUS merino wool top, UNIQLO polo shirt
Borrow
Winter holidays are a rarity for a lot of people. Unless you're a keen snow sports fanatic, it's unlikely you'll need that arctic jacket or extreme snow boots. London is cold and we all love to complain about it, but let's face it: you simply don't need high-tech gear for a winter in the UK. Instead of splashing hundreds of pounds on stuff that'll gather dust in the back of your closet, why not ask around and see if you have any friends who could lend you their gear? Usually they'll be more than happy to, in exchange for a nice duty-free gift. On an unrelated note, I have a great winter jacket and ski pants and I love Baileys.
Accessorise
We all know that I like to look stylish when I travel. In winter, that gets a little bit harder as I have less space and fewer options. Instead of trying to pack a variety of clothes, I try to get creative when it comes to changing up my look. Different lipsticks, lots of hats and scarves, earrings…the little accessories can help keep your wardrobe fresh without over-packing.
I like: Paul Smith scarf, Esprit gloves, ASOS beanie, metallic turban, square check scarf, Azuni drop earrings, MAC lipstick
Get a grip
If you're going to invest in anything before you go on your winter holiday, make it a pair of winter boots with a very good grip. If you're in a snowy destination you'll be at risk of slipping and doing some serious damage, especially if you're in a hilly city with cobbled stones. Wellies can be a good option, as they'll keep your feet dry too.
I like: Gap leather moto boots, Kurt Geiger Siberia boots, Timberlands, Dune Random Di boots, Hunter wellies
Bring extra socks
Honestly, it may sound stupid but having a fresh, dry, warm pair of socks at the end of a long day in the snow feels like an unparalleled luxury. Just trust me: warm socks. You can thank me later.
I like: socks, socks, socks, socks.
Want to see more posts like this?
Follow me on:
Follow