One of my travel mottos is: you don't have to look like a backpacker to have an adventure.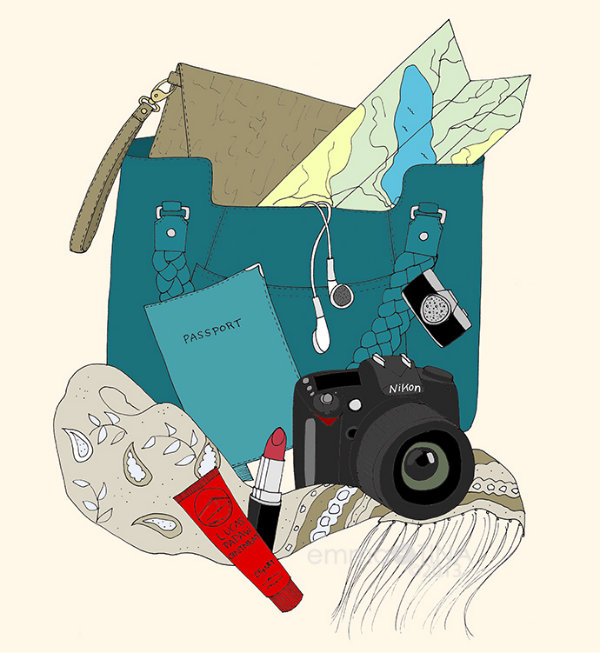 Illustration by EmmaKisstina for ellecroft.com
Adding a bit of style to my outfits on the road is one of the things I enjoy most about travelling, and it's also one of the reasons why I find packing to be such a fun challenge. When I get it right, I have a small suitcase of versatile, stylish outfits and enough room left to bring home some new pieces too.
However, packing light does come with its own set of challenges, such as what to do when you spill a bit of your delicious lunch on that top that was supposed to transition into a smart night-time outfit. Fashion emergencies can strike at any time, but when you're on the road it's difficult to remedy them.
Here's how to deal with fashion emergencies when you travel:
Snags & pulls
When your clothes and jewellery are all thrown together (or even placed neatly) in a suitcase, snags can happen. Jewellery, beads and sequins can tug on knitted items, and if you have items of silk or satin, even a zipper or stud can damage the delicate fabric.
The solution: Prevention is key here, as once you've snagged fabric or wool it can be very difficult to fix. Keep jewellery separate from your clothes (I like to use a jewellery roll like this one). Roll delicate items inside something sturdy and without dangerous details, for example a silk top could be rolled up inside a cotton summer dress. Same goes for items that are likely to snag. I have a sequin skirt I love to wear when I'm away, but I'll always pack it rolled into some jeans or a denim jacket.
Creases
No matter how carefully you roll your clothes and hang them as soon as you reach your destination, there is bound to be that one item that simply won't drop its wrinkles.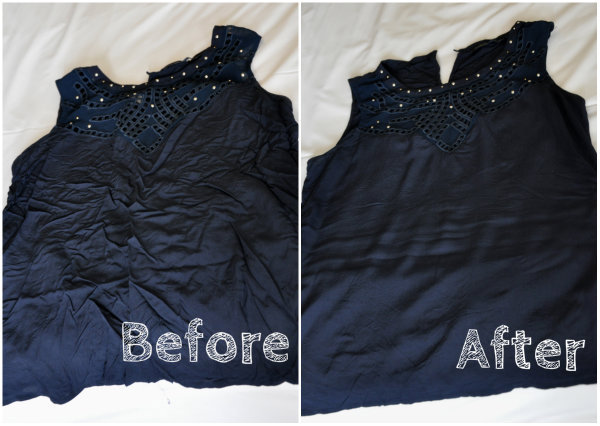 The solution: Rather than turning up to dinner in a creased dress, there's a simple way to fix this problem that you can do from most hotel rooms. Check out how to iron without an iron.
Tears & lost buttons
Have you ever experienced this? You get to your hotel, unpack your suitcase, hang everything up and then, at the bottom of your bag you see it: a fallen button. From your favourite shirt, the one you planned to wear on tomorrow's tour. What now?
The solution: Being a smart packer, you don't want to bother with a sewing kit that you will probably never use. If you're staying at a hotel, ask at reception for a needle and thread, as they will probably have one that you can use. If not, most supermarkets and some chemists stock basic sewing items so you can look sharp the whole way through your trip.
Spills & stains
Leaking shampoos, dropped drinks, flicks of sauce from overzealous pasta eating…there are so many ways that you can mark your clothes, but that doesn't mean they need to go straight to the washing pile.
The solution: Buy one of these cheap stain remover pens and carry it in your hand luggage. You can catch a stain as soon as it happens without having to completely wash the item you've stained, and these magical little pens work on everything from red wine to tomato sauce. Sometimes, though, the spill is too big for just a spot clean. In that case, try washing the item in your hotel sink with lukewarm water and a dash of soap. I wouldn't advise this for really delicate items such as silk, but for most normal fabrics it'll do the job. When it comes to drying your dripping-wet clothes, pack a travel washing line, which takes up no room and can help you in a pinch!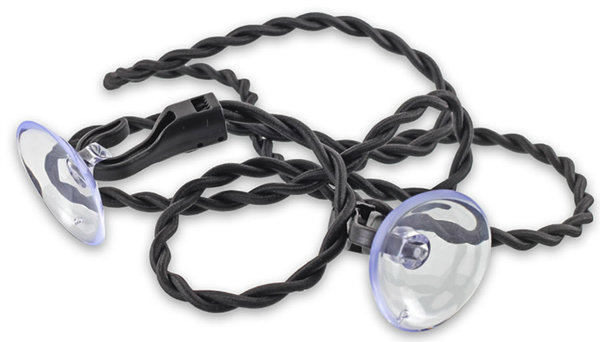 What do you do to prepare for, or combat, fashion emergencies?
Want to see more posts like this?
Follow me on:
Follow