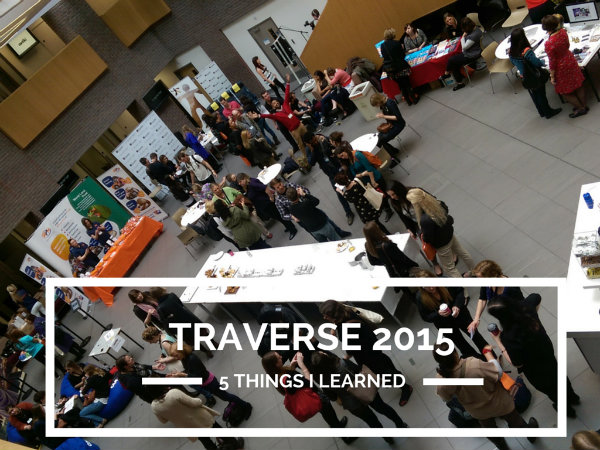 I first attended the travel bloggers' conference Traverse two years ago in Brighton. It was there, after hearing the lovely Frankie speaking on freelancing, that I wondered if perhaps that was a career move I could ever make. Two years later and I am now a freelance social media specialist, as well as a guest speaker at Traverse 2015. It was such an honour to be able to speak at an event that shaped my career so much, but I will admit that as a speaker my experience of Traverse was very different to that of a delegate. In fact, I didn't have a chance to attend any sessions (I'm looking forward to reading everyone's notes!) but despite this, I still learned loads and came away from the event inspired to improve my blog. Here are the top 5 things I learned at Traverse 2015:
1. Networking is invaluable
You know, I have heard this so many times but it's events like Traverse that really make me understand the value of spending time with bloggers, PRs and industry professionals. You can learn loads from the classes at the conference, but you also absorb incredible amounts of information by osmosis when you just spend time talking to people. It's all good joining chats on Twitter or commenting on other bloggers' posts, but it's just not the same as real life interaction.
2. There is no 'right way' to blog
Anyone who tells you there's a right and wrong way to run your blog is just plain wrong. I talked to bloggers last weekend for whom Twitter was more important to their readers than their blog itself. In my talk I recommended focusing on one or two social platforms to be really good at, and just a few hours later a speaker on the Q&A panel recommended being on as many social channels as possible. Different strokes for different folks, and all that.
Work out what works for your blog and keep at it. That's not to say you shouldn't listen to good advice from people who know what they're doing, but don't change what you're doing if it's working.
3. The best use of social media is the Traverse Twitter bar
This happens at Blogstock too, and it's genius.
How it works: tweet your order using a hashtag (eg #traversebeer) and your location in the auditorium or what you're wearing, and your drinks will be brought to you during the Q&A session. I think that'd make a convert out of even the most adamant social media hater (yes, Shannon, I'm talking to you).
4. Travel bloggers are so welcoming
When I started my blogging life as a personal style blog (it was truly horrible, and I have since deleted all offending posts) I went to some fashion blogging events but I found the community really hard to get into. When I switched to travel blogging a few years later I was welcomed with open arms, and I still feel so comfortable among the crowd of diverse, smart, funny, quirky bloggers I meet at travel events. As an introvert, that's a rarity but I truly believe that these folks are the most welcoming of all the blogger communities, and I'm so grateful for that. Travel bloggers, you rock!
5. There's always something new to learn
Whether it's a fresh technology, a recent trend, a new skill or just a healthy dose of inspiration, there's always something that you can pick up from events like Traverse to then apply to your blog and improve it. You may never want to turn your blog into a business, but for most bloggers, their platform is their pride and joy, and improvement is always something to strive for. Even the biggest and best bloggers are still learning, growing, improving and innovating. There's no end to what you can learn, so soak it all in!
If you missed my Social Media: Beyond the Basics class at Traverse (or if you want to revisit the notes), check out this post on my new website, croftsocial.com
What did you learn at Traverse? Let me know in the comments below.
Want to see more posts like this?
Follow me on:
Follow