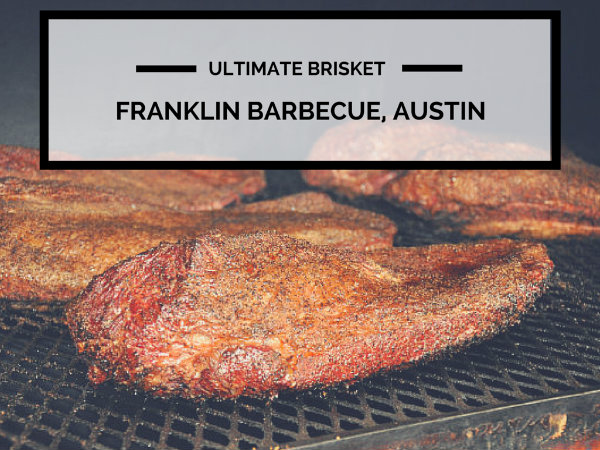 Incredible smoky smells waft from chimneys above the caged area that's hidden from view by piles and piles of wood. Smoke rises from the roof of a turquoise and white building, the colours a nod to the humble beginnings of this Austin institution. The original food truck, where Aaron Franklin gained his cult following, is now parked out the back of Franklin Barbecue on 11th Street.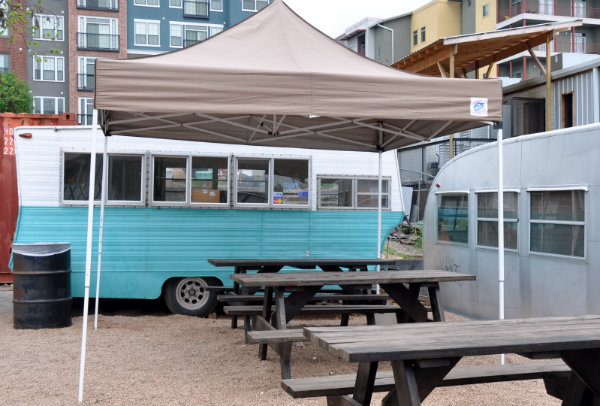 We've been in line for half an hour and we have another three, possibly three and a half to go. We've already placed our estimated order: a pound of their famous brisket, a quarter pound of the turkey that's supposed to change your mind about this usually boring meat forever, and two links of smoked sausage. There's a smattering of rain, but none of the meat fanatics in this ever-growing queue seem perturbed. The super-keen have arrived early, probably before 8am, complete with chairs, games, umbrellas.
There's a wooden truck out the back selling cold brew coffee, the ultimate hipster pick-me-up, and apparently any minute now staff will begin serving beers and sodas along the line. The fact that it's only 10am hasn't been mentioned.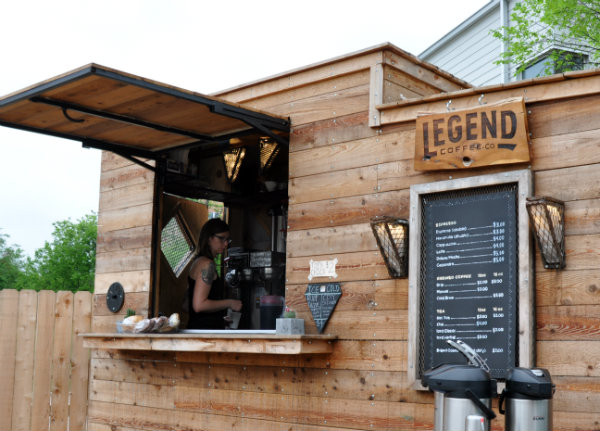 There's a sudden rush at 11am as the doors open and we find ourselves, torturously, within constant smelling distance of that smokey meat. Still two hours to go, however, and the line continues to snake through the car park and past the concealed pits. I've been promised a tour later, which has me almost as excited as the meal itself. Brendan and I have made friends with our fellow queue mates, one of whom is a local who assures us that Franklin brisket is at least 30% better than any other version in the state. He also told us about the takeaway order he unsuccessfully tried to place recently. On the first day of every month at 9am sharp, Franklin Barbecue takeaway hopefuls can email the restaurant with their orders for the following month. They sell out in 5 minutes flat.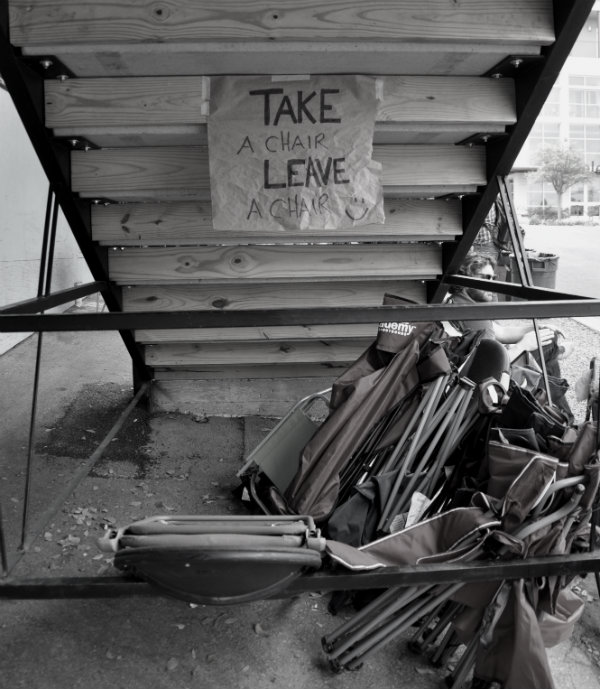 The line is an eclectic mix. There are hipsters: a guy in a chambray shirt, bow tie, long hair and cowboy hat waits in front of a girl with a green bob and pink heart-shaped glasses that are probably ironic. Out-of-towners have come from far and wide to line up, and a smattering of locals who know their barbecue share tips and tales of Franklin briskets past.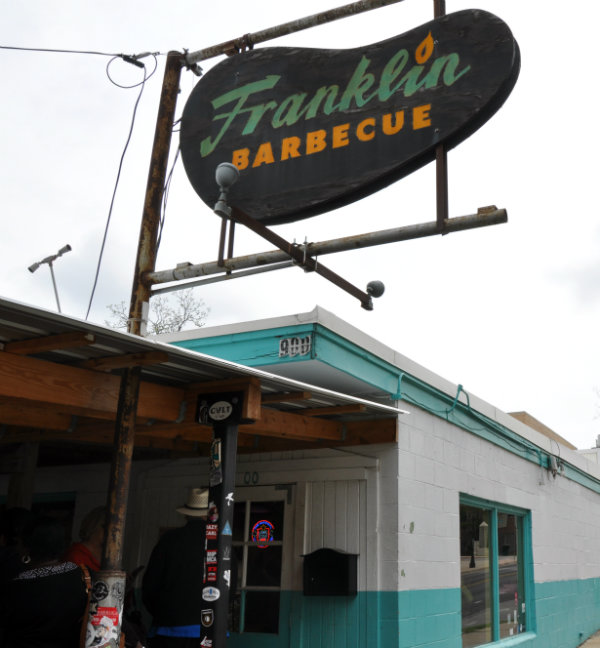 Another moment of false hope as we make it through the door into the wood panelled, neon-light adorned room and spot customers enjoying their long-awaited feast laid out on sheets of brown paper. We're offered more drinks in the queue and are momentarily distracted by the brightly coloured t-shirts and hats on sale, but then it's back to lining up, the anticipation making the minutes drag. As we near the counter, a handful of burnt ends chopped into bite-sized pieces are passed down the queue in a greasy sheet of brown paper. I pick up the last piece, and as soon as it touches my lips I know the hours-long wait is worth it. The flavour is intense: smokey, woody and richly meaty, and there is no way to describe the texture other than melt-in-your-mouth.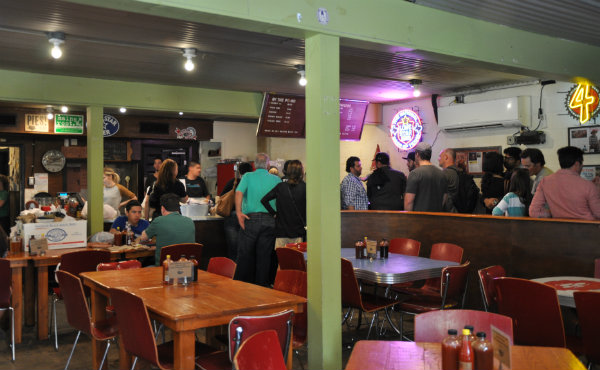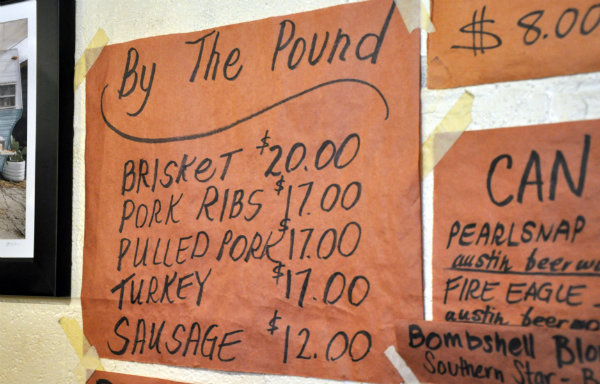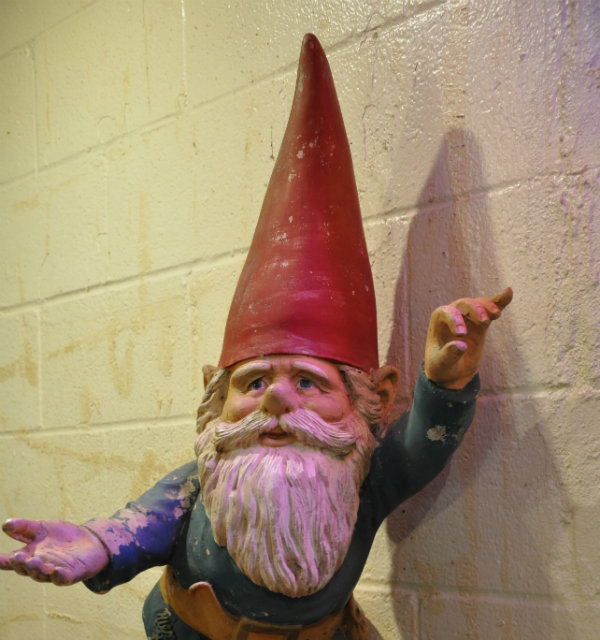 That first mouthful makes us greedy, so by the time we reach the front of the line we up our order to include an additional quarter pound of turkey and a couple of ribs. The meat is cut expertly, efficiently, and soon we find ourselves $50 poorer and a tray full of hot, aromatic meats wealthier. We add a small tub of slaw and an even smaller scoop of potato salad to make ourselves feel ever-so-slightly better about our feast, but we know the star of this show is going to be the meat.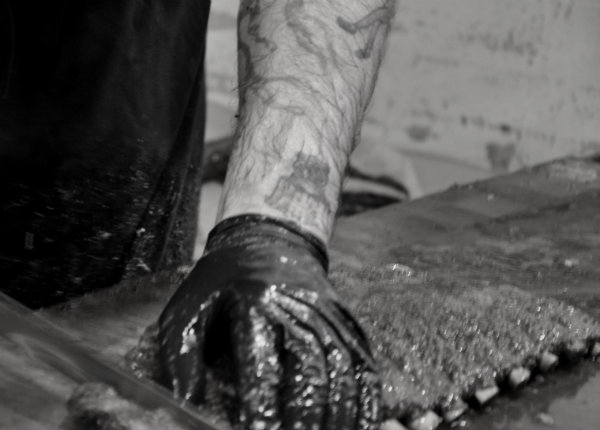 We find seats at a communal table and tuck in, our conversation halted and replaced with groans and pointing gestures at whatever piece of meat we are currently savouring. The brisket is nothing short of incredible. This being my first Texas barbecue experience, I really have nothing to compare it to, but I believe those who say it's the best there is. The turkey is nice, but I would have been happier with half a pound of extra brisket instead. The sausage and ribs are delicious, the salads and bread an afterthought, the sauces irrelevant. My bottle of Big Red is a revelation.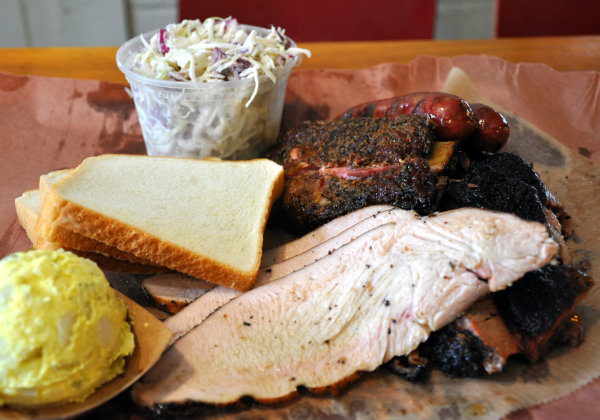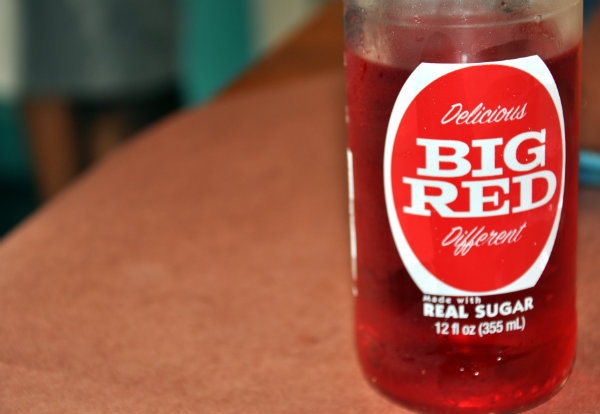 Of course, we cannot finish all of this meat, but there are rolls of paper and plastic bags to ensure no scrap of barbecue is wasted. Takeaway in hand, we make our way to a door on the porch marked BBQ, and we're led to the room where the magic happens, which also happens to be about a thousand degrees inside.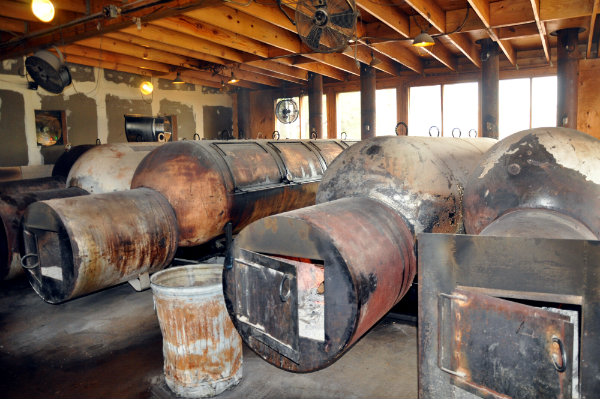 Cory is manning five enormous smokers, each with its own name, all full with brand new briskets being prepared for tomorrow's lunch. Daniel, a fifth generation Texan who served us drinks in the line and who has entered barbecue competitions of his own, answers our questions and shows us how the smokers work. The meat comes in from Kansas and is seasoned with salt and pepper before being placed in the smoker. The oak fire keeps the meat at a steady 150 degrees Fahrenheit for 15-16 hours, often tended to in the middle of the night, before it's served up to the hungry hoardes in line. The meat sells out every day, usually by about 2 pm.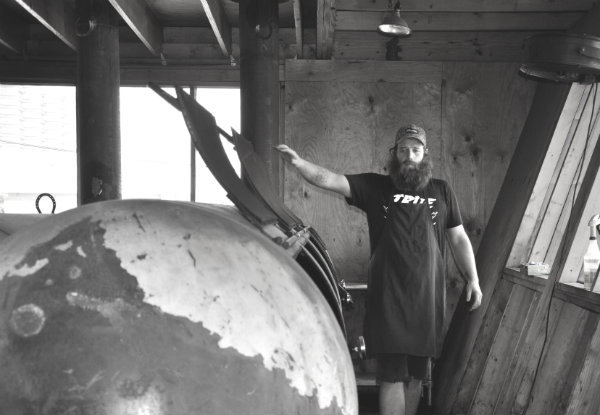 As we leave the building we hear some hopeful latecomers being turned away: today's meat has all been sold. But that's the thing: if you really want to try brisket at Franklin Barbecue, you've got to be willing to put in the time. It's a dish so tasty, so limited, so coveted, that only the truly dedicated will ever get to try it. And that's worth a three-and-a-half hour wait in line in a strange car park in Austin.
Want to see more posts like this?
Follow me on:
Follow