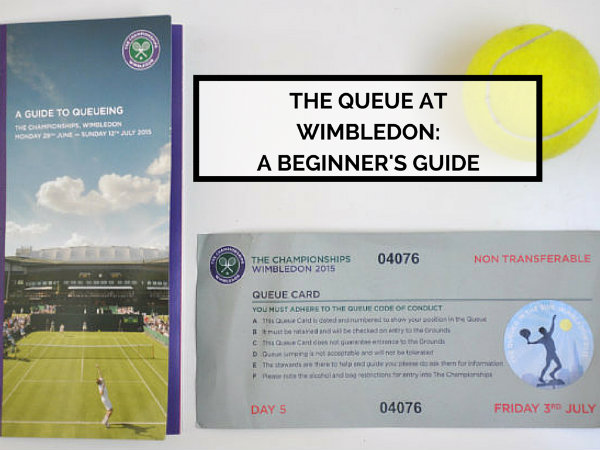 The one and only time I ever skipped school was to go to Wimbledon. I was 16, it was a sunny day, and it ended with me and my friends watching Tim Henman playing Roger Federer on Centre Court. Since then, I've been to Wimbledon another four times, and it remains my favourite British summertime event of all.
You may think that Wimbledon is only for tennis fanatics, but as someone who never watches the sport outside of this one annual event, I can assure you that Wimbledon is a great day out whether you know a let from a lob or you're just in it for the Pimms. A finite number of people are allowed into the grounds each day which means that, although it is busy, it's never unbearably crowded. Fans celebrate without being rowdy and the whole experience is, to be quite English about it, very proper.
If you didn't score tickets in the ballot, the best way to get into Wimbledon is to join the famous Queue, but I know a few tips and tricks that will help make your day so much more pleasant. For the best possible experience at this famous English event, here's my beginner's guide to The Queue at Wimbledon:
Fast facts about The Queue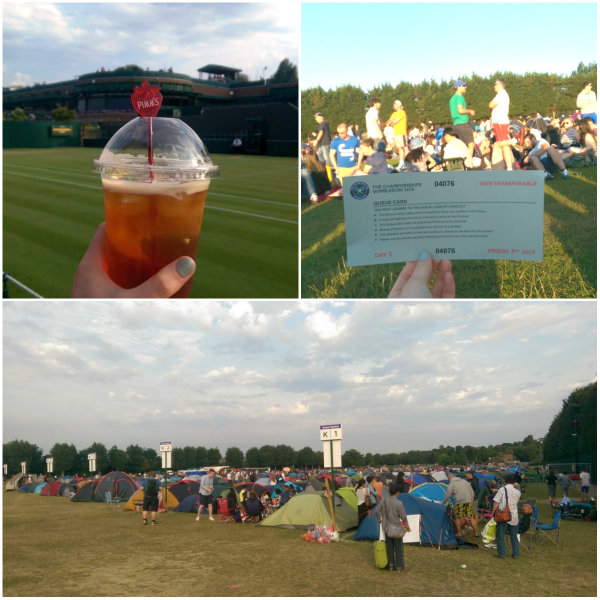 The Queue is located in Wimbledon Park, which is close to Southfields or Wimbledon Park tube stations.
Once in The Queue, you'll be given a Queue Card with a number on it. This is your place in the line and you'll need this card to buy your ticket later, so don't lose it.
Food and drink can be purchased from vendors in the park, and toilets are available on site.
There are two entrance times: one in the morning at 9:30am another at 5pm.
Grounds Admission gives you access to limited seats in Court Three, any seat in Courts 4-19 and the infamous Murray Mound (which everyone still calls Henman Hill).
You are allowed to bring your own food and drinks into Wimbledon, but there are some limitations.
As well as Grounds Admission, The Queue has an allocation of Centre Court, Court One and Court Two tickets available, but to even stand a chance at these coveted tickets you'll need to camp overnight in the park.
Tips and tricks for The Queue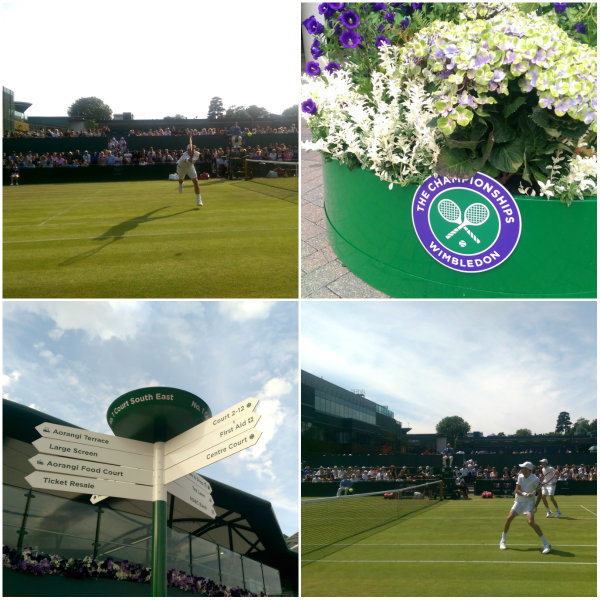 Arrive early
When I arrived at 6am I was number 4,077 in the queue, so over 4,000 people arrived before me, some of whom had camped there overnight. Arrive much later than 7:30 and you may not even get in during the day. It's best to plan an early morning so you get the most out of your visit.
Come prepared
At a minimum, you'll want a picnic blanket, sunscreen, water, snacks, an umbrella, some warm clothing (yes, even in a heatwave) and cash. For the keen amongst us, you may also want to pack a proper picnic including wine (1 bottle each) or beer (2 each).
Pack light
You can't go overboard with your picnic basket, as you can only bring one small bag each into the grounds, although there is a left luggage facility available for a fee if you need. Keep in mind also that there are some unexpected items you can't take in with you: thermos flasks, selfie sticks, camping seats or camera lenses over 300mm.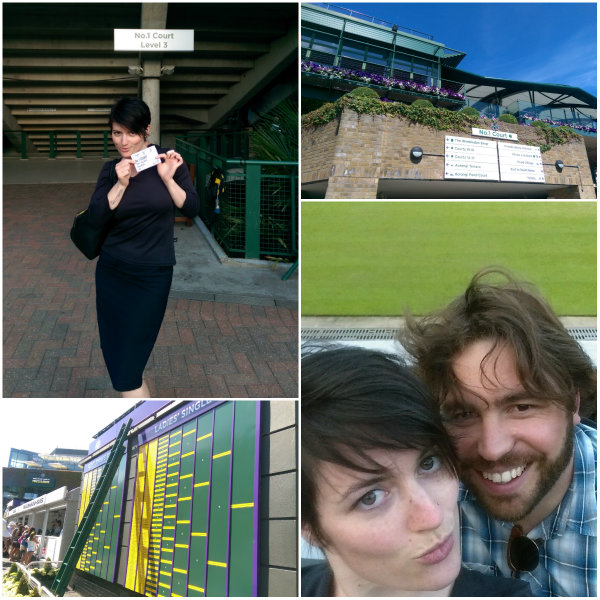 Bring cash
To buy your ticket into the Grounds you'll need cash…it'll also come in handy to purchase refreshments (hello Pimms and Strawberries & Cream) and resale tickets.
Dress for the occasion
There's no dress code for Wimbledon, although people tend to opt for a smart-casual look. If you're planning on spending time watching the big screen on the Hill, you'll want to be comfortable sitting on the grass (i.e. short skirts might not be the best choice). Your day will involve a lot of walking, so choose your shoes carefully.
Keep an eye out
One of the wonderful things about Wimbledon is that you can be lucky enough to see some of the sport's biggest stars walking between courts or signing autographs near the Aorangi Pavilion. Keep your eyes peeled.
Queue again
If anyone leaves Wimbledon before the end of the day, they can choose to donate their ticket to be resold. From 3pm you can queue again to buy a resale ticket to Centre Court (for £10) or Court One or Two (for £5), with all proceeds going to charity. If you're lucky you'll get to see some incredible tennis for a fraction of the cost of a full-price ticket.
Have you been to Wimbledon before? What tips would you add?
Want to see more posts like this?
Follow me on:
Follow