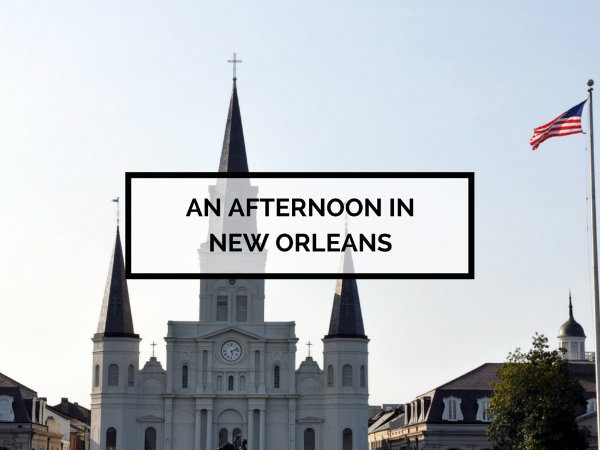 When I was much younger I read somewhere that New Orleans is the birthplace of jazz, and right there and then I decided that I wanted to go. Armed with little more information than that, I arrived in the Big Easy expecting a quaint town with intricate balconies, candy-coloured buildings and soulful jazz being played in cosy cafes.
I couldn't have imagined anything further from the truth.
Sure, there's a band on almost every street corner and the balconies are truly stunning, but the similarities between my imagination and the real New Orleans ended there.
The city that I imagined to be so quaint actually reminded me a little of Las Vegas. Well, Bourbon Street did, anyway. Sure, the buildings are far prettier. But New Orleans, like Vegas, is one big party. From wedding parties to bachelor parties, revellers were out in force to drink in the atmosphere of this destination on the Mississippi River.
With only one afternoon to get to know this surprising city, I ventured (with the help of some pretty awesome local guides) along Bourbon Street and beyond. Here's what I found:
Picturesque New Orleans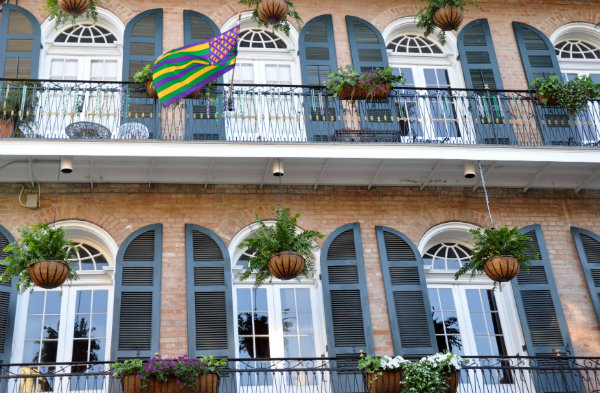 As I'd imagined, the French influence is everywhere. It is called the French Quarter, after all. Fleur de lis flags adorn European-style balconies and shutters, and candy-coloured hues line up in pretty pastel streets.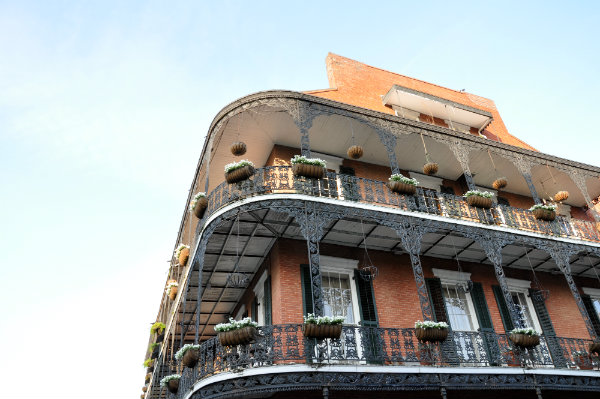 After beignets at Cafe du Monde, my friends and I strolled through the French Quarter, drinks in hand and cameras at the ready. We poked around in small boutiques and soaked in the atmosphere and the late afternoon sunshine, making our way towards famous Bourbon Street as we did so.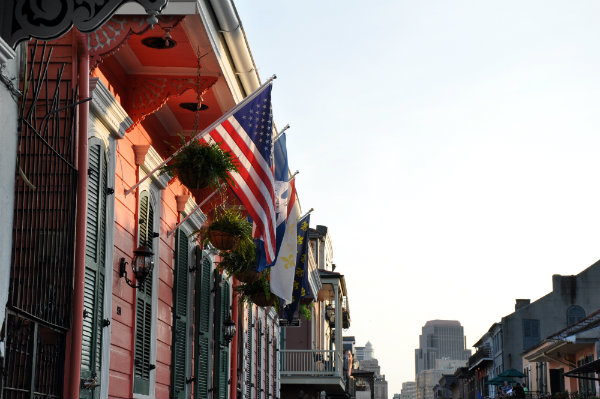 We eventually hit Bourbon Street at Lafitte's Blacksmith Shop, a wonky-looking bar that's been serving drinks since the 1700s. Apparently it's the oldest bar in the United States, and legend has it that the French Colonial building is haunted. Needless to say, I didn't set foot inside.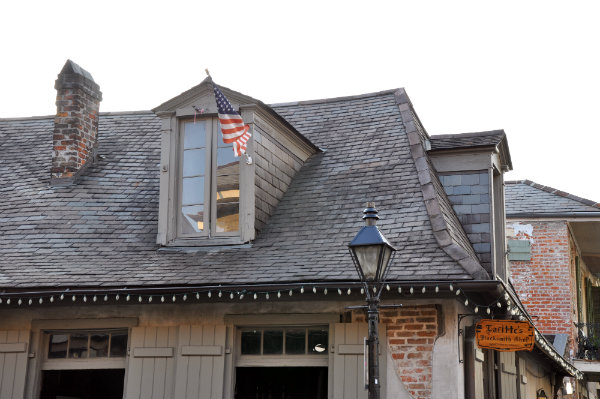 Partying New Orleans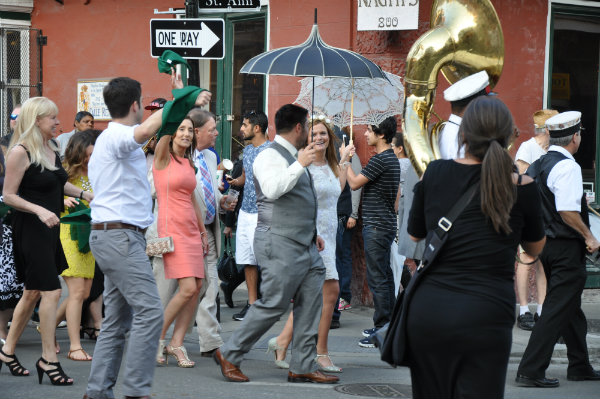 New Orleans has a party atmosphere. Perhaps it's because you can drink on the streets, or maybe because there's music playing everywhere you go. But I think it's just something in the air. It's part of the culture, the way things are. People from New Orleans don't need a reason to party.
While we were walking through the French Quarter, we happened upon a 'Second Line', a brass band-led parade taking a wedding party and guests to their reception. The picture above is a bride and groom dancing down the streets with their guests. Now that's how to celebrate a wedding!
Bourbon Street is where things got…interesting. The, uh, highlight was a grown woman dressed in a bunny suit, pole dancing on a pillar. It was entertaining, a little disturbing, and it sort of summed up the craziness that this street has become known for. I'll admit it wasn't my favourite part of New Orleans, but the people watching was second-to-none.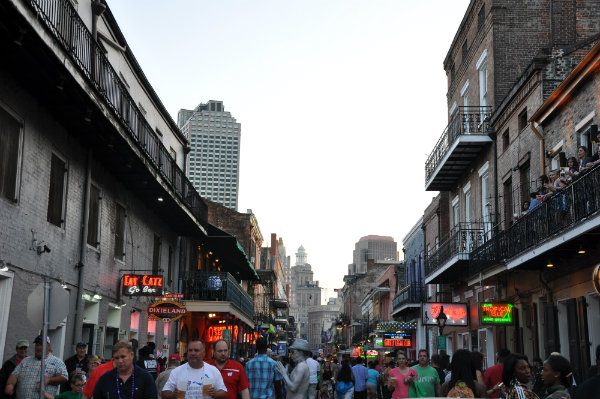 I was there on a regular Saturday night, and it was loud, crowded, festive and indulgent. I can only imagine what it's like during Mardi Gras, or one of the many other festivals celebrated in New Orleans.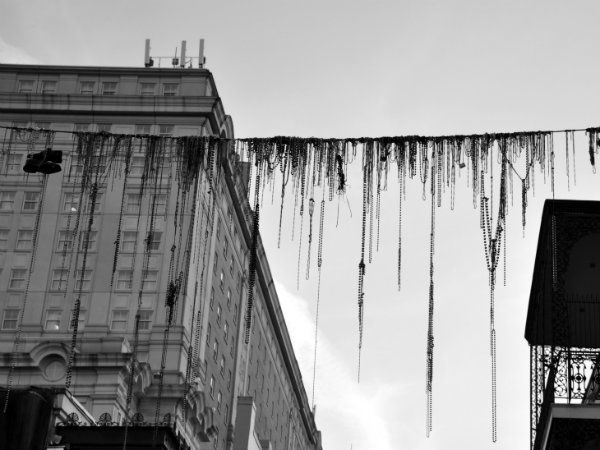 And a little bit of jazz in New Orleans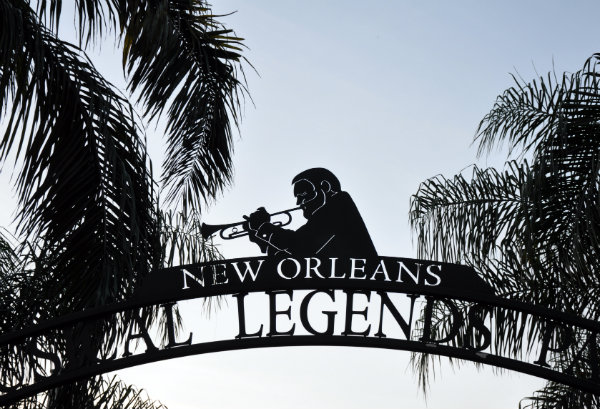 Don't worry, I didn't forget about the jazz that had drawn me to New Orleans in the first place. After our stroll along Bourbon Street we stopped down a side street in a cosy bar, just like the ones I'd always imagined, and listened as sounds of the party outside trickled in and melded with the notes of a talented jazz trio.
New Orleans, although not what I expected, was so much more. It's a fascinating, vibrant destination that you'll have to see to believe. A word of advice, though: if you are staying in the city itself, make sure you find accommodation that's away from Bourbon Street. Unless, of course, you want to join the revellers and party all night.
Want to see more posts like this?
Follow me on:
Follow