What is it about staying in a luxury hotel that feels like such a treat?
Being away from work and responsibilities is a key part of it, as well as not having to make your own bed or think about anything more than what you'll order from the room service menu.
But for me, the absolute best part about a luxury hotel room is the bed.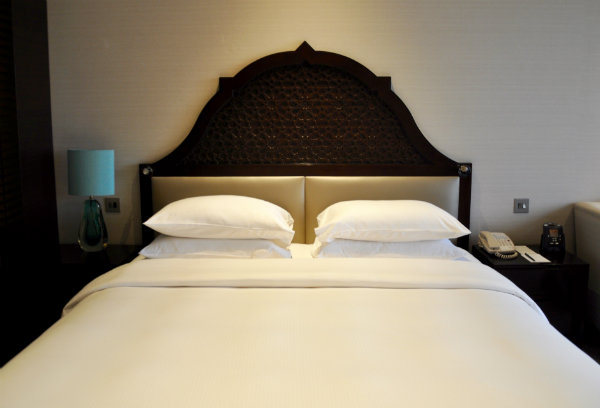 Because is there anything more luxurious than a good night's sleep?
You know that ahhhh moment? The one where you've dropped your bags, headed straight to the perfectly-made bed and sunk onto a mountain of cushions and a mattress so perfect you know that dragging yourself out of it the next morning will feel like a chore…
Yeah. That.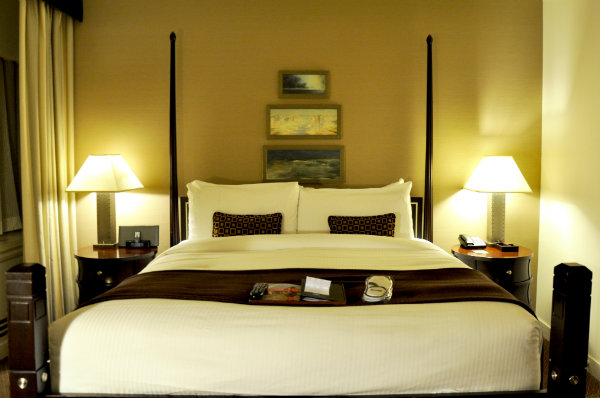 I live in a share house, so my room has to be a lot of things. It's where I sleep, where I work, where my husband keeps his beloved bike, and where we store pretty much all we have in the world.
Lately, it's felt like the complete opposite of a luxury hotel, and the worst part is that our mattress is hideously uncomfortable. It came with the house (don't worry, it was brand new when we arrived) but after four years we've started feeling the springs beneath us and have all sorts of aches and pains in the morning.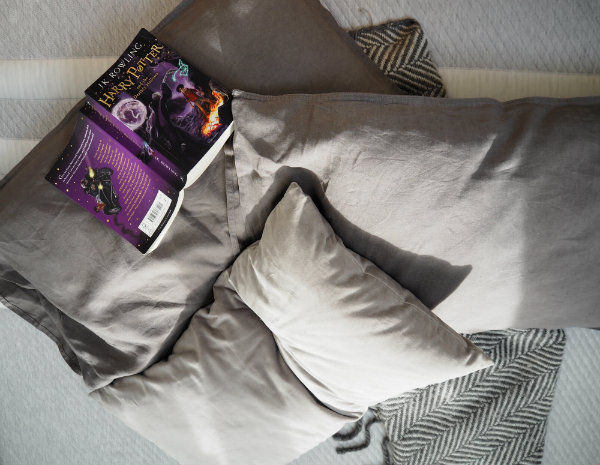 And no, it's not old age, thank you. Cheeky.
I'd had enough. And what I truly wanted, more than anything, was to bring that luxury hotel experience home. How did I do it? I'm glad you asked.
Start with the perfect bed, and a luxurious mattress
Getting a new mattress felt daunting. We don't have a car and our room is up a narrow flight of stairs and across a small terrace. Plus, we didn't really know what we wanted from a mattress.
I'd been putting it off because of the nightmare it was going to create.
And then the lovely team at Leesa got in touch, and explained that their mattresses are sold online, delivered for free in a small box and then unrolled on your bed to become a full-sized mattress.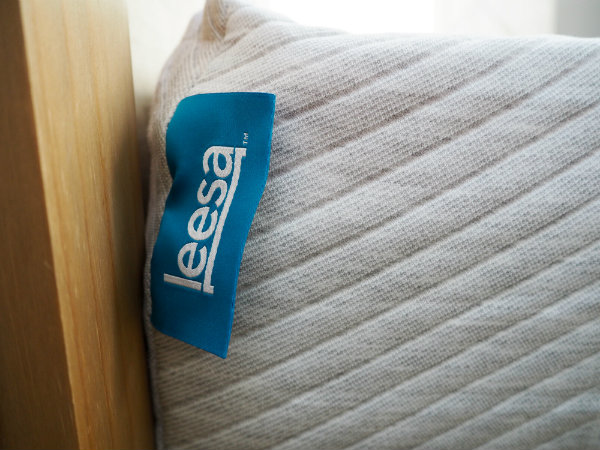 I'd heard of this concept before, but I was curious to see whether the convenience would diminish the comfort. After all, I wanted a mattress to rival those found in my favourite hotels.
I measured my bed and placed my order online. The process was unbelievably easy, because the Leesa offering is so simple – one mattress, seven sizes.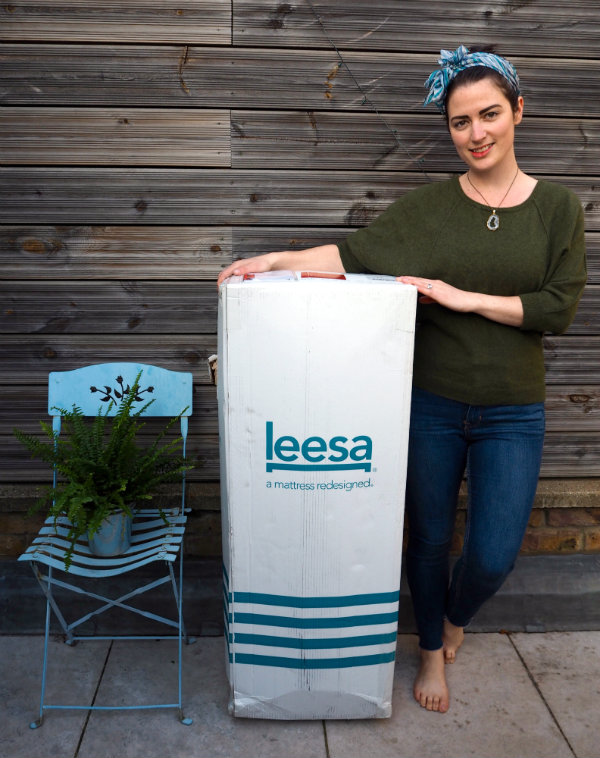 My double mattress arrived just over a week after I'd ordered it, and sure enough, the box looked far too small to house a mattress. I needed some help to get it up those pesky stairs (it was pretty heavy), but from there I was able to drag it across the terrace unaided, and was ready to set it up.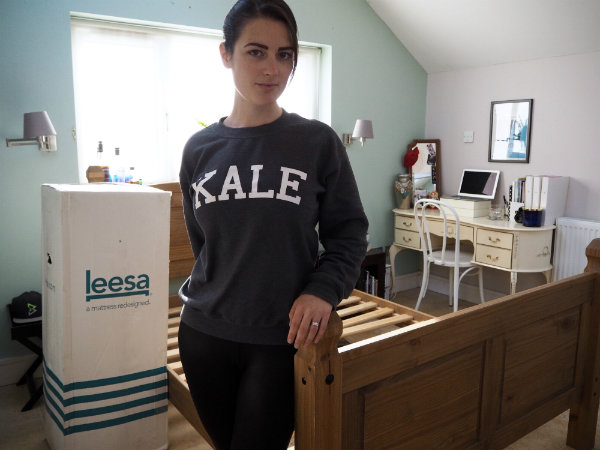 I was nervous. What if I didn't do it right? What if I got it the wrong way around and it didn't expand properly?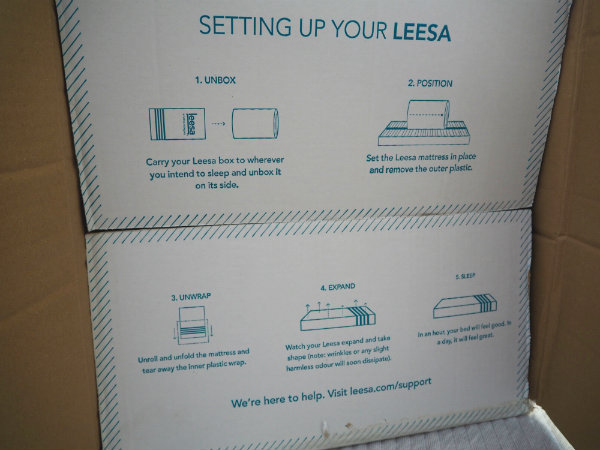 I needn't have worried. The simple instructions on the box reflected the simplicity of the process, which you can see in the gif below.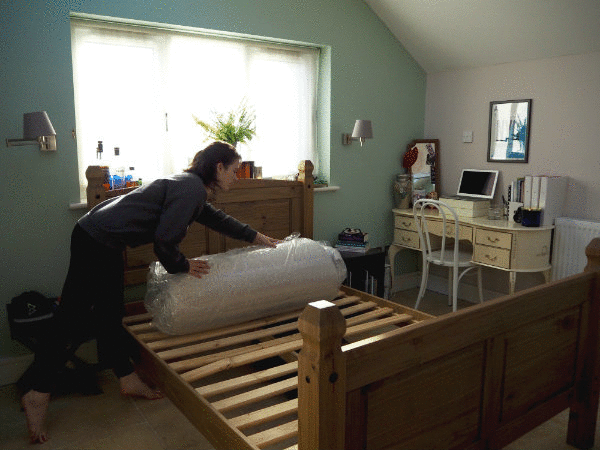 How fun is that?!
The fact that I could do it on my own, in a matter of minutes, is pretty incredible. My Leesa mattress started expanding straight away, and by the time I went to bed that night it had fully expanded and was ready for me to enjoy my ahhhh moment.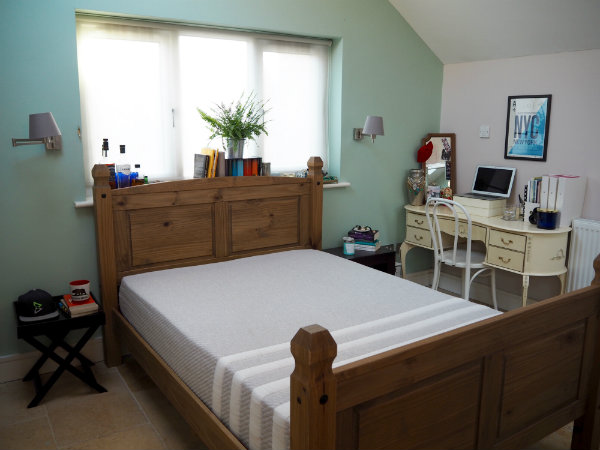 Find my full review of the mattress at the end of this post (and get £50 off your own Leesa mattress)!
Invest in products that make you smile
I love hotel toiletries. I have a box full of those mini tubes and bottles, and I feel so fancy whenever I remember to use them.
Hotel amenities are the best, but they don't last.
Two of the few beauty items I'll ever invest in are skincare and perfume. At night, I use a rose water that I discovered when staying in Florence, followed by my own homemade night oil. In the morning, I have a homemade moisturiser that I swear by, and always wear my favourite perfume.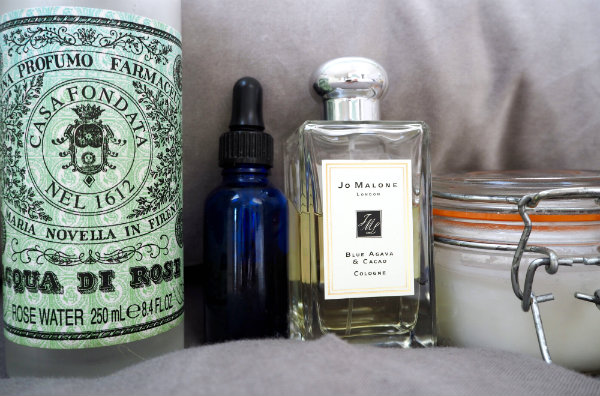 It's these little luxuries that help me to relax, to have a good night's sleep, and to wake up feeling energised and ready to tackle my day.
Set the scene
Hotel rooms don't include clutter.
They're a space to relax, to unwind, and to forget about all of life's worries and stresses.
Downsizing is hard, but if you can reduce clutter in your room you'll make it a far more relaxing – and therefore luxurious – place to be.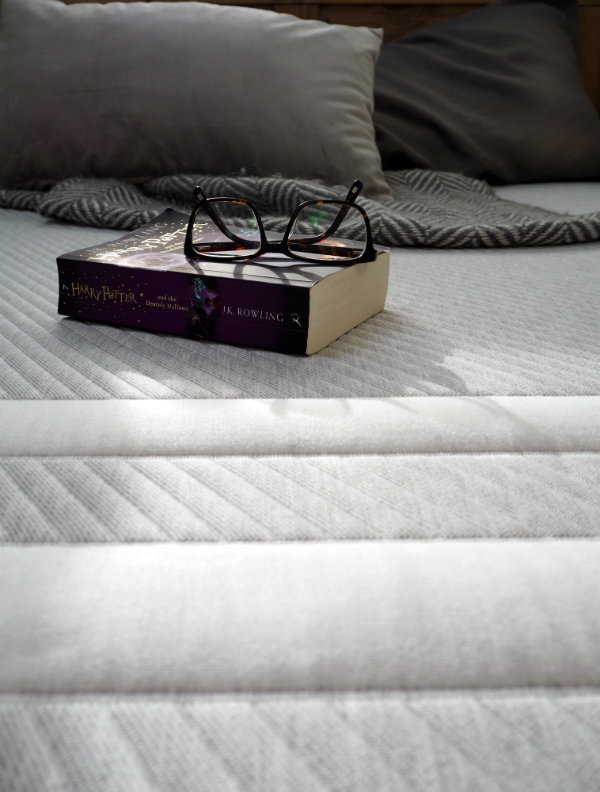 I've had to work really hard recently to get rid of the clutter that had invaded my room. I'm having to be really conscious about putting items back in their place and making sure to keep on top of cleaning (not my biggest life skill).
It doesn't come naturally to me, but the result is amazing. When I step into my room, instead of saying ARGH! I'm now saying ahhhhh.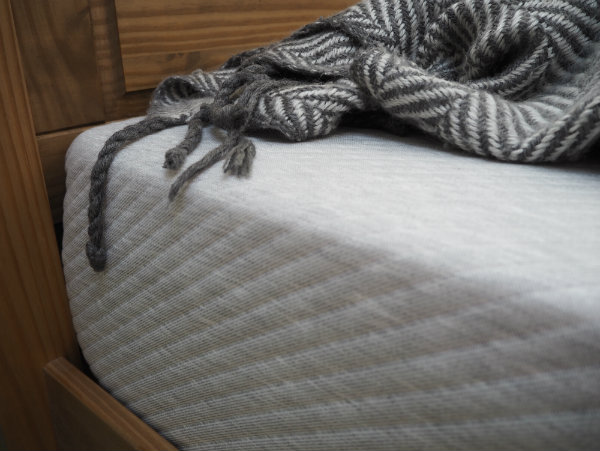 Your room won't feel like a luxury hotel until it's a sanctuary, and a space that encourages relaxation and sleep.
Leesa Mattress Review
It. Is. So. Comfortable.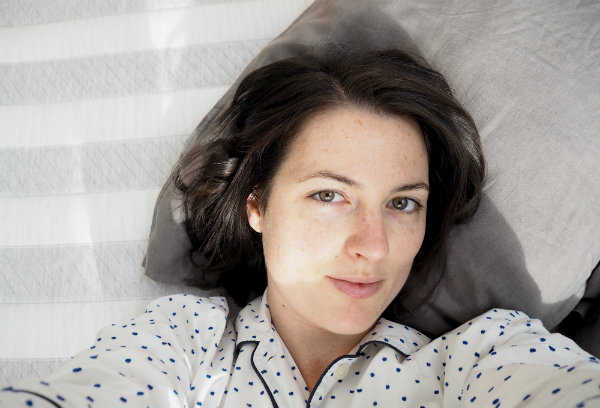 I've never slept on memory foam, so it was a new experience for me. The Leesa mattress is made with three layers of foam that help cool, contour and support you as you sleep. As it's now freezing at night, I was a bit worried about the cooling feature, but I actually found it warmer getting into bed than I did with my last mattress.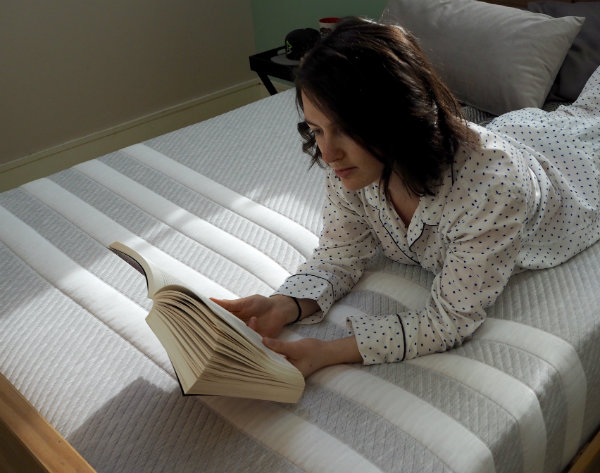 After the first night sleeping on our Leesa mattress I texted my husband at work and said "How good is the new mattress btw?"
His response?
"I struggled with it…"
And a few minutes later…
"With getting up off it that is."
Lol. Good one, B.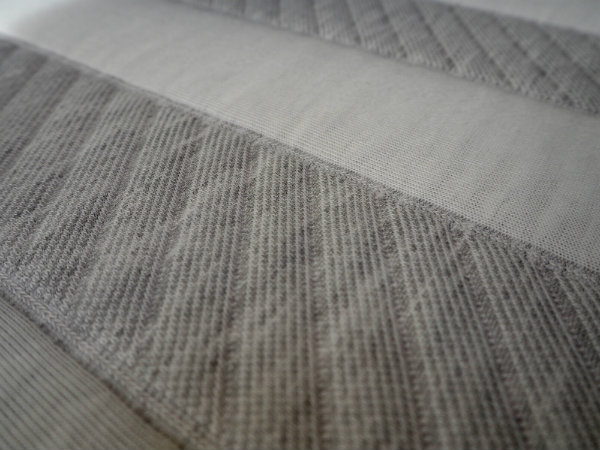 It's true though; having to get up off this mattress is the only bad part about it! It's firm, supportive and comfortable, which is the complete opposite of our old mattress. I'm now finding excuses to go to bed early just so I can get a few more minutes snuggled under my duvet in my comfy, luxurious bed.
The Leesa mattress isn't the cheapest mattress around, but when you think about how much time you spend in your bed, and how sleep quality can affect your health and wellbeing, it's a worthwhile investment.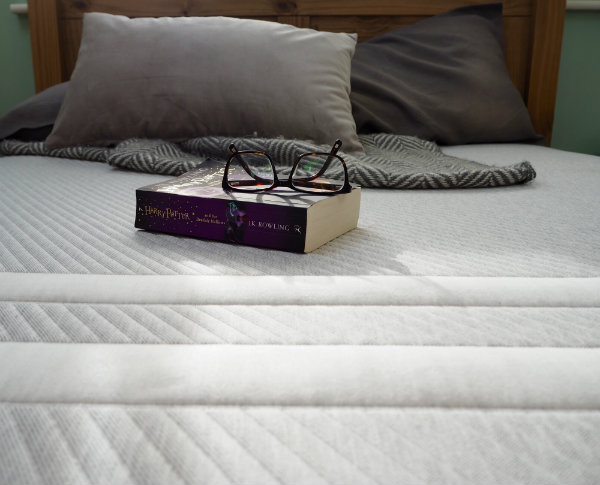 If you're not sure whether a Leesa mattress is for you (I get it, it's a big decision), you have 100 days to try it out. If you don't like it, you'll get a refund and your mattress will be picked up and donated to a charitable cause.
And for every ten mattresses sold, Leesa donates another one to charity. They also plant a tree for every mattress they sell, so they're definitely a company worth supporting.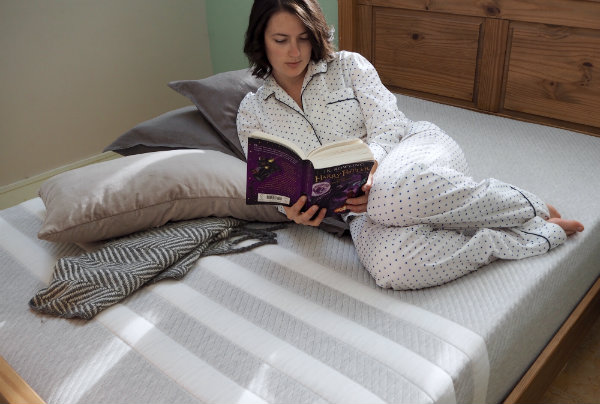 If you want to bring that luxury hotel experience to your home, order your very own Leesa mattress – prices start from £390 – and if you use this link you'll get £50 off!
Note: this post is sponsored by Leesa. Thanks for supporting the brands that support this blog.
Want to see more posts like this?
Follow me on:
Follow