One of the hardest parts about packing is getting your toiletries right. There's spillage to think of, space to conserve, and of course, the dreaded 100ml limit to worry about with your carry-on.
So how do you get the balance right between packing what you need and avoiding overpacking?
And what on earth should you put it all in?
Today I'm sharing my on-the-go beauty essentials, including a travel makeup bag that works twice as hard as your average toiletry bag!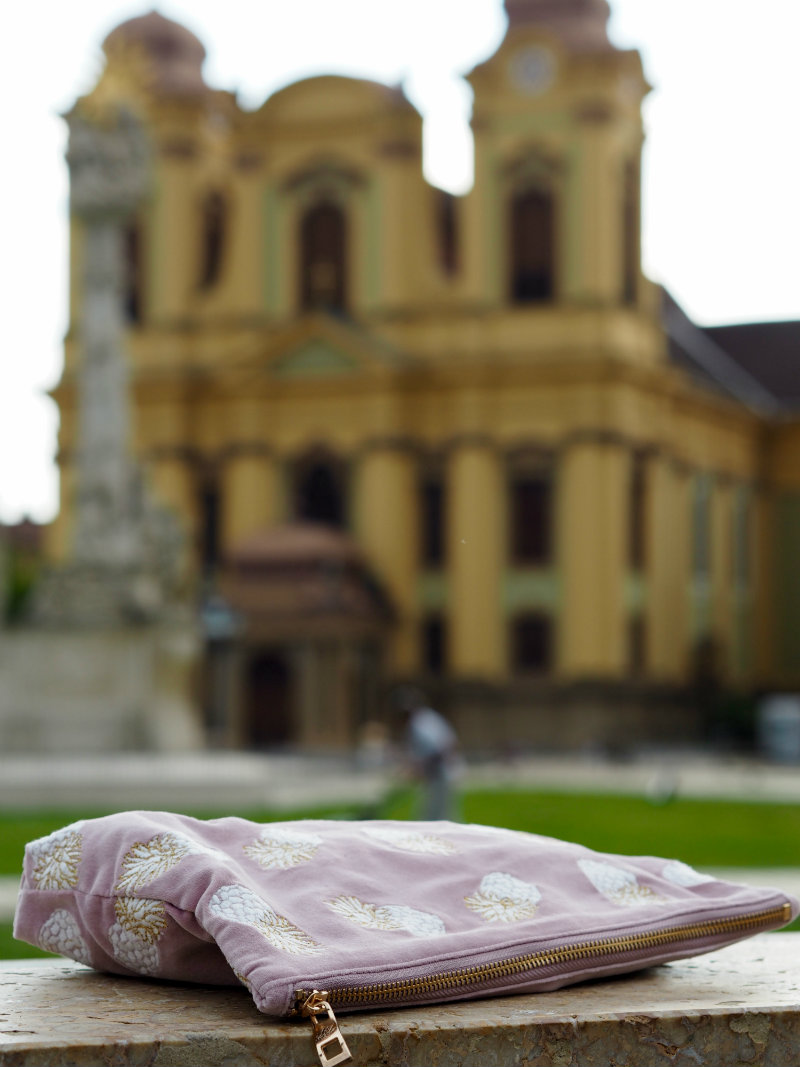 The ultimate travel makeup bag for packing light
I like to think of myself as a packing expert (a few other people think so, too), which means I don't have room for excess belongings in my suitcase.
You know, superfluous bits like heels. Or evening bags.
Most of the time that's fine, but sometimes I just want to dress up at night and go out looking pretty without having my big old day bag (that's had to carry my laptop, camera, tripod, and a bunch of other essentials) hanging off my shoulder.
Enter this gorgeous wash bag from Amara's travel accessories range. The velvet pineapple bag by Elizabeth Scarlett London is genuinely inspired. It's a washbag (there's a waterproof layer between the exterior and the lining), but it's also designed to be a clutch bag for evenings out.
The soft mauve velvet is embroidered with fun white and gold pineapples, and it's big enough to fit a camera, purse, phone and lipstick – in other words, all your evening essentials.
I tested the bag when I was in Timisoara a couple of weeks ago, and I absolutely adore it. Not only is it a really practical wash bag, but it's also my new favourite clutch.
Now when I travel, I won't have to sacrifice style for the sake of packing light. Oh, and it's only £25, which is pretty great for a bag that gives you two functions in one.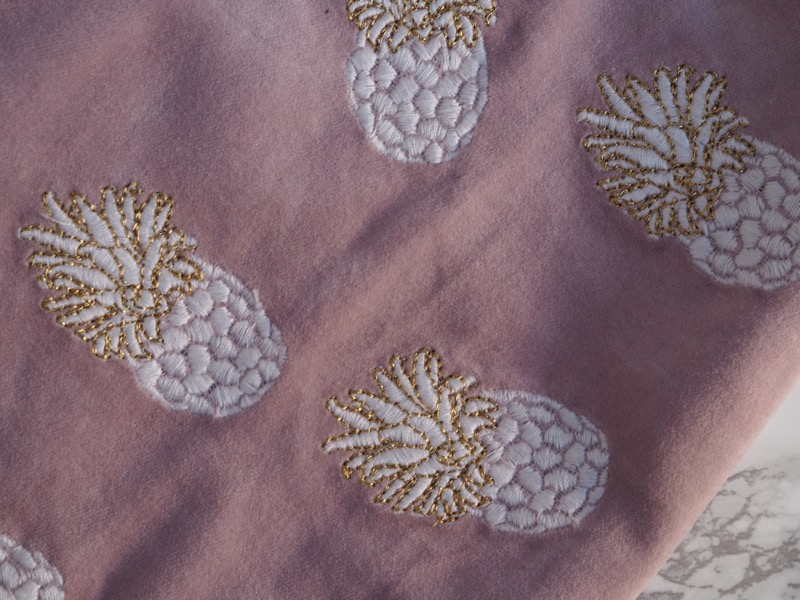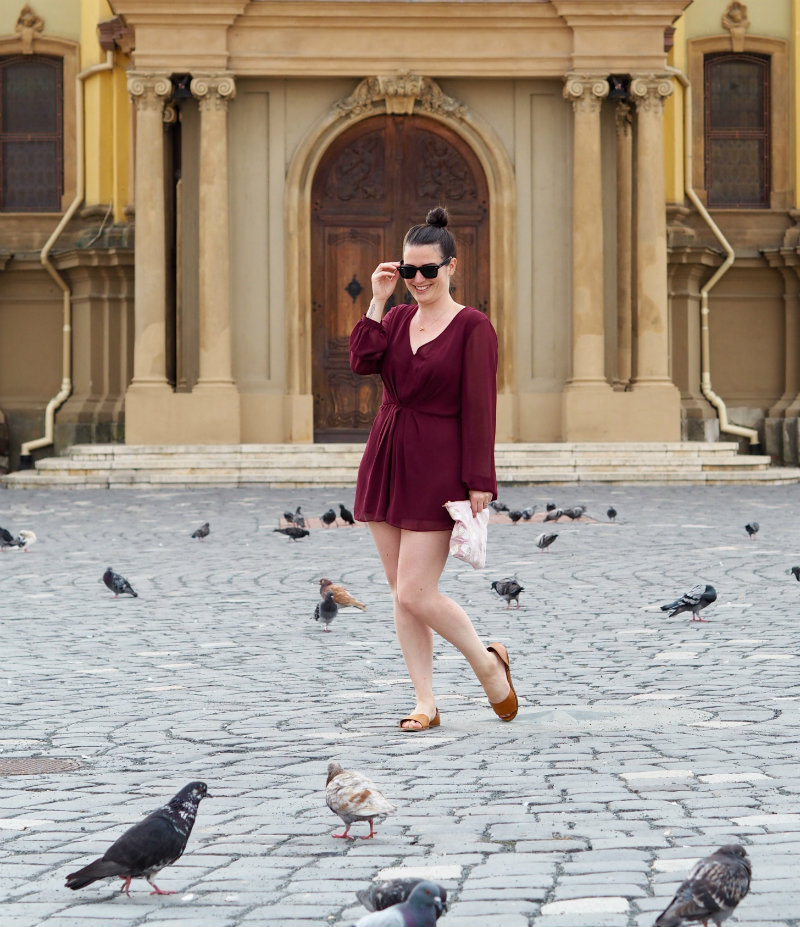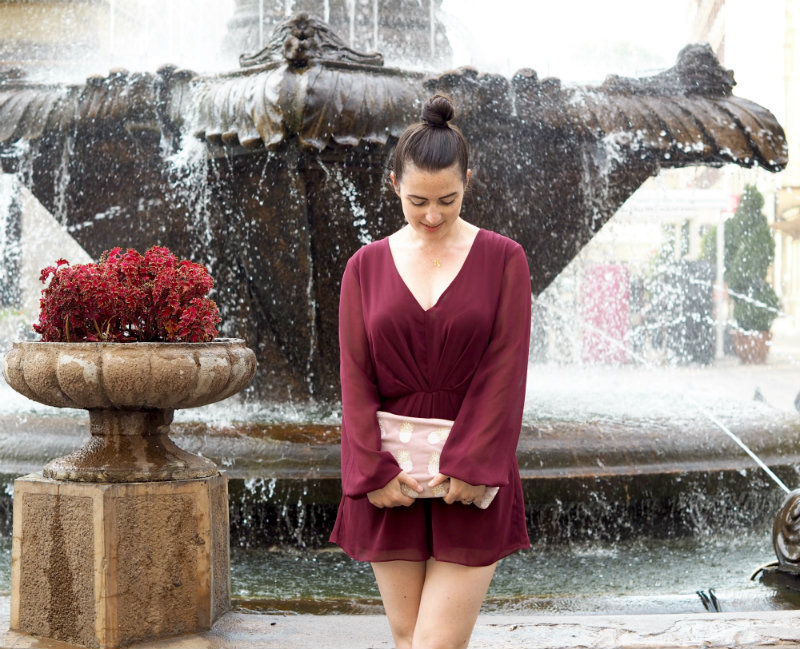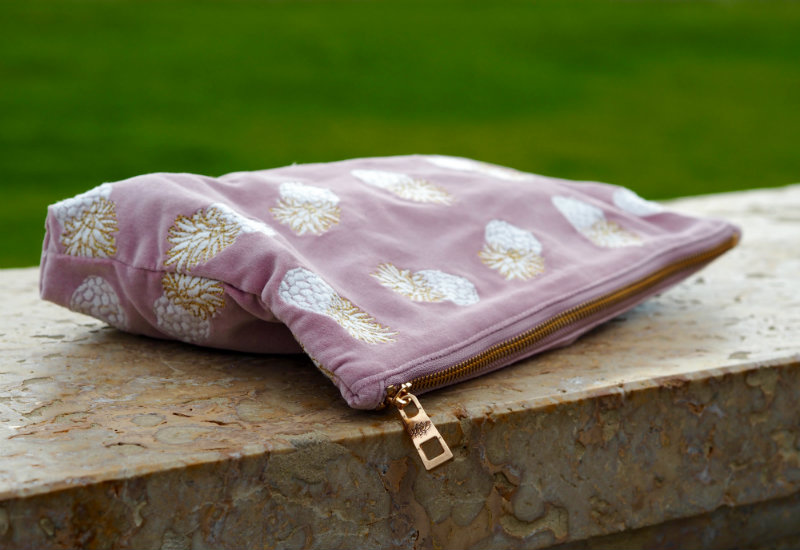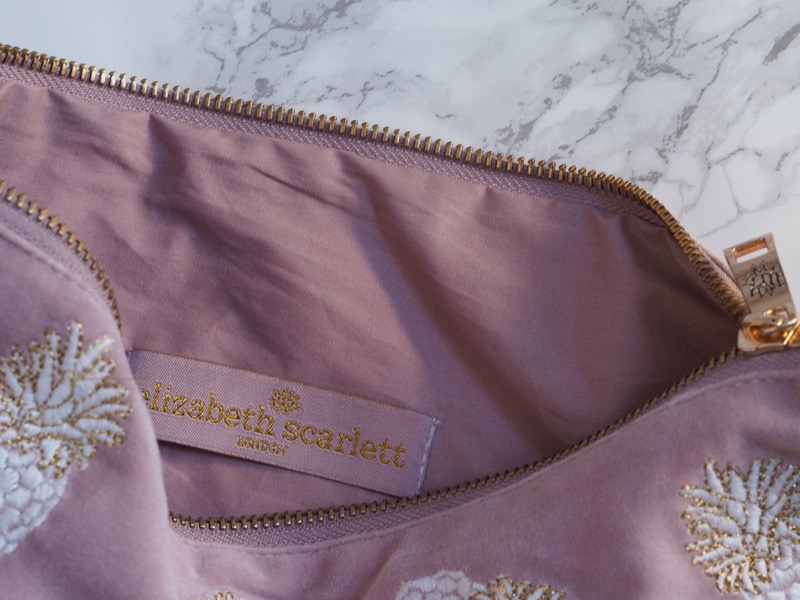 What's in my travel makeup bag?
OK, so now that I've shared how in love with this travel makeup bag I am, let's get down to the nitty-gritty of what's actually inside it, shall we?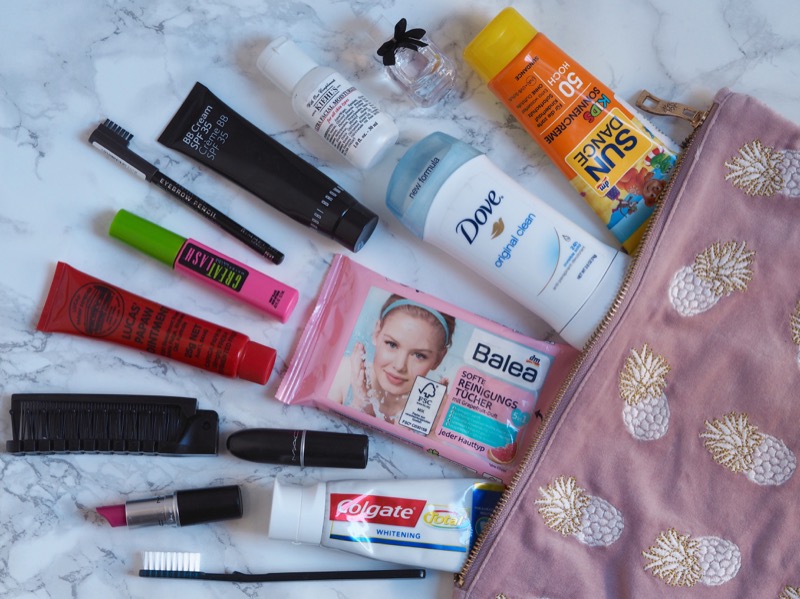 This is essentially how my travel makeup bag looks for every trip I take, whether it's long-haul or short-haul (the liquids would be in a plastic bag for the flight, of course). In part because I like to pack light and survive on hand luggage alone, but probably more due to the fact that my makeup routine is so darned basic.
Day-to-day, I wear foundation (or powder), eyebrow pencil and mascara. Plus, if I'm feeling super fancy, some lipstick. That's genuinely it. It's a pretty uncomplicated affair, but of course, there are moisturisers and things to make me smell nice and things to protect my skin that need to be packed, too.
So here we go:
Bobbi Brown BB Cream SPF 35. When I'm at home, I wear a homemade face powder most of the time, but that's far too much faff to travel with, so I choose to pack my trusty Bobbi Brown BB Cream instead. It's not heavy on my skin, and it protects my face from sunburn, which is super important when I travel.
Sunscreen. I'm not too fussy about the brand (I picked this up in Romania recently), but I need it to be SPF 50 (you've seen my skin, right?) and 100ml or less so I can pack it in my hand luggage. Also, can we just appreciate that in Romanian, SPF seems to be 'hooch'? My sunscreen is 50 hooch, and I'm so OK with that.
Toothpaste. Keep it under 100ml, you guys.
Perfume. This cute sample size bottle was given to me in a goody bag at this Kuoni honeymoon event, and it's been invaluable for travelling. It's YSL Mon Paris, and although that's not my usual scent (I'm a Jo Malone kinda gal), it's perfect for nights out on a city break.
Toothbrush. So forgettable, but so important.
Mascara. Seriously, am I still fifteen? You'd think so, with my mascara choice. It's Great Lash by Maybelline, and it's uber cheap. Like, a fiver. But it does the job and as you can probably tell by now, I'm not fussy with makeup, so I won't be judged.
Lipstick. My favourite way to glam up an outfit from day to night is to add a bold shade of lipstick. I usually pack a couple of colours just to mix things up, but unlike most of my other makeup, when it comes to lipstick I am fussy. MAC for ever (fave shades: Be Silly, So Chaud, Craving and Morange).
Eyebrow pencil. I only started filling in my eyebrows last year and it was a game changer for making me feel 'made up' with very little effort. Now I feel naked with my natural brows, but thanks to this cheap and simple pencil by Rimmel London, my brows are on fleek within seconds (don't worry, I don't actually say that IRL).
Makeup wipes. I don't use these at home, but it's too hard to travel with a bottle of micellar water, so I settle for wipes when I'm on the road. I picked these ones up in Romania, too, hence the weird packaging.
Moisturiser. Once again, my at-home routine is different to my travel beauty routine. At home, I have a homemade moisturiser that I adore, but on the go, I pack whatever I have handy, usually a sample of something or other. This Keihl's one is pretty good, but my skin's not too fussy so I'll take whatever I have in my strange box of samples (anyone else have one of these?).
Brush. My hair's even lower maintenance than my skin, so I have this terrible quality airline brush/comb thing for emergencies. Otherwise I tend to just run my fingers through it in the morning. Why am I writing a post about beauty? *laughs nervously*
Deodorant. Not much to say about this one.
Lucas' Papaw Ointment. I have so much to say about this one that I even wrote a post about it, ages ago. I'm a bit addicted, and can't go anywhere (like, anywhere) without it.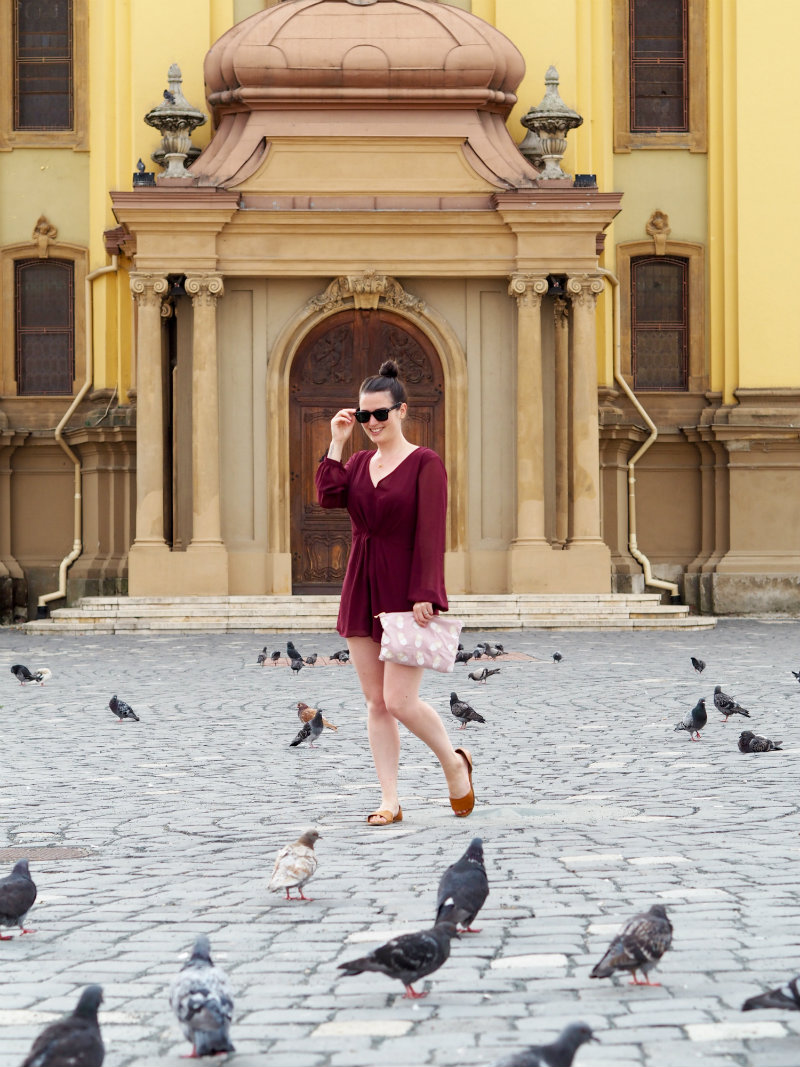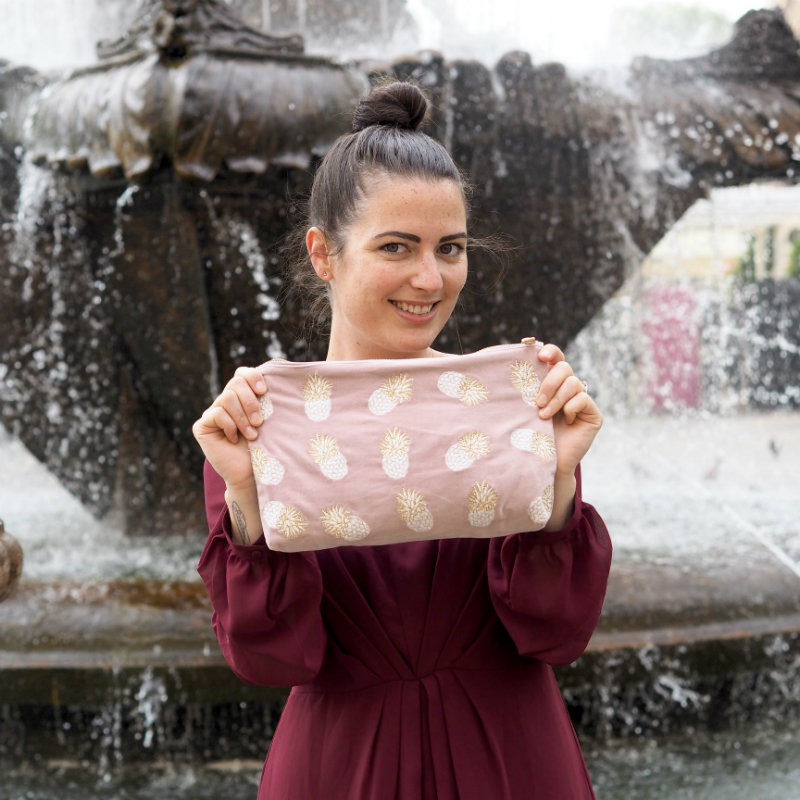 That's all, folks. Tell me: what do you carry in your travel makeup bag?
Just so you know: this post is sponsored by Amara. Thanks for supporting the brands that support this blog!
Want to see more posts like this?
Follow me on:
Follow