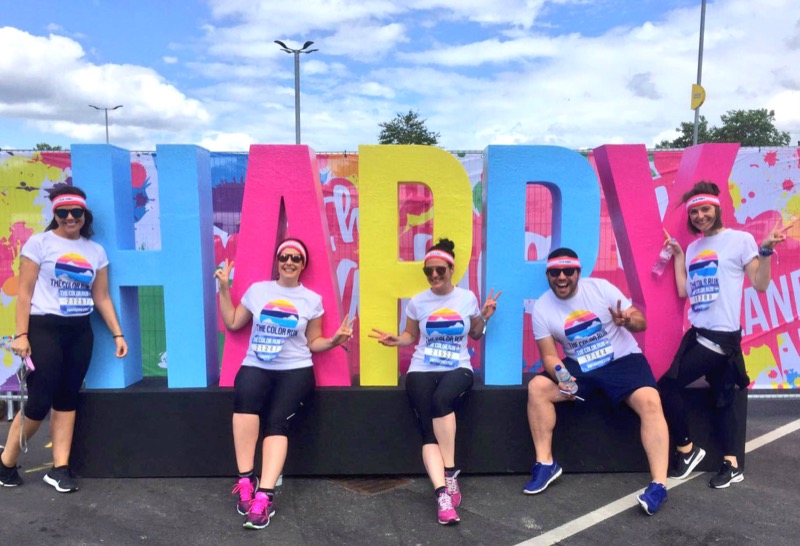 I'd been wanting to do the Color* Run for years. I can't remember when I first heard about it, but as soon as I saw photos of 'The Happiest 5k on the planet,' I was desperate to try it for myself.
*Yes, skipping the u in colour throughout this post is going to hurt my soul, but I can't change a brand name.
I mean, it's a short race where you run through clouds of colourful powder…what's not to like, right?
But it always seemed to be somewhere else. The USA, mostly. After all, that's where it started. So I waited for it to come to me. When The Color Run London was announced a few years ago, I registered straight away.
Then a heatwave hit the city. It was unbearably hot. Even my Dad, who was visiting from Australia, agreed. The thought of getting on a tube and then running in the heat was too much, and so we bailed out at the last minute. It was devastating, but I vowed that if ever the opportunity returned, I'd do it no matter what.
So when, last year, Color Run London was announced again, I was in.
Registration & lead-up
For a 5km run, it's pretty expensive. I'll talk later about whether I think it's worth the cost, but I handed over my £31 (I think it's a bit more expensive this year – yikes) and waited.
A week or so before race day, my pack arrived in the mail. It included a T-shirt (white, for maximum colouration impact), a headband, a gold 'happy' tattoo and a race number. Plus some other goodies which I've now rather helpfully forgotten.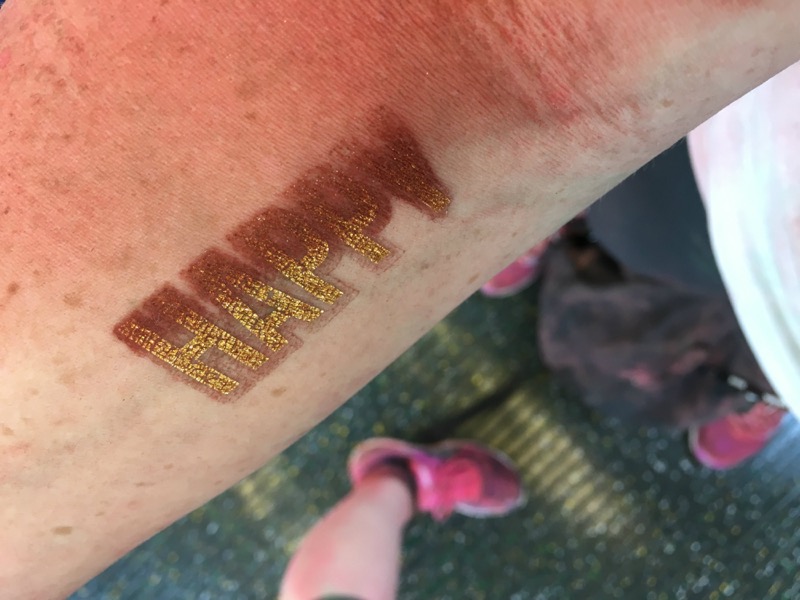 Everything was incredibly smooth and easy, so all I needed to do was turn up to Wembley on the day and prepare to get colourful.
The Color Run London start line
I'm not going to lie, the start line experience almost ruined the whole race for me.
I had been warned, to be fair, that the start line was bound to be slow. But honestly, it was painful. We were in a holding area for well over an hour, and after we passed a sign that we thought signalled the start line (but was actually just the entrance to another holding area) we waited for at least another half an hour without moving.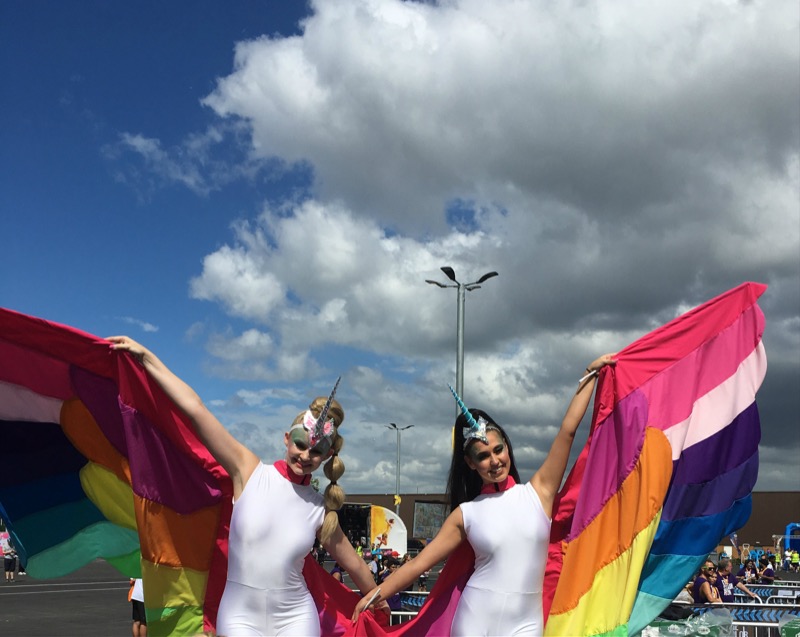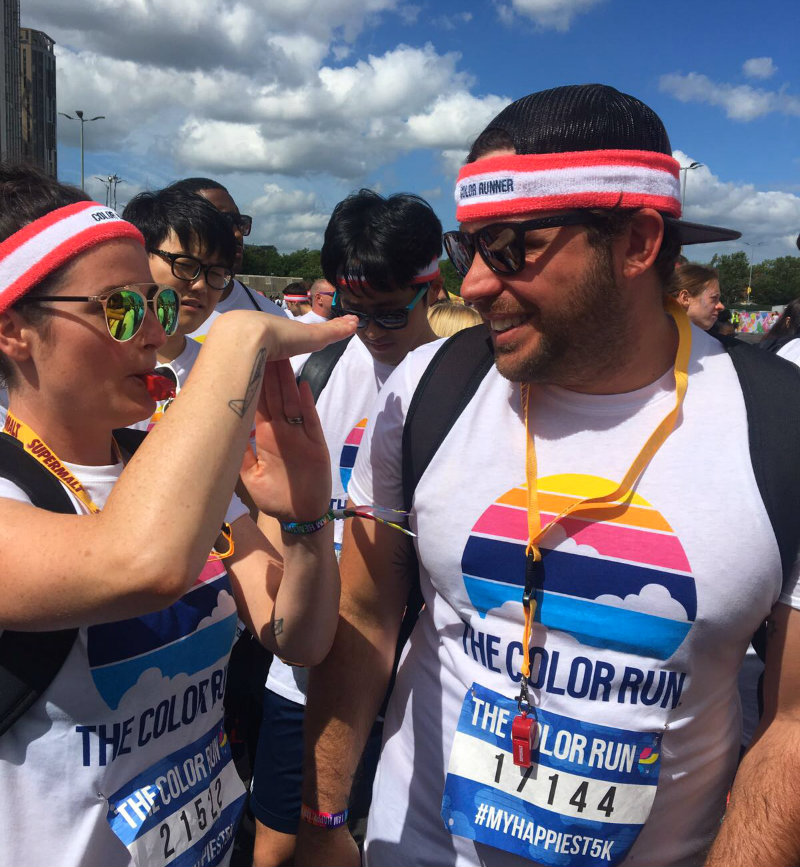 There was no entertainment, no communication, and we were so confused. Had we started? Was the whole race going to be this slow? Why was no one telling us anything?
In the time we waited, a friend of ours who had started the race in the first wave finished and came to say hello to us in the frustrating holding pen.
Considering the cost of registration, this part of the race could have been much better organised. I'd go as far as to say it was the most badly organised sporting event I've ever taken part in, and I was regretting signing up.
BUT…as soon as we reached the start line, the crowd thinned out and everything flowed smoothly. I'll get into more detail about the rest of the race soon, but be warned that the starting pen experience is highly unpleasant and frustrating. Be prepared for a long, boring wait.
It does get better from there, though.
The Color Run
As expected, the run itself is a lot of fun. I was beaming from ear to ear the whole time and had a total blast with my friends.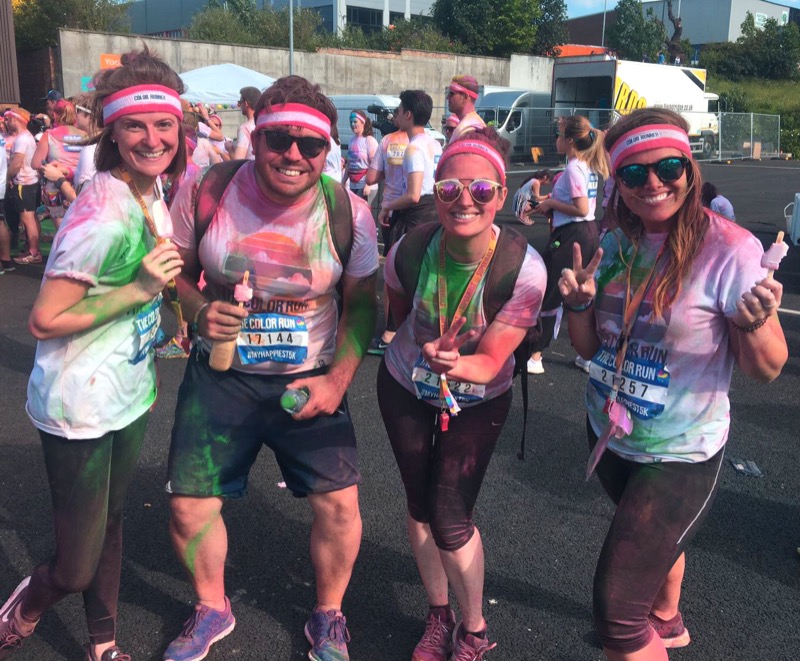 It's not really a run, honestly. The pace is slow, the course is too crowded to run continuously and besides, you want to slow down and enjoy the colour zones anyway. It's the whole point.
Another downside is that the route is pretty hideous. Weaving in and around Wembley, it's just a bunch of industrial areas and nondescript streets, so between the colour zones there's not much to write home about. But once again, that's not what you're there for.
Every kilometre or so we noticed a cloud of colour up ahead. When we arrived at the colour zone, volunteers hurled handfuls of coloured chalk powder at us while we ran past.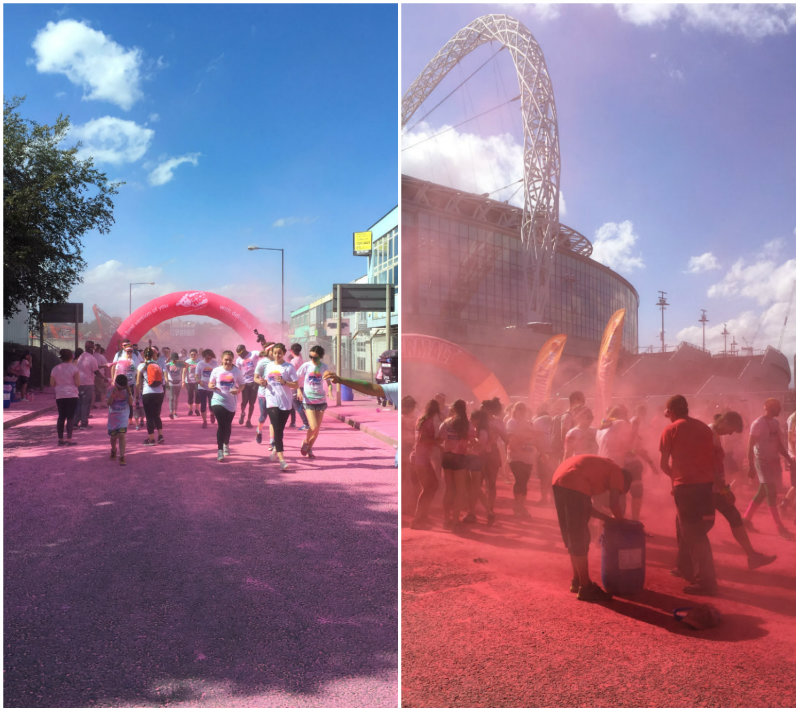 Top tip: It's best to run to the side, and go slowly (or stop) to get properly covered in colour. If you're going too fast you'll come out looking far too clean!
The colour zones were fun but the real highlight was the foam zone, which was a stretch of a few hundred metres where we were all knee-deep in white fluffy foam. It was so much fun.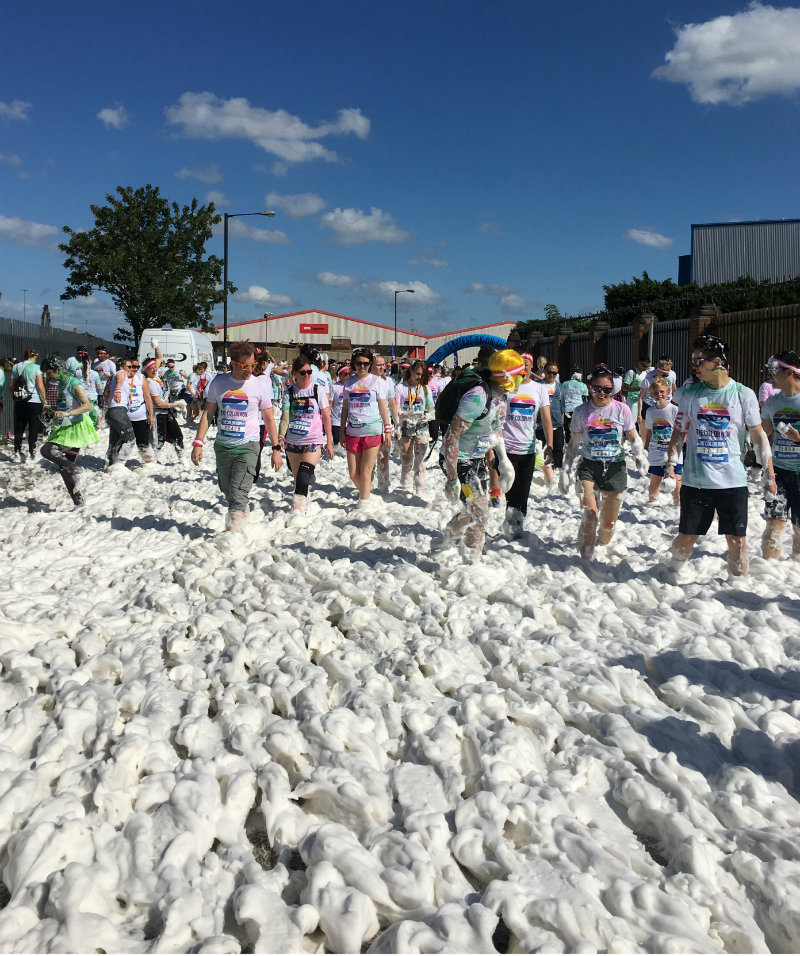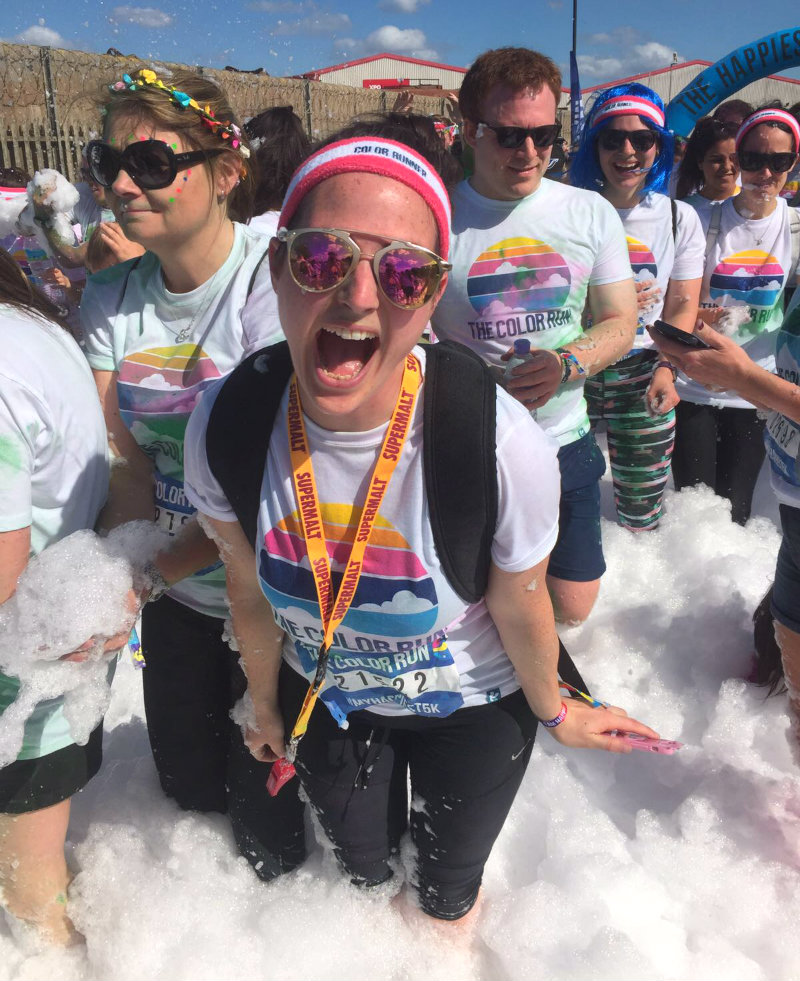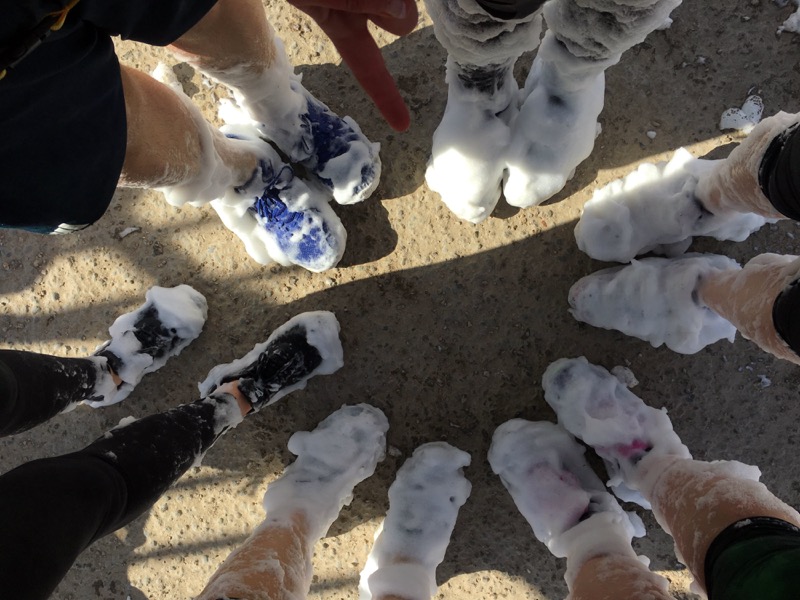 The other highlight was the final colour zone, where everyone tried to get as covered in powder as possible, in case they'd gone too fast through the other zones.
The volunteers here totally got it, and they were pouring powder over our heads, letting us scoop it out of the barrels to throw it at our friends or even roll around in the inch or so that was covering the ground. There's something so freeing about getting dirty on purpose, and here it's all about being covered head-to-toe in colour.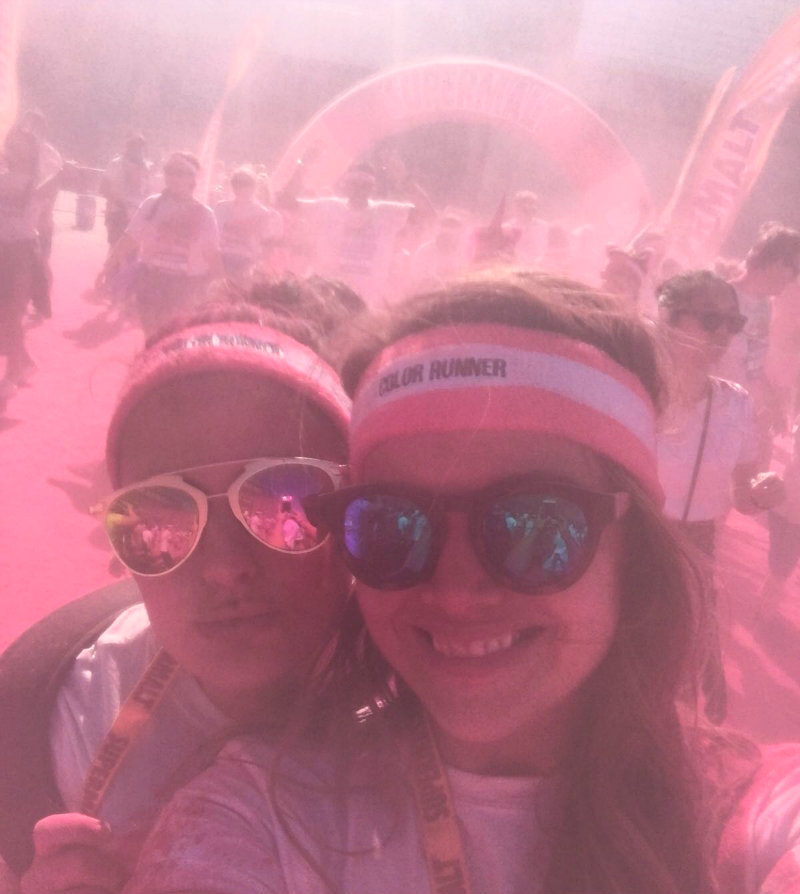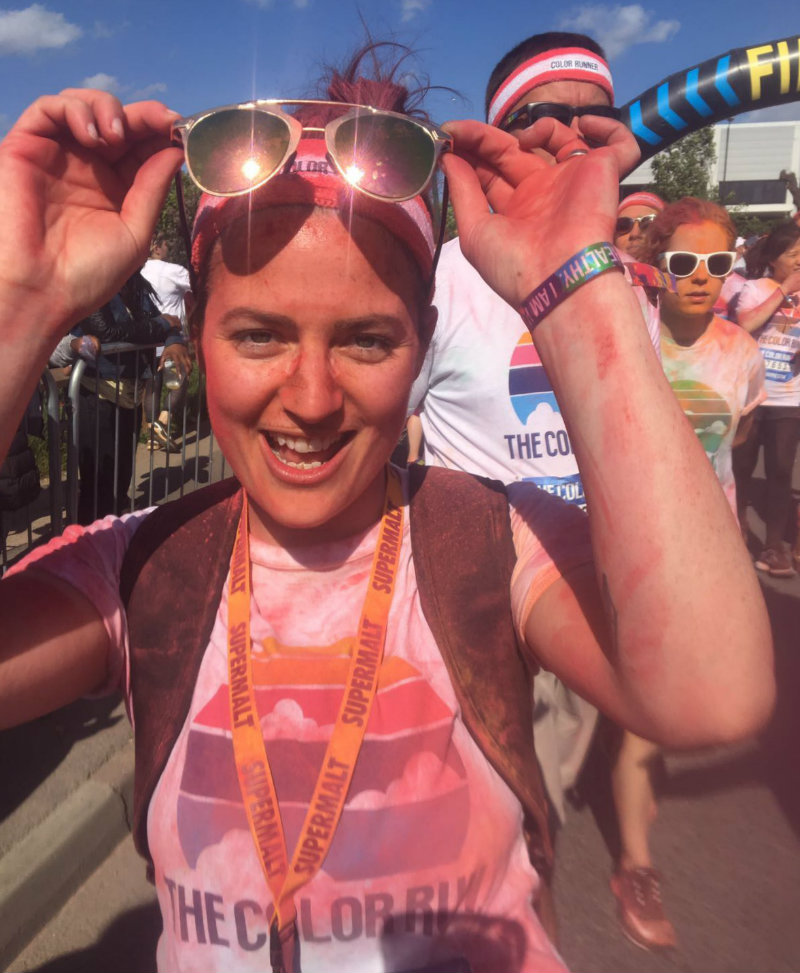 Top tip: Have a pocket or a bag where you can keep your phone between colour zones (and a microfibre cloth to clean it). I was worried about taking mine out at all, but as long as it doesn't get wet it'll be OK – the chalk powder just brushes off (and comes off your clothes in the wash, phew).
The Color Run really isn't the place to try to aim for a personal best. You'll miss all the best bits if you're hurrying. Instead, it's best to stop and get dirty and foamy and take a bunch of selfies with your friends.
Besides, your run is not timed at all, so you might as well just enjoy the madness!
You might also like: Running the Bath Half Marathon
The Finish Festival
The finish area is pretty awesome – once you've crossed the finish line there's an after party of sorts, with brands giving out treats (the ice lollies were so appreciated after a run walk in the blazing sun) and music blaring. And of course, there's the epic colour throw to look forward to!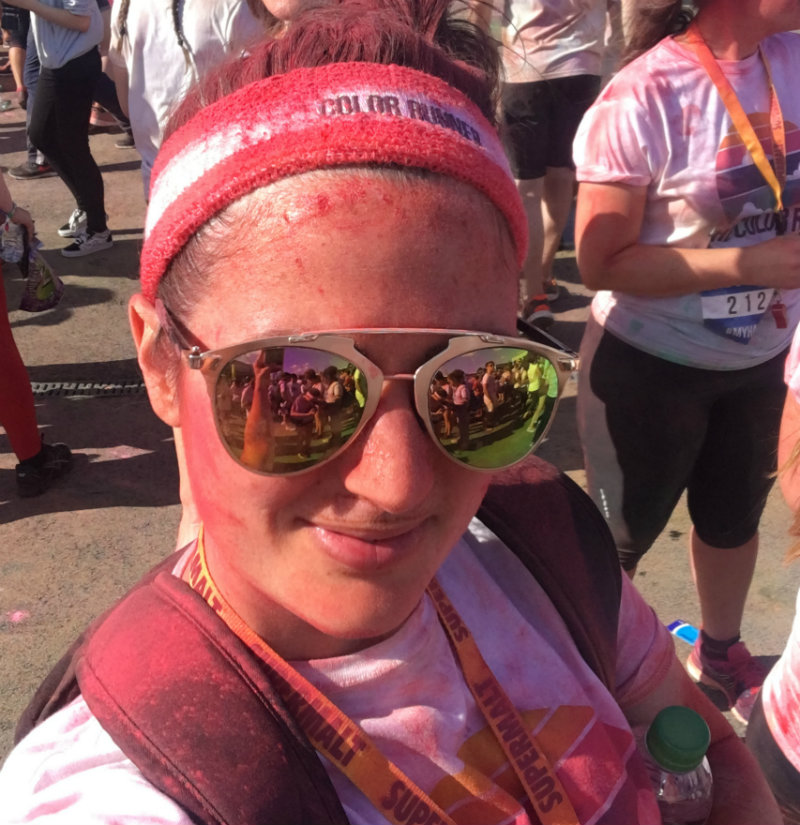 At the finish line everyone is given their own sachet of colour and when the DJ says go, everyone flings it up in the air at the same time to create an incredible rainbow cloud.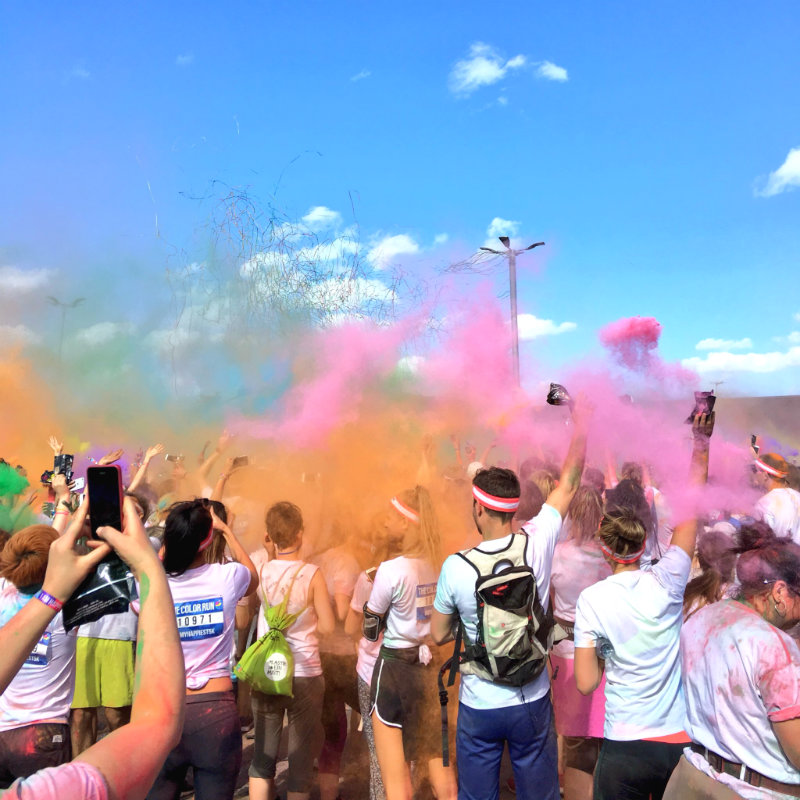 Start line woes forgotten, we were all smiles and on a total high after completing what truly is the happiest 5k on the planet.
So should I do the Colour Run London?
In short: yes!
It's nothing more or less than a hilariously good time, and you'll leave with a huge smile on your face. It's not without its drawbacks (namely the price and lack of organisation), but undoubtedly an active and unusual way to spend a Sunday afternoon.
I'd recommend doing it with friends, as half the fun is throwing colour at each other and taking fun photos together. Plus, riding home on the tube covered in chalk powder feels a little less awkward when you have power in numbers!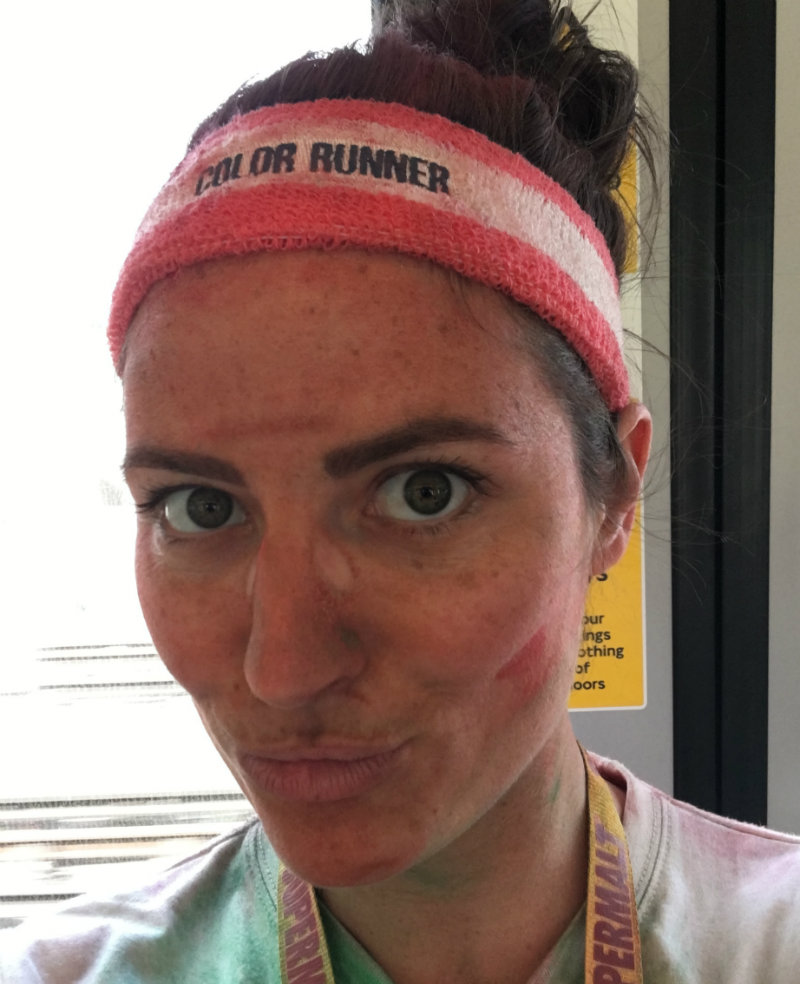 Is The Color Run worth the higher than average cost? Not particularly, if you're looking at exactly what you get for that. But you have so much fun that in the end you forget the high cost and poor organisation because you've had such a blast!
Would I do it again? Again, probably not. Not because I didn't enjoy it but because I don't think the experience would differ if I did it again and I'd prefer to try something new. Which is why the Color Obstacle Rush looks pretty darn tempting.
Fancy taking part in The Color Run London? It's happening again in 2018 – sign up here!
Have you done The Color Run? What did you think?
Pin this for later: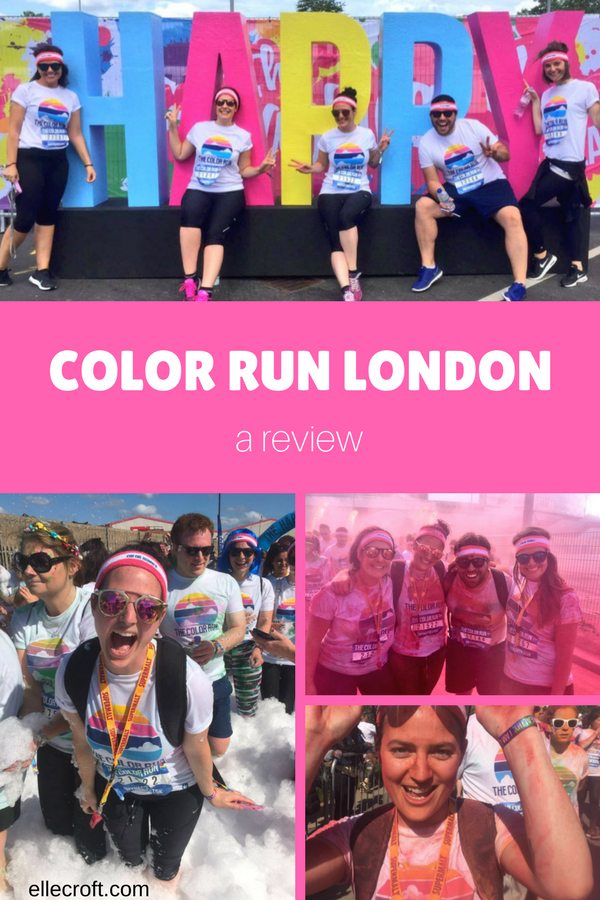 Want to see more posts like this?
Follow me on:
Follow