Before we begin, I want to acknowledge that I'm not a style blogger, and totally inexperienced in taking photos of myself to show off an outfit.
Massive respect to bloggers who can do this without someone to photograph them. It's hard! Anyway, my point is that I know my photos are a little awkward and not necessarily the best angles or whatever, but I'm sure I'll improve this with time. So please be nice about my weird poses and strange lighting.
Right. Disclaimer aside, I'm excited to share with you my very first ethical outfit.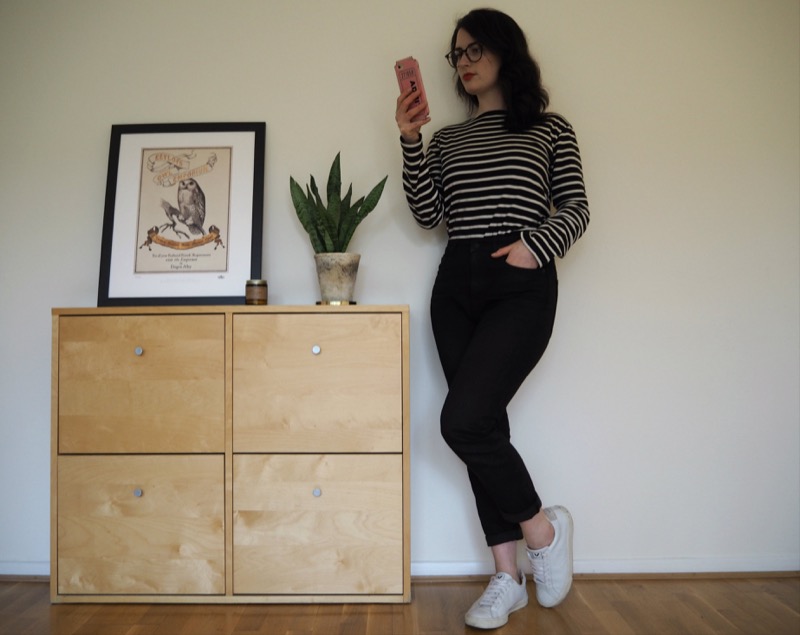 How the hell do you work a remote self-timer?! Argh
Last year, I started thinking seriously about the impact my wardrobe was having on people and on the planet. I didn't like what I was seeing when I looked into fast fashion, and so I made the decision to only shop for ethical clothing moving forward.
As I've mentioned before, ethics can look different to different people, but for me, my first priority is making sure the people across the supply chain are treated humanely, their rights are respected and they're paid fairly. My next concern is the environmental impact a company is having in the manufacturing of their products.
It's been an interesting journey so far, but it's been way more enjoyable than I expected.
I find myself getting excited about the new brands I'm discovering, and heartened by the number of options available to someone who's looking to build an ethical wardrobe. It's far easier than I expected, and the joy I get from purchasing a product that I know is created in line with my values far surpasses the quick rush of a fast fashion purchase.
The other day I threw on a few of my favourite pieces, and when I looked in the mirror I realised I was in head-to-toe ethical garments! Here I'm sharing each item, what makes it ethical, and why I love it.
These shoes were a game-changer for me. They go with everything, and they've become such an integral part of my wardrobe that I don't know how I went without them for so long.
Veja is one of the most ethical brands I've come across so far. The rubber used in the soles of their shoes is wild and fairly traded, the leather is tanned using low levels of water and chemicals, the factories are safe and workers' rights are respected, the shoes are transported by barge, and they're about as transparent about their process (and what they know they can improve on) as you'll ever find.
Take a look at Project, a new segment of their website that tells the story of their business in incredible detail. I can't speak highly enough of these shoes – or this company.
Jeans: Everlane High Rise Skinny Jean (ankle length) in Stay Black – $68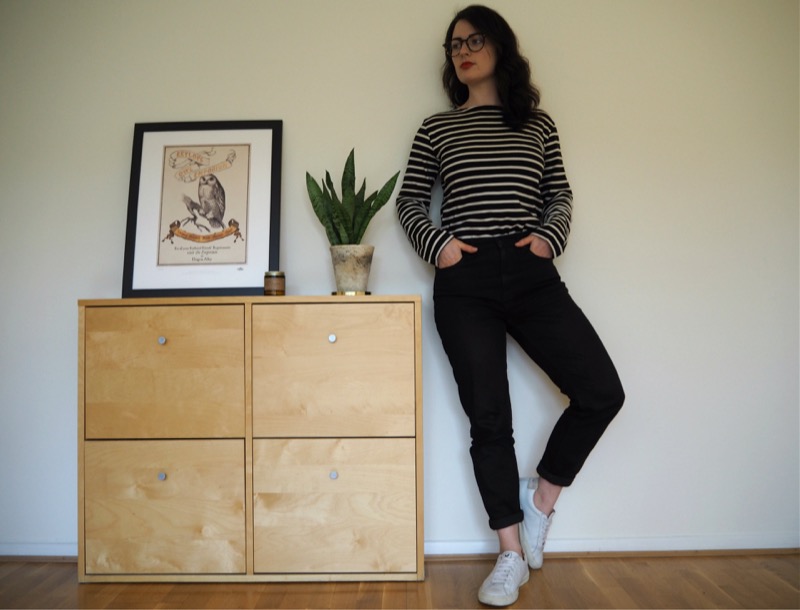 Everlane is one of the first ethical companies I came across, and with a tagline like 'Exceptional quality. Ethical factories. Radical transparency.' it was hard not to fall in love.
Their factories are all carefully selected and audited for compliance to their strict ethical standards, and they're transparent about the cost of production of each item (including the cost of materials and what they paid for labour) so you truly know what you're paying for.
When they released their 'Damn Good Denim', made at the world's cleanest denim factory (take a tour here), I was keen to try them. Everlane doesn't usually ship to the UK (sadly) but they occasionally have a few days where they offer international shipping (sign up to their email list to get alerts).
These jeans are so comfortable, and definitely a wardrobe staple. I only wish I'd sized down, as they're a little looser than I'd like. And because I went for the ankle length but I'm still too short for them to be tight around my actual ankles, they're a bit baggy at the bottom. But sizing aside, they're exceptional quality, comfortable from day one, and the colour is perfect. Oh, and that price? Unbelievable!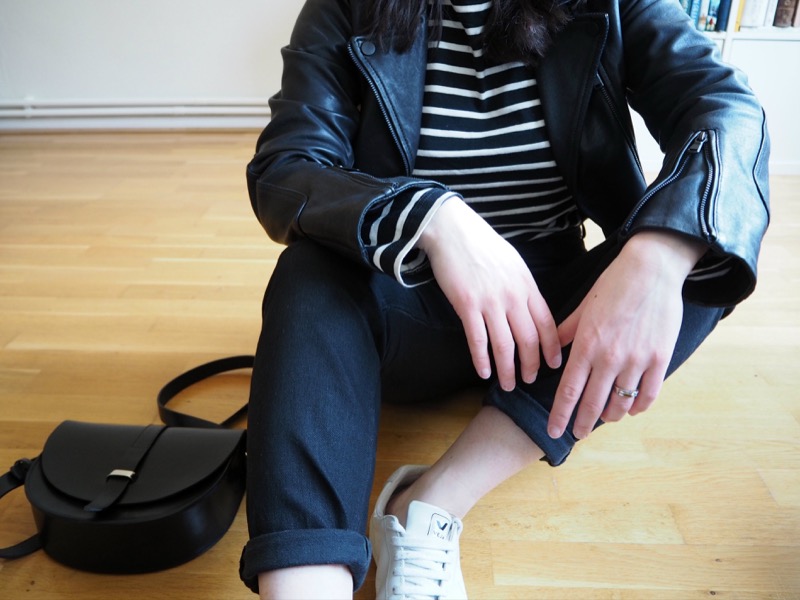 You know how Mark Zuckerberg has his uniform: grey tee, grey hoodie, blue jeans? I think I've found mine: striped shirt, black jeans, white shoes. I'd be happy if I wore this combination (with a red lip, of course) every day forever.
Seasalt Cornwall sells these gorgeous striped shirts at two for £20, so the price is great. It's soft, comfortable, and makes me feel great when I'm wearing it. The cotton is 100% certified organic, and apparently manufactured ethically.
I have to admit, I spent longer than I'd have liked to dig up information on whether these tops were produced ethically (even though Seasalt call themselves ethical it's important to do your own research), and how they define ethical manufacturing.
In the end, Seasalt Cornwall is just not as transparent as brands such as Veja or Everlane – which doesn't mean they're not as ethical, but it's harder to feel confident that your purchase is aligned with your values. Great tops, though!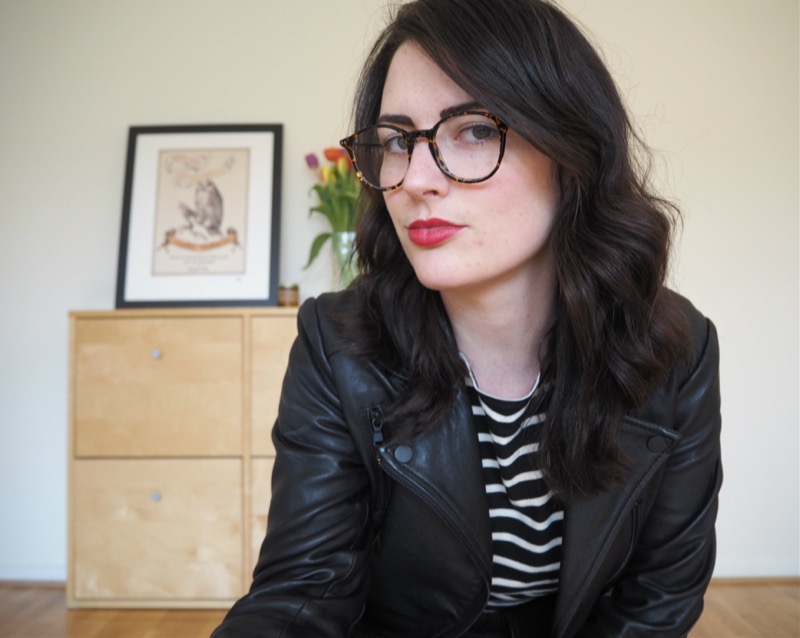 This is the jacket that sparked my journey into ethical fashion. I finally found the perfect leather jacket at DSTLD, a brand that boasts about their 'Moral Fiber', and that stands for better ethics in the apparel industry. My kind of people.
They're not as transparent as some of the other brands I've listed – they talk about not using sweatshops, and minimising their environmental impact, but they don't necessarily get into the specifics of how they're achieving this.
But when it comes to leather jackets, it was the most ethical option I could find – and it is truly a beautiful jacket. I had to get the sleeves taken up (I did this at Cromford Leather, who I highly recommend), but it now fits like a glove, and it goes with everything. It's one of my favourite pieces in my wardrobe, and I have a feeling this will be my go-to jacket for years to come.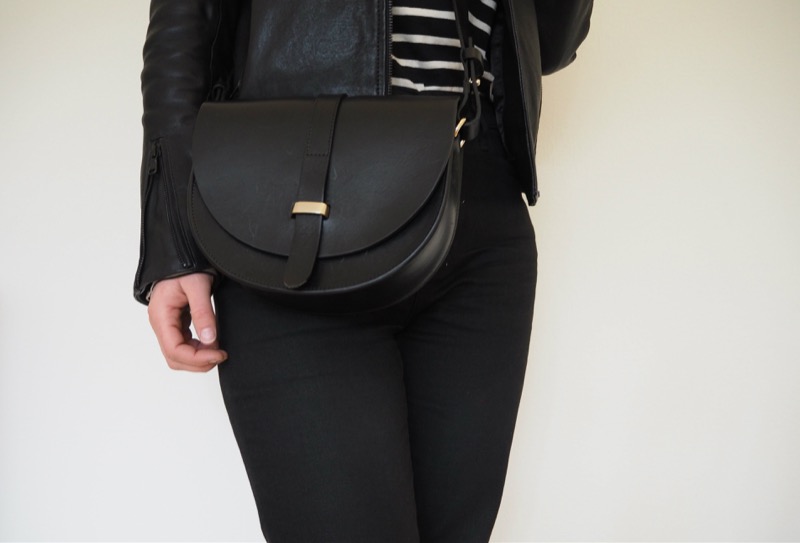 I'd heard of Sézane before (mostly from seeing fashion bloggers styling their stuff) but I had no idea they were ethical. Their website kind of hinted at it, but I wasn't sure – so I emailed them.
Bear in mind, I email a lot of brands asking about the ethics in their supply chain and almost no one responds (yeah I'm looking at you, Matt & Nat). Sézane got back to me within minutes, telling me about their practices, how they carefully select their suppliers and always check working conditions, and how they're trying to improve their environmental impact. A few days later, they launched a whole new section of their website that talks about their ethics and values.
So I was sold. I was looking for a new bag that was a practical size and a minimalist design so that it would go with everything. I splurged a little on this vegetable tanned messenger bag, but I think I'm in love!
Over to you – what are your favourite ethical finds?
Pin this for later: