This week's packing checklist item isn't really something you pack, but rather something you pack everything into.
Brendan bought this Salomon Container 70 (now updated and called the Container Cabin) hand-luggage sized bag earlier this year and I am in love. So much so that I'll be getting one for myself shortly as I honestly can't find fault with it, and I'm pretty fussy with luggage.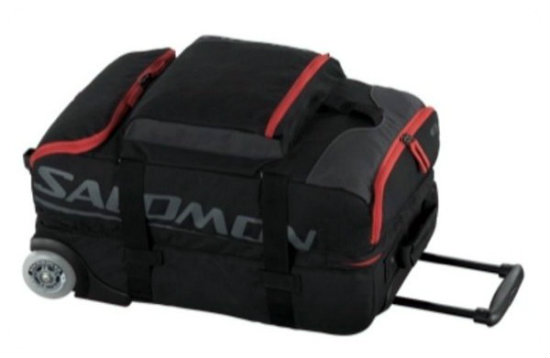 What's so good about the Salomon Container Cabin?
Well, to start with it's ridiculously sturdy…it's obviously very well made and will hopefully last for many years.
Update: four and a half years – and countless trips – later, it's still going strong.
The wheels are like that of a skateboard so they're almost silent and roll SO smoothly. The handle slides up and down like a dream; I don't know how many bags I've had to wrestle with to get the handle up but this one just cooperates which is a lovely change.
Update: the handle is now struggling a little – it's not broken, but I do have to wrestle a little each time I use it. Still, for a bag that's almost five years old…I'm OK with that.
There are all sorts of great compartments, including a padded one for a laptop and a waterproof shoe compartment.
This clever bag is the perfect size for a weekend away (or a week if you are obsessed with packing light like me) and meets the specifications for most airlines' carry-on, with the exception of dodgy airlines such as WizzAir whose carry-on allowance is so small a regular handbag would barely fit.
The cost of the Salomon Container Cabin is around £120 (depending where you buy it) but it really is worth the cost; I'm sure anyone who has travelled with a cheap, badly made bag will agree with me on that point!
For more packing checklist essentials, click here.
Are you willing to spend a bit extra on good-quality luggage? Share in the comments below.
Want to see more posts like this?
Follow me on:
Follow