I can honestly say that even I am surprised that I am writing this post. When my husband announced to me five years ago that he was buying a bike for $1000 I nearly hit the roof; since then matters have slowly declined to the point where his legs are smoother than mine and 'chamois cream' is a term that doesn't cause me to bat an eyelid. We have cycling paraphernalia scattered throughout our apartment and I can tell you, without having to consult Google, who is currently in the maillot jaune and who the GC contenders are. Yes, my friends, it's true. I've crossed over to the other side. I am a Tour de France fan.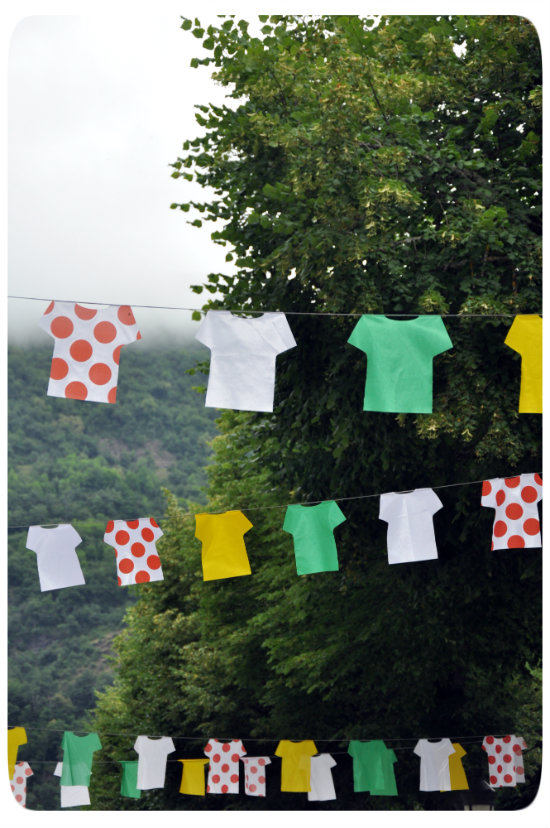 Last year Brendan and I embarked on a two-week journey around France during which time we saw six stages of the Tour, and although I was ready for a break from lycra-clad men at the end of the trip, I was excited to return to France for the Tour this year, for a number of reasons:
No two visits will ever be the same.
The Tour route is different every year; the only destination that never changes is the finish line in Paris. For the rest of the three weeks each year, the Tour passes through different parts of the country; from mountain climbs to tiny country villages and everything in between. Each stage of the Tour has its own character and no matter which stage you see you're almost guaranteed to discover a new part of France. I wouldn't have seen amazing locations such as Carcassonne and Montpellier without following the Tour, and the more places I see in the stunning country, the more I want to explore.
It's like a country-wide festival.
If a town/village/city is lucky enough to have the Tour de France pass through it, everyone will get involved! Stores adorn their windows with pictures of cyclists or create cycling-themed scenes out of whatever product they are selling (think yellow jersey cakes or bikes made out of flowers), councils mount brightly painted bicycles to lamp-posts and farmers create giant bikes out of hay bales in the hope of being filmed by the passing helicopters. The spirit is festive and it seems like no one stays indoors when the peleton passes; heads materialise in windows, children appear in doorways, and locals and tourists alike get excited for the Tour de France.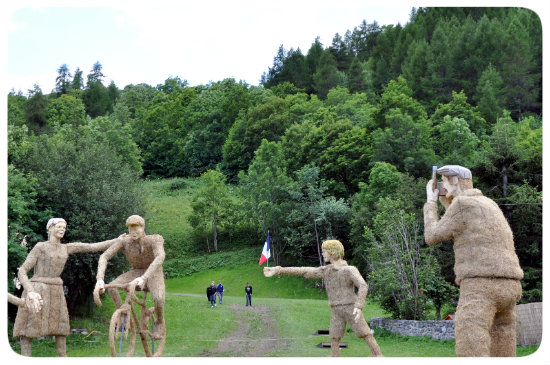 Everyone likes free stuff.
Even if you're not a cycling fan you'll love the publicity Caravan; a 45-minute procession of Tour sponsors' vehicles, all of which lavish free branded merchandise (11 million items over the duration of the Tour) upon the cheering crowds, 39% of whom are there just to see the spectacle of the Caravan! You'll be inundated with caps, keyrings, random inflatable objects and other useless tat which seems awesome at the time but is clearly best left out of a tiny studio apartment (yes, Brendan, I'm talking about that giant green hand occupying the corner).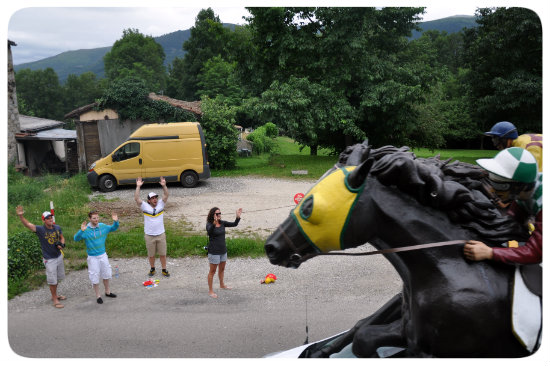 You'll see some of the most impressive sportsmen in the world.
Tour de France riders are seriously impressive! I've tried to walk up some of the mountains they cycle and made it about 8km before the altitude and my lack of fitness got the best of me. These guys cycle up to 200km each day for three weeks, climbing and descending some of the highest and most treacherous mountains in France. Before I started learning about the Tour I thought it was incredibly boring; a bunch of men in ugly lycra kits riding around for three weeks. Now that I know a bit more about it though I find it so interesting (although I will never endorse lycra). There is strategy, teamwork, politics, scandal and daily displays of human strength and kindness.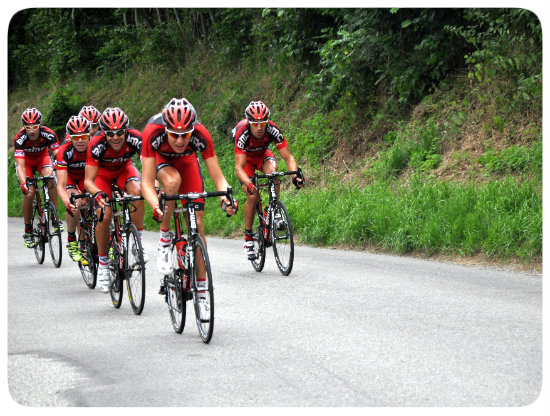 If you've never watched the Tour de France I encourage you to give it a chance. And if you ever have the opportunity, go and see it for yourself. If even I enjoy it, I have no doubt that you will too!
Want to see more posts like this?
Follow me on:
Follow