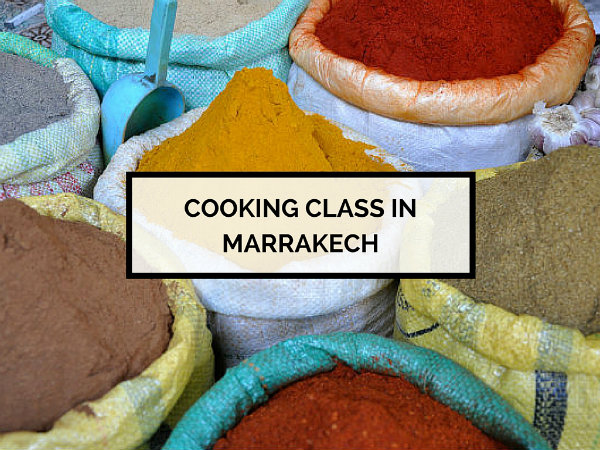 Getting lost amongst the winding, bustling, colourful souks of Marrakech is an essential experience when visiting the city.
Spending a few hours wandering through the tiny alleys browsing leather goods, spices and homewares is a must-do, but after a while it can get a little stressful and repetitive.
Don't miss: 10 Essential Tips for Visiting Marrakech
When I travelled to Morocco a few weeks ago I hoped for the opportunity to encounter the souks as a local would, rather than just through the inexperienced eyes of a first-time visitor.
This desire, along with my obsession for sampling local food when I travel, led me to book a cooking class in Marrakech with a company recommended by my trusty HG2 guide: Souk Cuisine.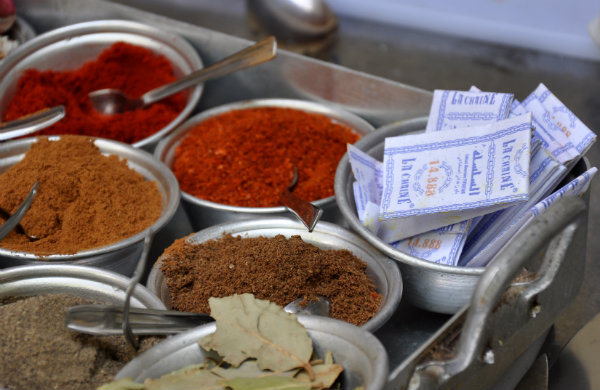 The sun-drenched Jemaa el-Fna, the main square of Marrakech, was the meeting point for our group, which was led by Dutch expat Gemma.
Armed with canvas bags, a small purse filled with Dirham and a list of ingredients, we wound our way through various sections of the vast souks, but unlike the previous day where I'd wandered aimlessly in the hope of absorbing the atmosphere, this time we were shopping with a purpose.
Top tip: Feeling lost in Marrakech? Try booking a souk tour to get your bearings.
We strode towards specific stalls, at which Gemma regularly buys her groceries, and as we ventured deeper into the heart of the market she explained local customs and how to select the best ingredients (preserved lemons must be ugly as they will be more flavoursome; black olives must be wrinkled or they are just dyed green olives).
Gemma's spice merchant, who charmed us with his quick smile and educated us about Moroccan spices, was the highlight of our souk shopping trip.
We learned about the many uses of everyday ingredients like cumin (great for stomach ailments, we were told), and after we'd been there for a while a spice merchant's secret was revealed: there is a difference between 'tourist saffron' and 'real saffron' – the former is corn husks deceptively coloured with paprika.
One way to tell them apart is to taste the saffron and check the colour that it leaves on your tongue. The photo below is me with the spice merchant after tasting some of his real saffron (which I later returned to his stall to buy):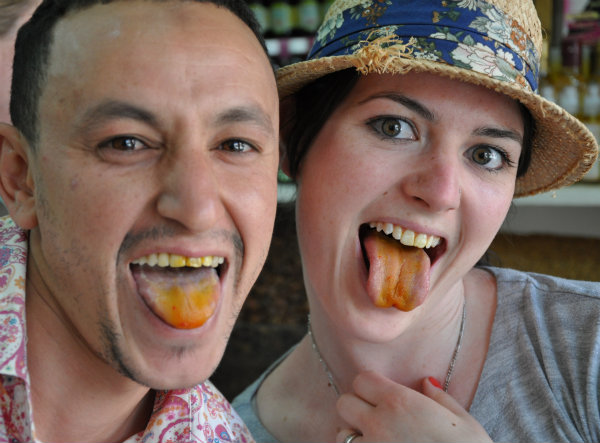 We stayed with the charismatic spice expert for as long as possible, asking questions and inhaling the aromas from a seemingly infinite number of bottles and jars lining the shelves of his small store, but eventually it was time to move on and visit the vegetable market.
You might also like: Best Places to Eat in Marrakech
This section of the souks was flooded with bright sunlight and bursting with vibrant colours, noisy hawkers and the smells of ripe, fresh vegetables laid out like jewels waiting to be inspected and purchased. We selected the vegetables on our shopping list by hand, exchanged some badly-translated banter with the vendors, and then it was time to stroll to the cool comfort of the hidden riad where we spent the afternoon cooking, using the ingredients that our bags were laden with.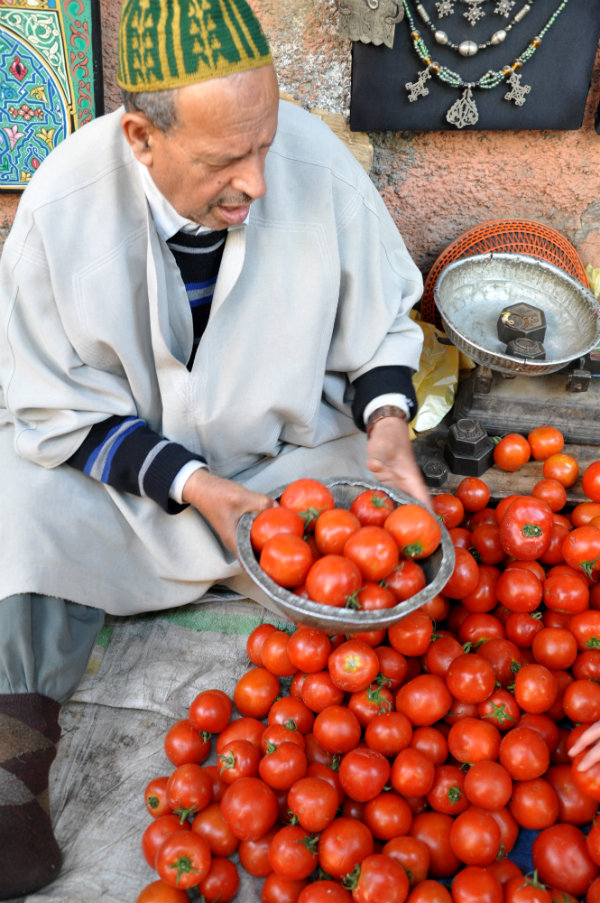 We arrived at the riad to discover the most picturesque kitchen I've ever seen.
Located in the riad's inner courtyard, the stainless steel benches, sinks and cooktops were dotted around tropical green trees, with a brilliant blue sky as our ceiling. I felt like I'd walked into an exotic episode of Masterchef!
As we waited for the vegetables to be washed and the meat to be prepared by the riad staff, we sipped mint tea and chatted with the others in our group, who had come from far and wide and who all, like me, chose this particular cooking class in Marrakech for the chance to get into the souks and shop like a local.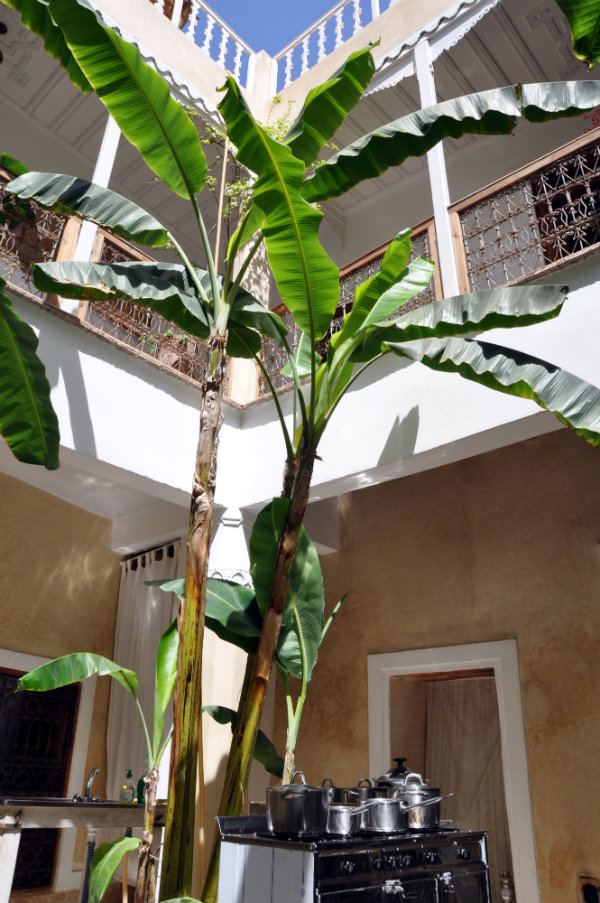 We were each given a booklet of the day's recipes and chose a station to work at, where the ingredients were supplied for one dish.
Each group began preparing and cooking Moroccan salads, tagine, fish meatballs, savoury pastries or cookies and as we chopped, mixed and cooked (with a little help from some experienced Moroccan women) the riad was filled with delicious smells, clouds of flour and spices, and chatter and laughter from everyone in the class.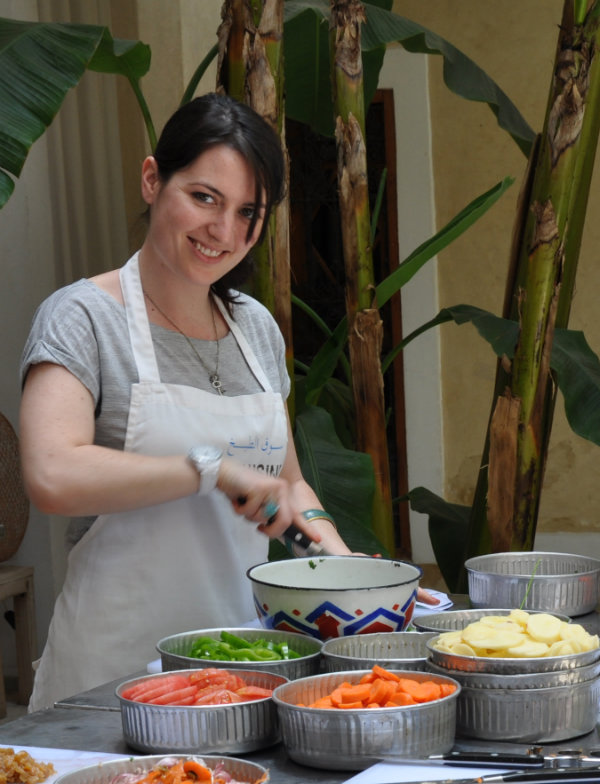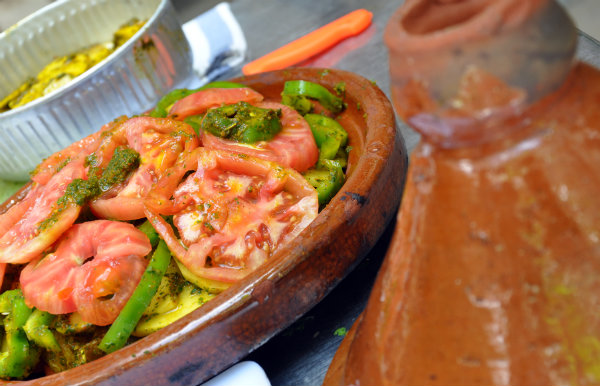 Before we knew it, the preparation was all done and we were sent up to another area of the riad where we could recline on comfortable seats and enjoy the fruits of our labour.
First we were served a medley of refreshing salads, then the tagine, meatballs and pastries, accompanied by a glass of Moroccan rosé. When we finally felt full to bursting, we were presented with more sweet mint tea and biscuits, which we suddenly found a little extra room for.
Each dish was as delicious as the last, and we sat around the room complimenting each others' creations and swapping tips about things to see and do (and things not to see and do) in Marrakech (read my top ten tips here).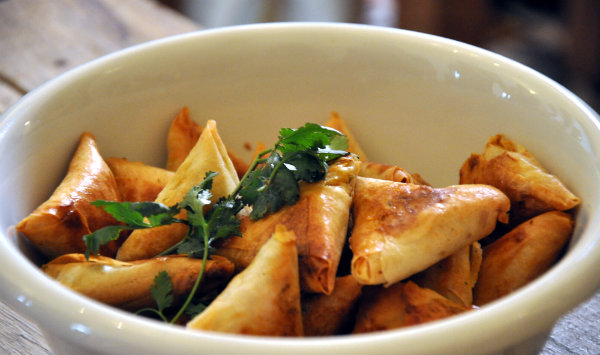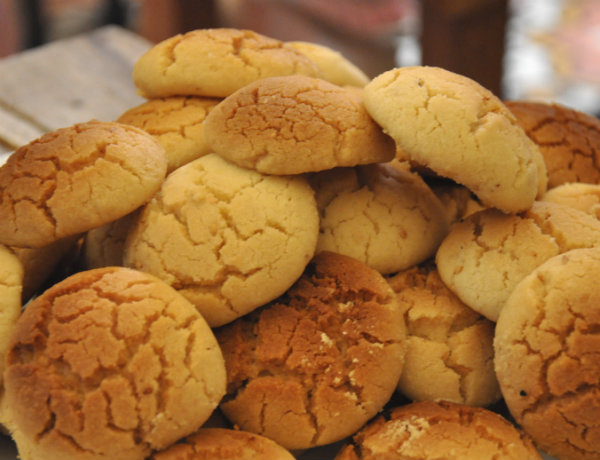 It was mid-afternoon by the time we finished our meal and emerged, blinking in the heat and light, from the cool oasis of the riad. With full bellies and a memorable day to reflect upon, we wandered back into the heart of Marrakech's souks to buy a bagful of spices like a local.
Souk Cuisine
info@soukcuisine.com
Price: EUR 50 per person (correct Feb 2016)
Craving Moroccan food at home? These cookbooks will help you recreate the flavours of Marrakech in your own kitchen:
Pin this for later: 
Want to see more posts like this?
Follow me on:
Follow