When I attended a presentation by fashion expert Caryn Franklin last year, someone asked what her number one travel essential is and she answered 'a mini steamer'. Sometimes, no matter how carefully I fold and roll my clothes to retain their shape, when I arrive at my destination it looks like I pulled them out of my washing machine, threw them in my suitcase and let them dry there. If I'm lucky, I can use an iron at my accommodation but if there isn't one available, a travel steamer would be quite a luxury.

However, the small flaw in Caryn's plan is that, for light packers such as myself (and with hand luggage allowances shrinking significantly), a steamer just doesn't make the cut for a short break. When I visited Antwerp recently for a weekend I packed items that I assumed to be crease-resistant to avoid looking like a crumpled mess in one of Europe's most fashionable cities, but there was one top which, upon pulling it from my suitcase, resembled an aerial view of the Alps. I had a mild panic and frantically tried to remix the three items of clothing I'd brought to create an outfit worthy of a fashion show, but to no avail. I then rummaged through the cupboards of my hotel room in search of an iron, but my search was fruitless. At this point I had about fifteen minutes to get ready, and I was on the edge of despair when my eyes fell upon the in-room coffee and tea station and I had a light bulb moment…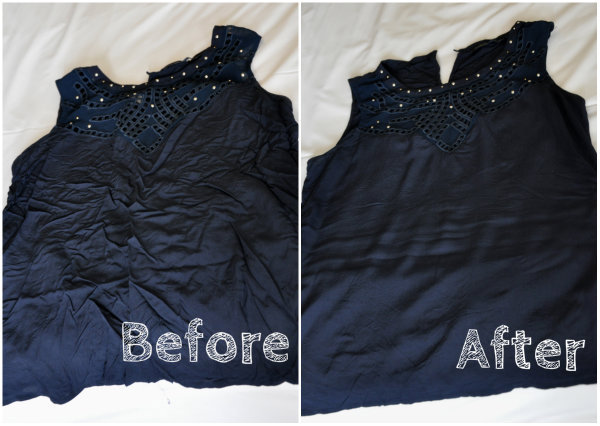 When you need to iron clothing without an iron, steam it with your hotel room kettle!
No, I'm not joking and yes, it really works. Above is the before-and-after photo of my top, and the results are clear. The effect might not be to the same standard as a professional pressing, but steaming your clothes can get you out of an embarrassing situation. I managed to pass as presentable for my night in Antwerp's most fashionable destinations after trying this easy trick.
I don't think I've ever stayed in a hotel, no matter how budget, that doesn't have an in-room kettle, so this should work no matter where you're staying. Here's how to steam your clothes when travelling: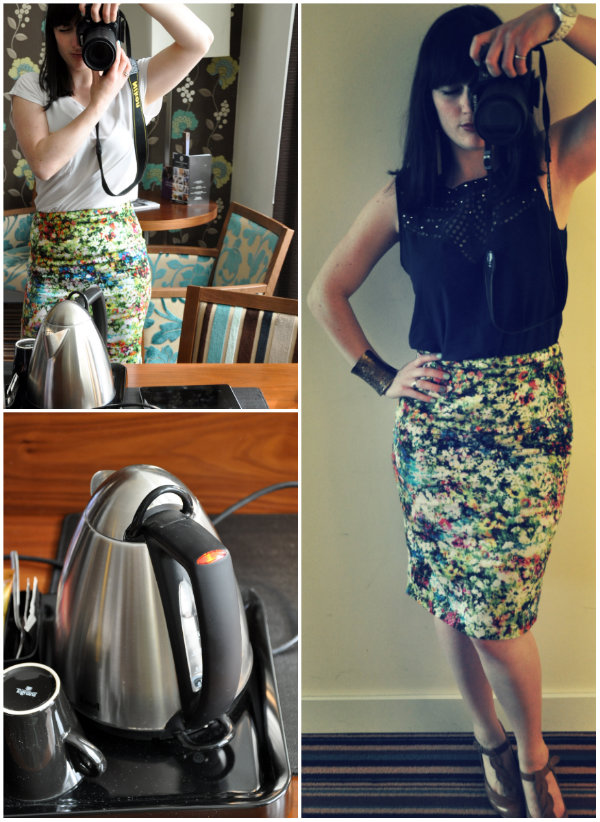 1. Fill up the kettle from the bathroom tap and switch on
2. Just as the kettle boils, carefully hold the garment 1-2 inches above the spout
3. Slowly move the garment back and forth over the spout so the steam reaches all of the fabric
4. Reboil the kettle and repeat steps 2-3 until garment is crease-free

Note: very delicate fabrics may be damaged by the heat of the steam, so it's best to only use this technique on sturdy fabrics (or things you're not too attached to, just in case). My top came out perfectly, but I haven't tried this on a variety of clothing. In other words, I won't be compensating anyone for damaged silk Prada shirts etc. But I will accept thanks for getting travellers out of sticky situations. You're welcome!
What's your best or most creative travel tip? Share in the comments below!
Want to see more posts like this?
Follow me on:
Follow