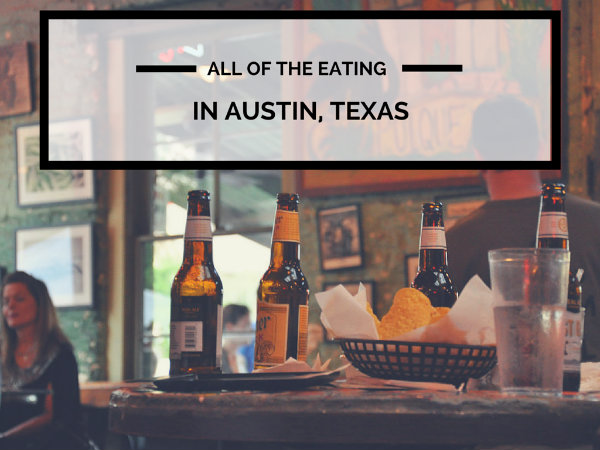 I knew I wouldn't go hungry in Austin.
Food and music are the backbone of this hip destination in Texas, so I was careful to plan accordingly. In fact, my itinerary for our few short days in Austin mostly read like an all-day menu, the range of cuisines vast, with locations dotted around the most popular parts of the city.
Our self-created eating in Austin tour started at Franklin Barbecue, which was so good I wrote a whole post about it. I'll admit as we left that turquoise building, stomachs full and heads buzzing with the whole experience, I was a little worried. Surely after such a memorable feast, no other food in Austin could come close to comparing.
I expected disappointment with every new bite, but this was one of those rare times when I was happy to be proved wrong.
We didn't come anywhere close to trying all of the places that were on my list, but the few restaurants, cafes and food trucks we did get to were all worthy of a mention:
Chi'lantro BBQ
Did you know that there are over 2,000 food trucks in Austin? As we were driving around the city I grew more and more amazed: every street corner seemed to be home to at least one food truck, and sometimes multiple vans were parked in a row in a kind of gourmet trailer park. It was in one such food truck park called The Picnic that we found Chi'lantro BBQ, a recommendation from one of the locals we chatted with in the Franklin line the previous day.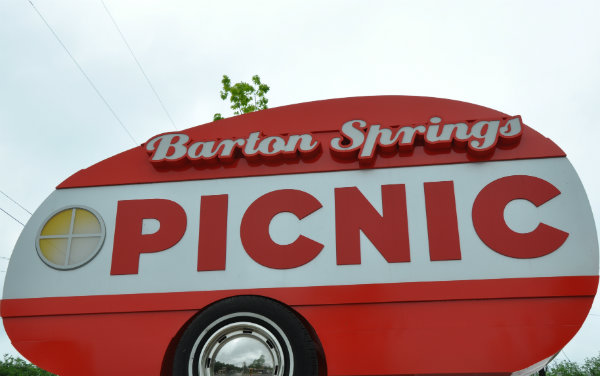 Don't worry, this wasn't just a repeat of our meal at the famous brisket mecca: Chi'lantro is Korean, not Texan, barbecue. They're famous for kimchi fries, topped with tender pulled spicy chicken, crunchy kimchi, tangy 'magic' sauce and a little sriracha for good measure. We tried some tacos too, which were delicious but, quite frankly, I would have preferred another tray of those fries instead.
Chi'lantro at The Picnic: 1720 Barton Springs Rd, Austin 78704
Hey Cupcake!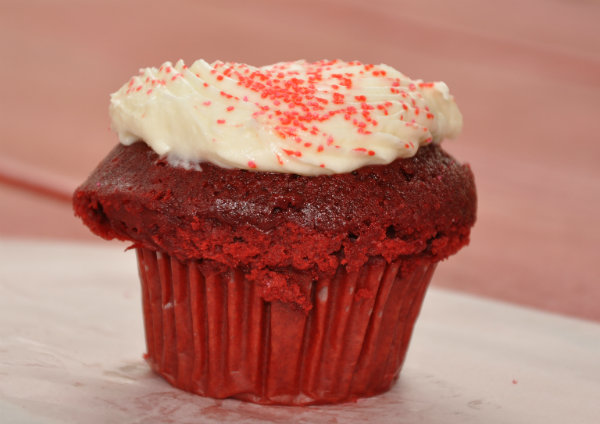 I think cupcakes are a overrated. Don't get me wrong: if I'm faced with a Hummingbird treat I'm not going to say no, but I won't go out of my way for one. I stumbled upon Hey Cupcake! in the same food truck park as Chi'lantro; a well-organised affair complete with covered picnic benches, overhead fans, toilets and food to suit every taste. Including dessert.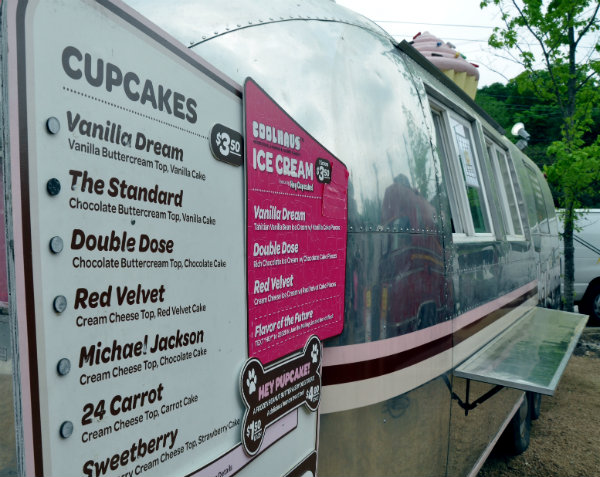 Hey Cupcake! seemed to make it onto all of the top food truck lists, so I tried a little red velvet creation out of curiosity. Oh boy! It was the fluffiest and most delicious cupcake I think I've ever eaten, topped with a decadently sweet cream cheese icing that I couldn't get enough of. These aren't your average cupcakes!
Hey Cupcake! at The Picnic: 1720 Barton Springs Rd, Austin 78704
Güero's Taco Bar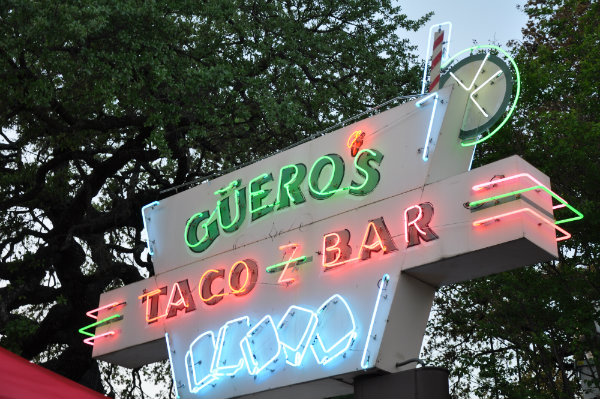 Tex-Mex. It was on the food wish list for our time in the Lone Star State, so we asked around and the name Güero's came up time and time again. It just so happened to be in our favourite area of Austin, South Congress, so we decided to give it a try on our last night in town. It was a sunny evening and the street was crowded, live music drifting from the beer garden next door as we jumped in the line for a table. Thankfully the wait wasn't long, and we were soon seated in the buzzy dining room.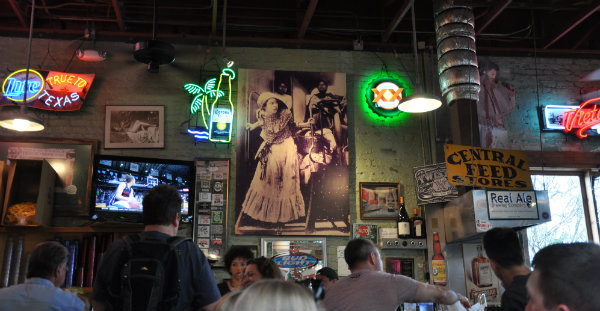 I forgot how awesome American Mexican restaurants are, if only for the endless (and free) supply of chips and salsa, but starters aside, I ordered something that I didn't quite understand from the menu. I can't say I loved it, but I came to the realisation that I actually don't really like Tex-Mex that much. If I'm not a fan of one of the best restaurants in town, then Tex-Mex just isn't for me. Still, it was a hearty and tasty meal, and if you are a fan of Tex-Mex then check it out and do let me know what you think.
Güero's Taco Bar: 1412 South Congress Ave, Austin 78704
Gourdough's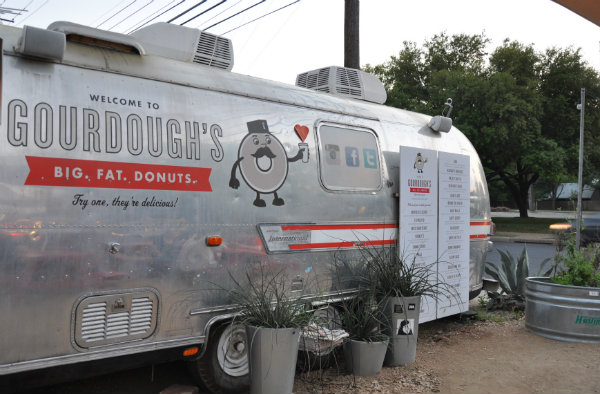 This food truck made it onto my radar when I saw an insane looking doughnut in the Instagram feed of Hungry Girl Austin. From that moment, I knew that come hell or high water I had to make it there for dessert while I was in Austin. Considering how much we ate during the day, the thought of dessert was almost too much to bear. The struggle was real, folks. Still, determined to taste the most indulgent doughnut in the world we stopped by the food truck park where Gourdoughs lives, after our Tex-Mex dinner.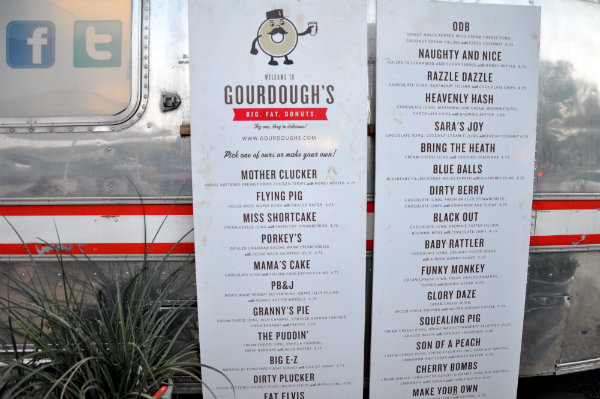 The menu is extensive and experimental, with flavours like bacon, cream cheese and jalapeno jelly, or peaches, cinnamon and cake mix topping. After much deliberation I chose the Fat Elvis: grilled bananas and bacon with peanut butter icing and honey. And yes, it was every bit as incredible as it sounds. I got through about 3 bites before I was defeated, but those three bites were heavenly: the doughnut was warm and airy, the bacon crisp and the peanut butter icing the perfect sweet and salt combo. Don't even think about visiting Austin without indulging in a Gourdough's Doughnut.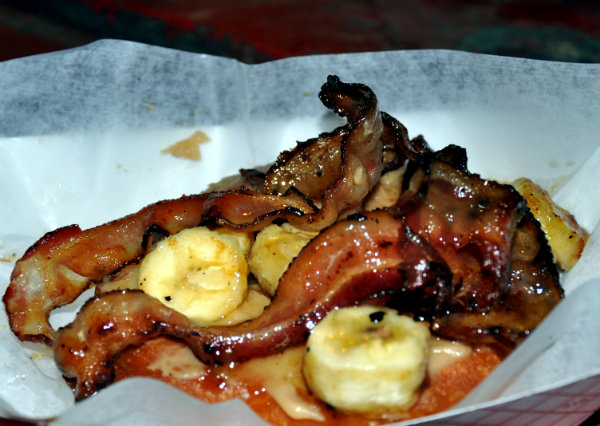 Gourdough's Doughnuts: 1503 S 1st St, Austin, TX 78704
Have you been to Austin? Do you have any other recommendations?
Want to see more posts like this?
Follow me on:
Follow