Lambeth isn't an area of London I know very well.
I've been a few times, mostly to visit the fabulous Imperial War Museum – which is well worth going out of your way for – but it's not really known as a social hotspot in London.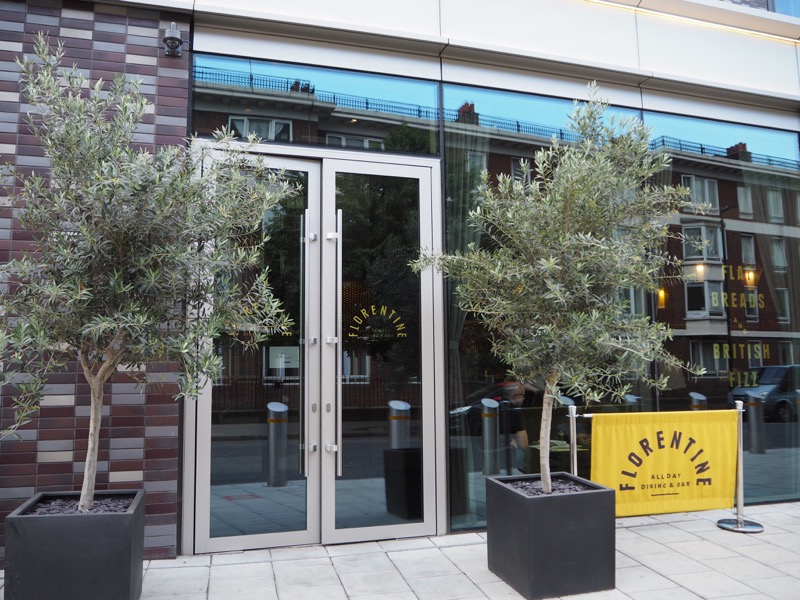 When I was invited to dine at Florentine, a restaurant in Lambeth that opened in March, I was a little hesitant at first. I mean, I didn't doubt that the food would be great, but the location had me wondering…would anyone actually come out of their way to eat here?
But after an evening at Florentine, I'm convinced it's worth getting to know Lambeth better. As it turns out, it's just a stone's throw from London Waterloo, and the trendy Lower Marsh area, which means it's really not out of the way at all.
And with the Imperial War Museum just around the corner, there's no better excuse to head over that way for an afternoon of culture followed by an evening of cuisine. It's the perfect pairing.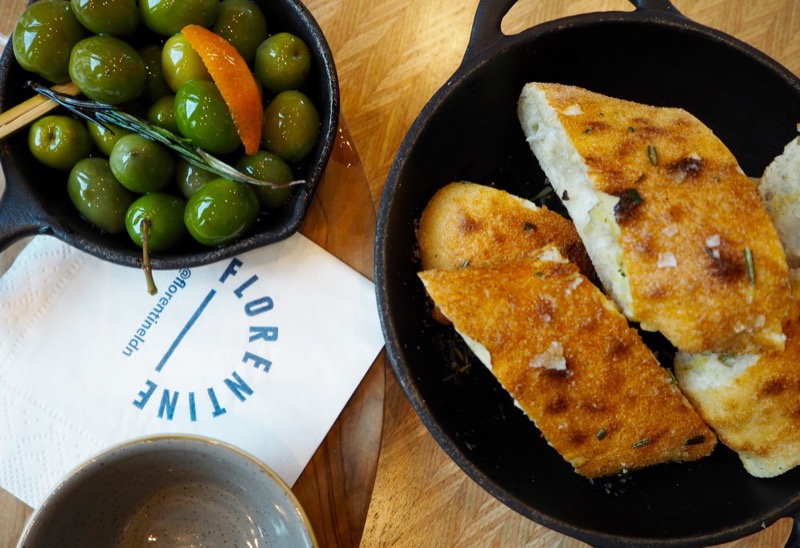 Anyway, I'm getting ahead of myself.
It was a lovely, sunny Thursday evening – which in London means I'm just permanently sweaty. In fact, when I met my friend Aurelie outside the restaurant she even asked me if I was OK, because I was so red. I was fine, but really looking forward to sitting down and, quite literally, chilling out.
From the outside, the restaurant looks nice and new, with lots of glass and warm lighting, and as soon as you step inside you can tell it's the kind of place where you want to spend a whole evening, unwinding and dining.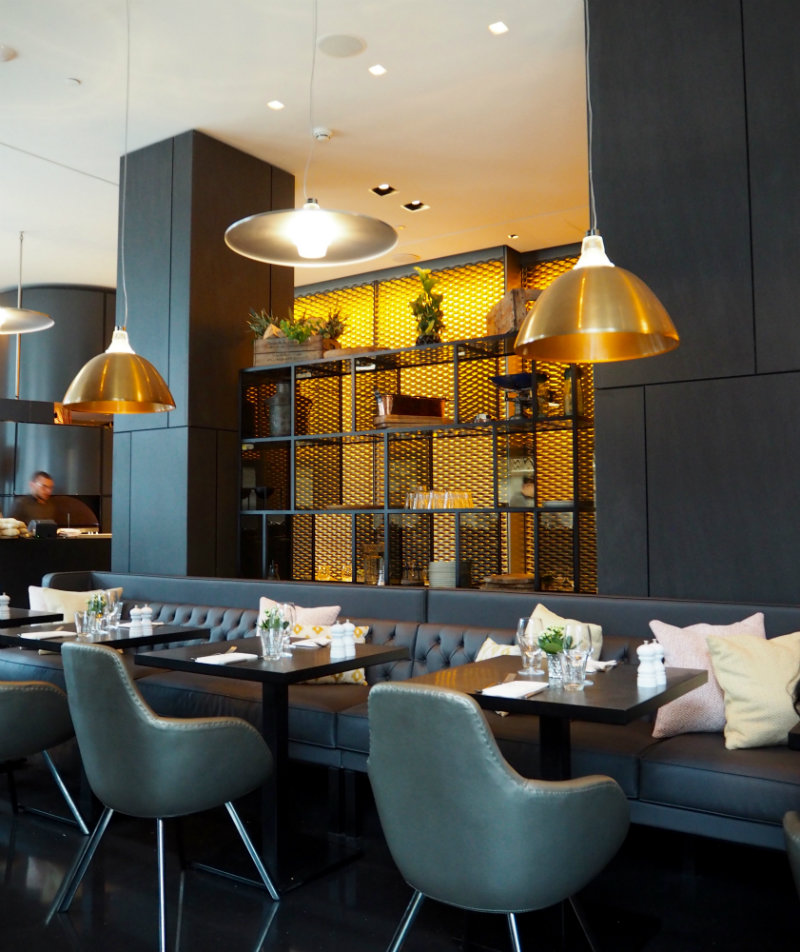 We were shown to our table, right by a bright window, to the sound of live soothing jazz music that was coming from the bar. Even though it was still light outside, the music filled the restaurant with a late night, jazz club vibe.
The charcoal leather seats and dark walls added to the cosy vibe, along with the warm lighting and brass fixtures. The whole interior looks like it's been lifted straight from one of my in-my-dreams Pinterest boards.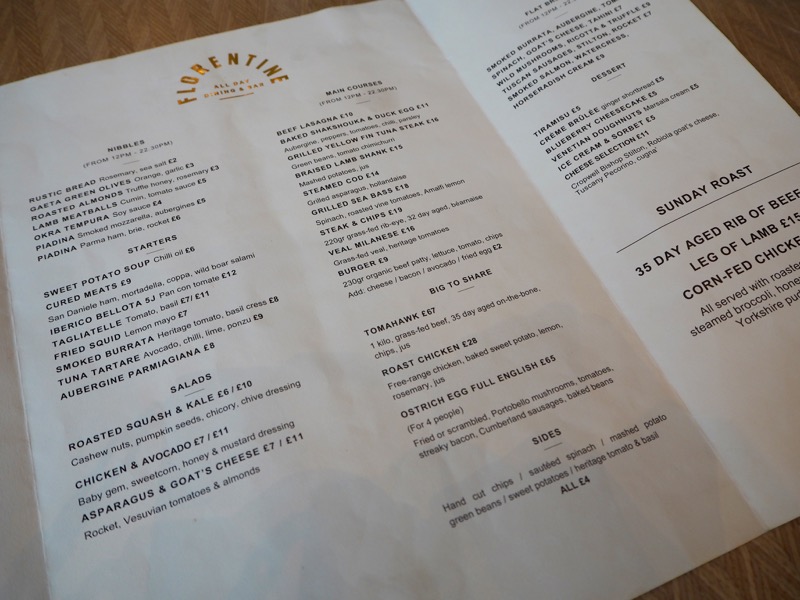 Nibbles arrived at our table, along with prosecco, and we agonized over the menu, on which everything sounded divine.
Egg lovers who visit Florentine for brunch should check out the ostrich egg full English sharing dish, which includes an egg the size of a platter (apparently one ostrich egg is the size of 24 regular eggs), surrounded by all the usual breakfast trimmings.
Designed to be shared between at least four people, the dish will set you back £65, but the memories (and the Instagrams) will most definitely be priceless!
With a little help from our friendly waiter, we ordered starters – I chose the tuna tartare, and my friend Aurelie had the Iberico bellota ham, and both were to die for. The presentation was lovely, serving sizes were generous (without being overwhelming) and the flavours were simple but incredible.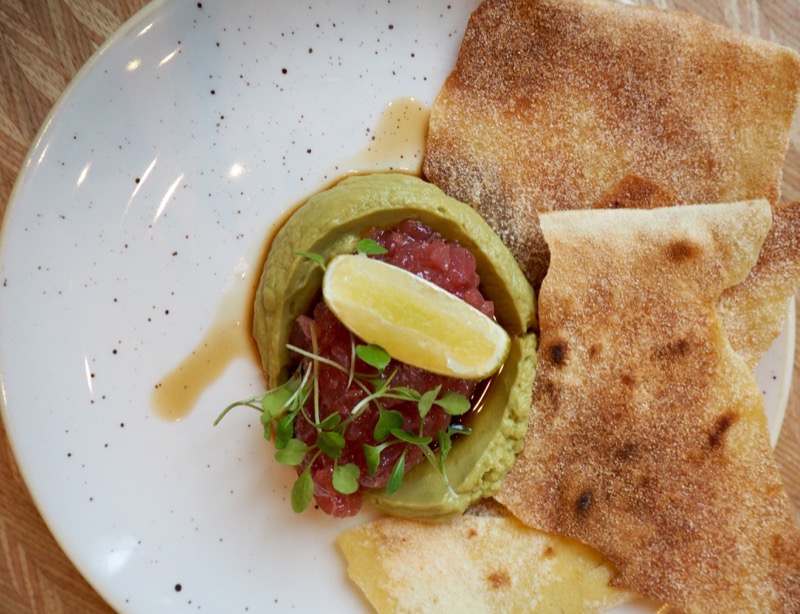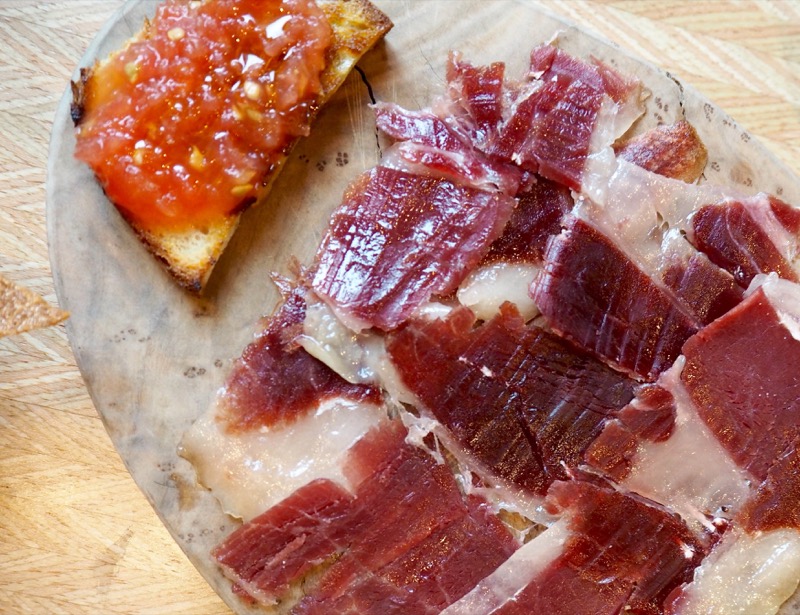 Mains arrived, along with some velvety red wine, and we quickly tucked into our meals, our expectations high after such great starters.
We weren't disappointed.
I had the lamb shank, which had been slow-cooked for 10 hours until it was fall-apart tender, with a rich jus and mashed potato. It was hearty, packed with flavour (and as an Aussie, I'm pretty fussy about lamb) and the meat practically dissolved in my mouth.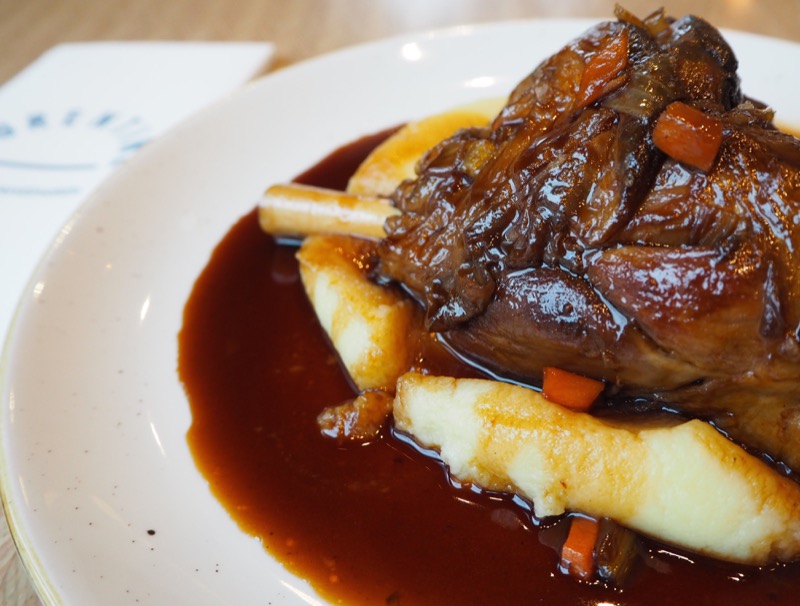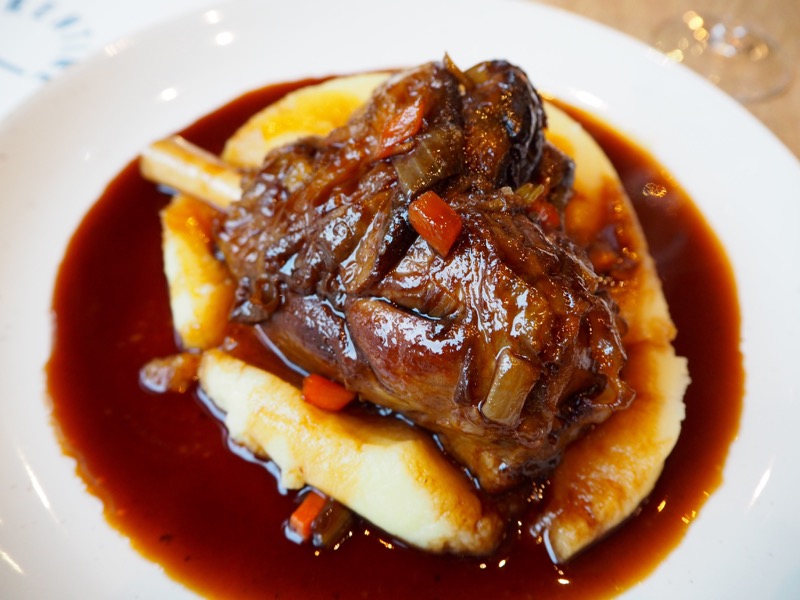 Aurelie chose the yellowfin tuna steak, which was perfectly cooked (i.e. hardly at all), and like the lamb, it melted in my mouth (because obviously I stole some from her plate). The tomato chimichurri that topped the tuna was also really fresh and zingy.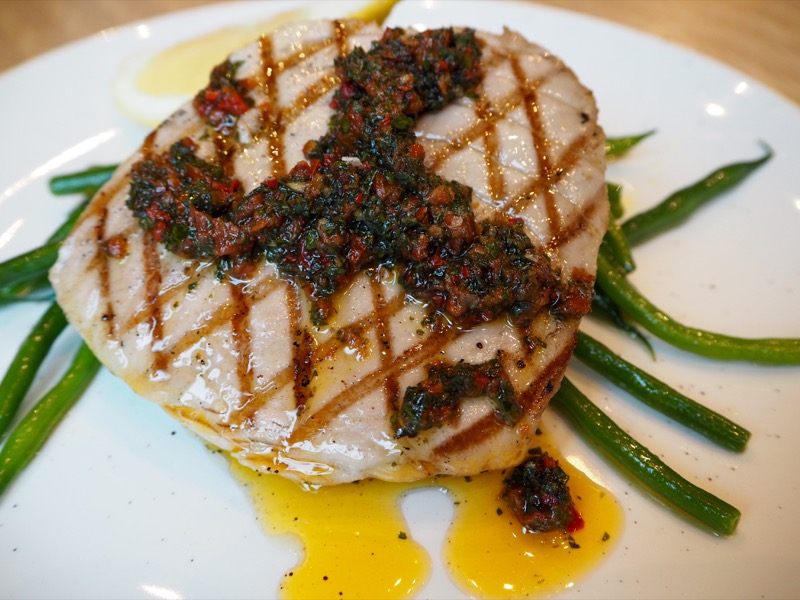 We almost couldn't fit a dessert in, but we pushed through, determined to try everything that Florentine had to offer. And we're so glad we did.
I had a bowl of refreshing lemon sorbet, and Aurelie tucked into the crème brûlée with ginger shortbread.
It was a truly exceptional meal, accompanied by fantastic service and a really lovely atmosphere. It's a great restaurant for a group of friends looking for somewhere close to central London without the queues or, as I mentioned, a place to refuel after a wander around the Imperial War Museum.
You might also like: Barbecoa Restaurant Review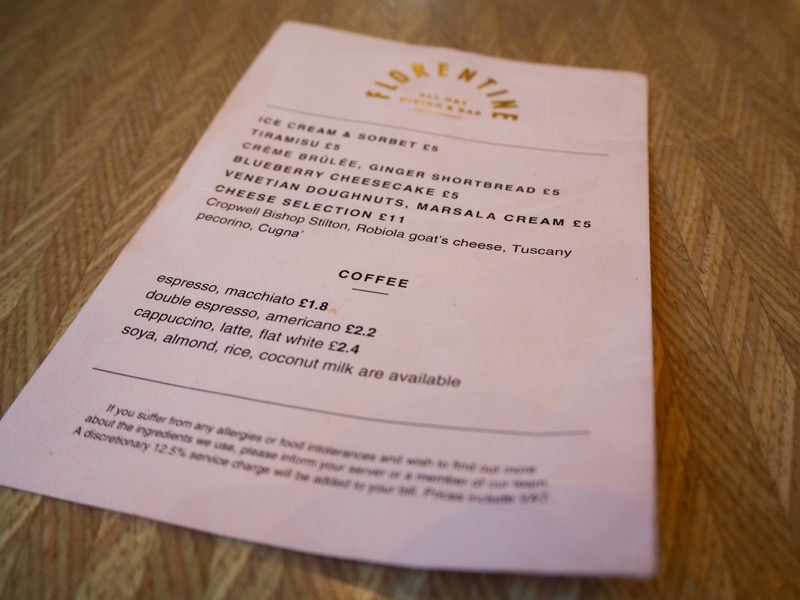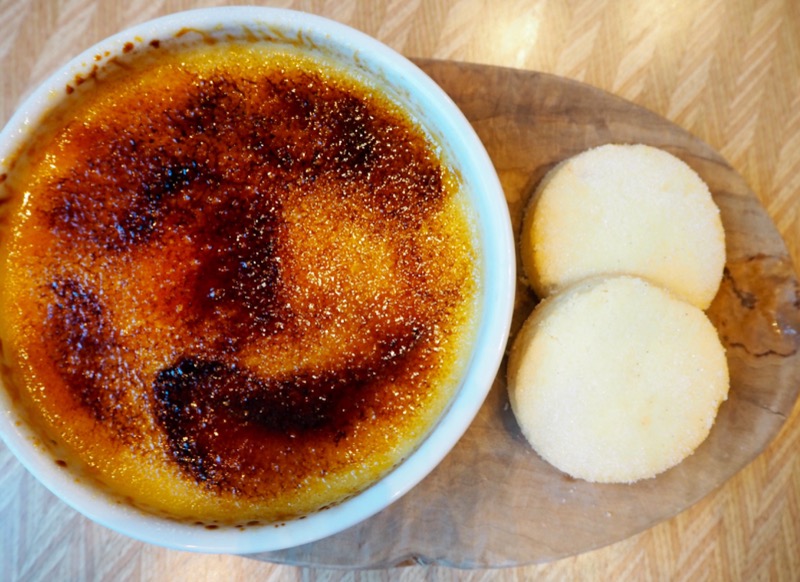 The prices are really reasonable too, with main courses ranging from £10 – £19, and most breakfast dishes costing less than a tenner.
And despite my initial hesitation, it's really not that far out of the way. I took the train to Waterloo, and it's about a ten minute walk from there, or two minutes from Lambeth North Tube station.
So if you're looking for somewhere new, with a classy but laid-back vibe and amazing food, Florentine is the place for you.
Looks like it's time to get to know Lambeth, after all!
Florentine Restaurant 
6 Hercules Road
London SE1 7DU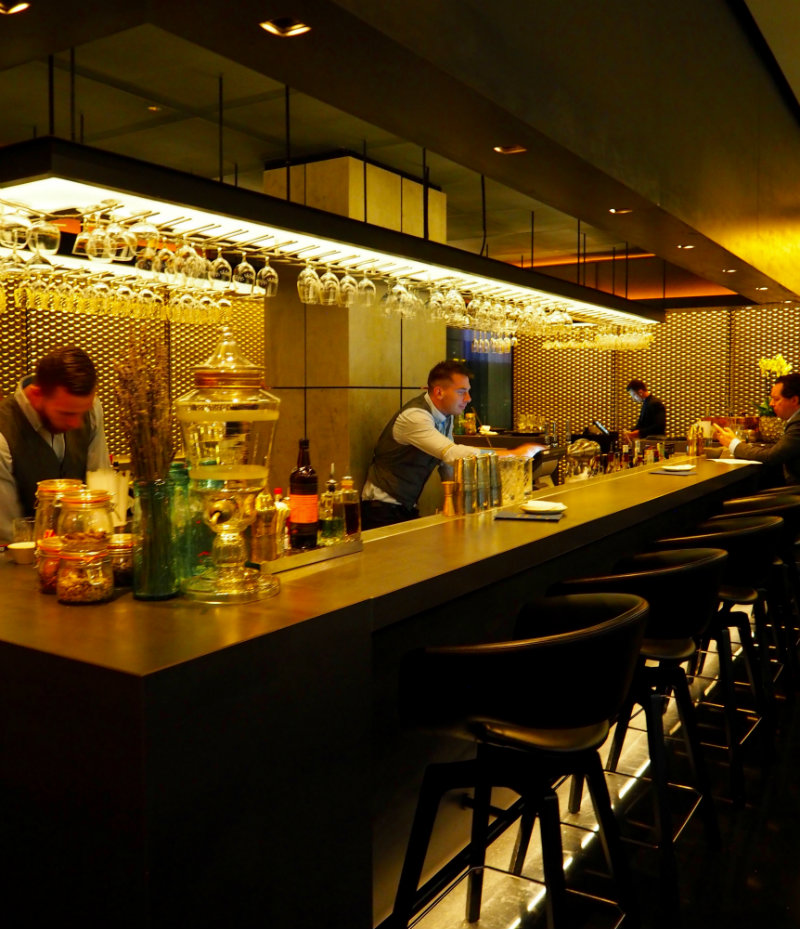 Thanks so much to Florentine for hosting me and my friend for an incredible meal. Although this meal was free, all opinions are still, as always, my own.
Want to see more posts like this?
Follow me on:
Follow